According to our Dalat travel experience , this is one of the places you can visit anytime. Located on the plateau, Da Lat's climate is always maintained at 20 degrees Celsius, cool all year round. Of course, the city is still divided into two seasons, rainy and sunny, but each season, each time, Da Lat has its own beauty.
Spring – Winter
The best time to visit Da Lat is in late autumn, early winter and lasts through spring, because the city is in the dry season, so you can enjoy your trip. From the end of October, the weather in Da Lat starts to get cold, preparing for winter. This is also the time when Da Lat can put on a brilliant coat of all kinds of brilliant flowers such as white mustard flowers (October – December), pink grass flowers (November – December), wild sunflowers (November – January). ).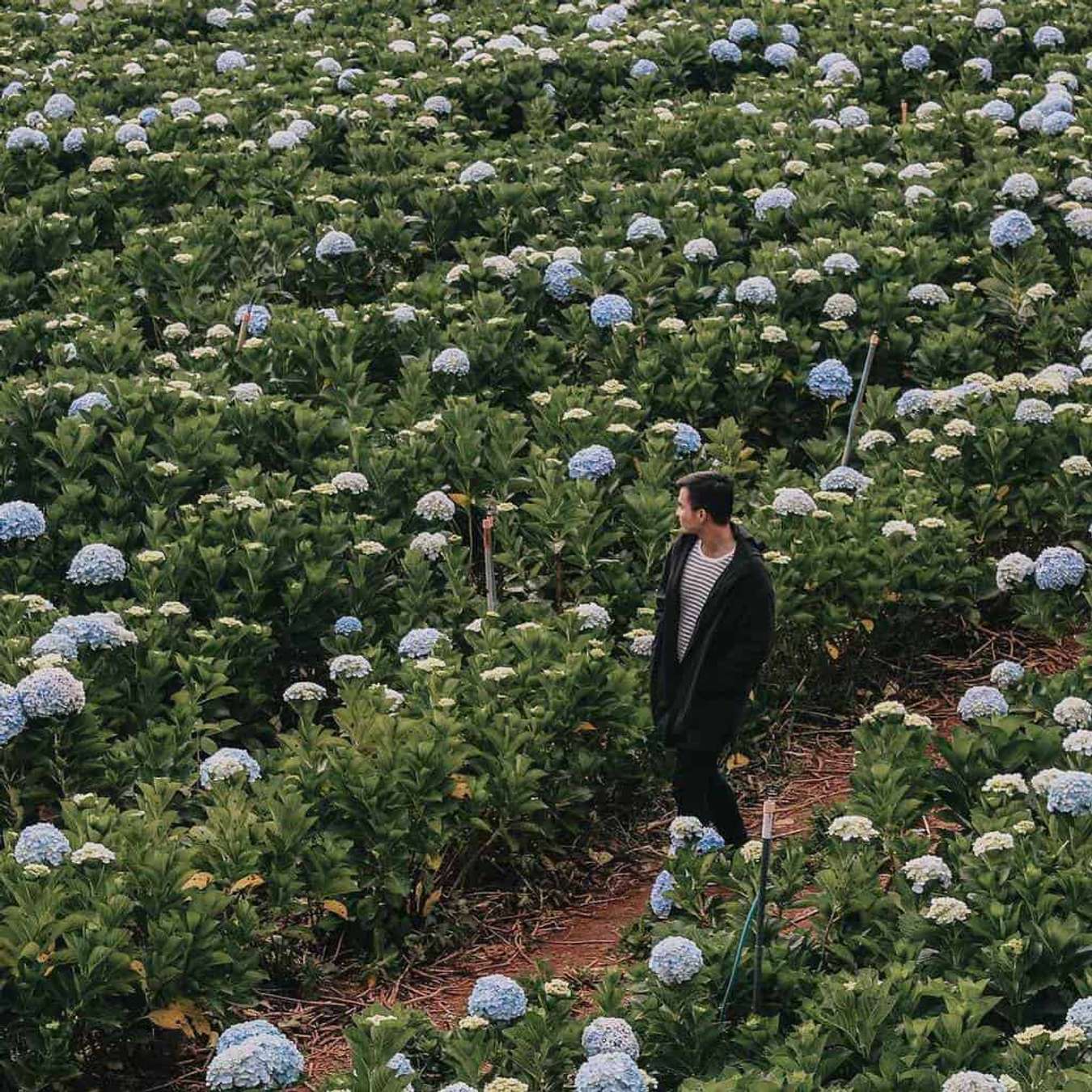 Spring is the time when all kinds of flowers in Da Lat compete to bloom. @venturology
Especially, the end of December is when the city is most crowded when coming to the Dalat Flower Festival, which is held every 2 years. During the five days of the festival, colorful flowers covered every street, attracting thousands of visitors to have fun. Please note this note in our Dalat travel guide.
Da Lat Flower Festival 2022 will be held from Tuesday (November 1, 2022) to Saturday (December 31, 2022). So if you travel to Dalat during this time, you will have the opportunity to admire the largest flower festival in Vietnam.
In the spring, which is about January – March, the streets of Da Lat are dyed romantic pink thanks to the rows of cherry apricot trees on both sides of the road. A little later, around February – April, is the time of purple phoenix, dandelion, or lavender in bloom. At this time, there is nothing more ideal for couples who are looking to spend a honeymoon trip together. Surely you will get great pictures, no less than the temperate country.
Summer
Summer in Da Lat starts from about May to October. Early summer, around April to May, is the season when sunflowers bloom brightly in the flower fields of Da Lat. If you love this radiant flower, don't forget to open the Dalat travel guide and plan a trip to Dalat at this time.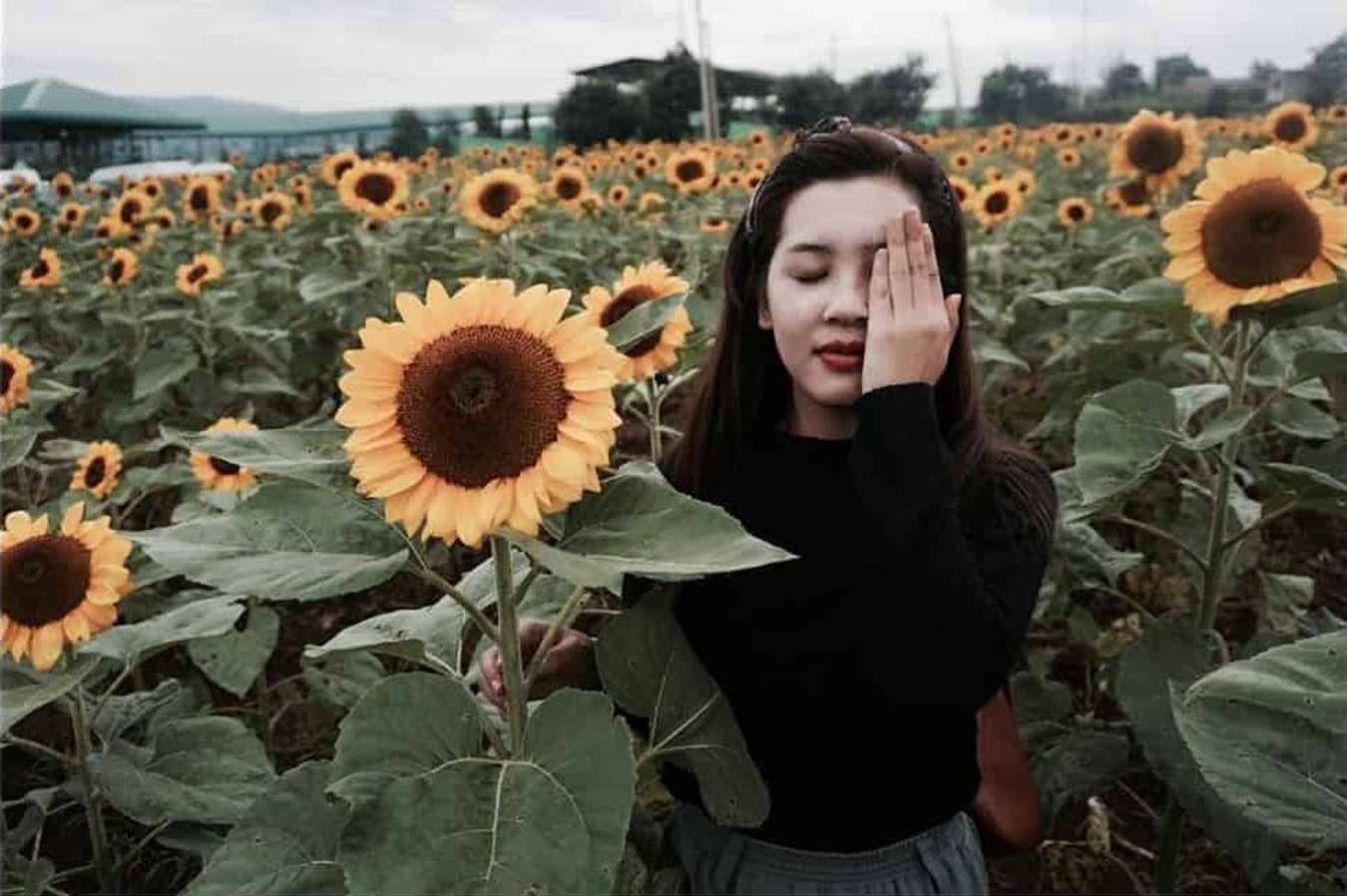 Sunflowers bloom like a newspaper that summer has arrived on the mountain town. @uyeneyes
Summer is also the rainy season of Da Lat, especially from July to September, there will be drizzling and constant drizzle. Those who love romance and poetry, sitting and sipping a cup of coffee and watching the city seem to be engulfed in dew, it is easy to make people fall in love.
In case you are wondering about the time to stay in Da Lat, it is best to travel to Dalat for 3 days and 2 nights. With this amount of time, you can fully enjoy the typical romantic beauty as well as the most famous places of this land. However, if you want to combine exploring the surrounding places, you can refer to this Da Lat – Nha Trang travel guide .
2. How to get to Dalat?
Moving to Da Lat is quite convenient, even if you are in the North Central South, you can easily choose to go to Da Lat by air or by bus.
Plane
According to self-sufficient travel experience in Da Lat , to save time traveling to Da Lat, air is the best choice. From big cities like Hanoi, Ho Chi Minh City, Da Nang, Can Tho, Nha Trang, Hue, Phu Quoc, .. most of them have flights of airlines to Da Lat. You can refer to the best airfare to Da Lat  to choose a suitable flight. Ticket prices range from 400,000 to 2,000,000 VND/way.
Because Lien Khuong airport is far from the city center. Da Lat is about 34km, so when you get off the airport you have to call a car to go back to Dalat. To avoid the situation of no car or waiting for the car for too long, the taxi fare is expensive, you can book a private car booking service from Lien Khuong airport to Da Lat in advance . From only 242,000 VND/4 people, 297,000 VND/6 people and 825,000 VND/15 people, you can move conveniently and quickly to the center so you don't have to be late for your fun schedule.
Coach
If going from Ho Chi Minh City, the most popular option to travel to Da Lat is by bus. There are many car companies to Da Lat with all kinds of cars from bed, seat. The price ranges from 150,000 to 350,000 VND (depending on seating position) / way. Running time is about 6 – 9 hours.
If you want comfort, the VIP limousine is the choice not to be missed in your journey! With a comfortable bed, you don't have to worry about being "sluggish" after arriving in Da Lat, you can also guarantee a reservation and a round trip price of only 640,000 VND. You can refer to Traveloka Xperience's round trip Limousine ticket to Saigon – Da Lat !
Phở
With the breathtaking beauty of the mountains and forests of the Central Highlands, Prenn Pass is always a road that attracts adventurers to conquer when traveling to Da Lat. However, you have to prepare a lot of things in advance to have a complete trip to Dalat. Please refer to the Da Lat travel guide from the "travellers" who have gone before to gain more experience conquering this famous Dalat road.
3. Means of transportation in Da Lat
Motorbike
The most "genuine" means for you to move to every corner of Da Lat, conquering each "specialty" slope easily is a motorbike. Motorbike rental price ranges from 80,000 – 150,000 VND/day, you can rent it directly at hotels in Da Lat or cheap rental addresses on roads such as Bui Thi Xuan, Nam Ky Khoi Nghia, Phan Nhu Thach… But to ensure the quality of the car as well as the clear price, you can refer to Traveloka Xperience's motorbike rental service in Da Lat for only 120,000 VND/day!
Bicycle
To breathe the fresh air of Da Lat slowly and admire the poetic beauty in every corner, you can choose to cycle around to explore the foggy city. The average price of bicycle rental is only from 20,000 to 30,000 VND/hour.
If you want to explore the city in a different way, there are two more options for you:
Horse wagon
Divided into 2 types of tours: 4 – 5 people car (price 300,000 VND / car) to go around Xuan Huong Lake, and package tour 650,000 VND / person / day, can go to many places.
Car
Another suitable means of transportation in Da Lat is a car. If you have a driver's license, you can rent a self-drive car in Da Lat . The car will be delivered to your hotel at a very economical price from only 660,000 VND/day.
If there is no one in your group who knows how to drive a car, you can rent a car with a private driver to visit Da Lat for only 1,150,000 VND/day/6 people. With this service, you can comfortably explore Da Lat city with your own car, regardless of the time, the driver will pick you up at your hotel and choose any pick up time.
4. The tourist attractions in Da Lat cannot be missed
4.1 Tourist attractions near the center of Dalat
Most of the famous tourist attractions in Da Lat are concentrated in the city center area. According to our Dalat travel experience , these are all familiar but still attractive places with their own beauty.
Xuan Huong lake
Considered a symbol of the city, Xuan Huong Lake has clear water and is surrounded by trees and green grass. Xuan Huong Lake is also home to famous tourist attractions such as Lam Vien Square, the city flower garden, and Yersin Park.
Activities here: Duck riding, boating on the lake, cycling around the lake, check-in at the Y-bridge.
Address: Ward 1, City. Da Lat (bounded by Tran Quoc Toan and Nguyen Thai Hoc streets).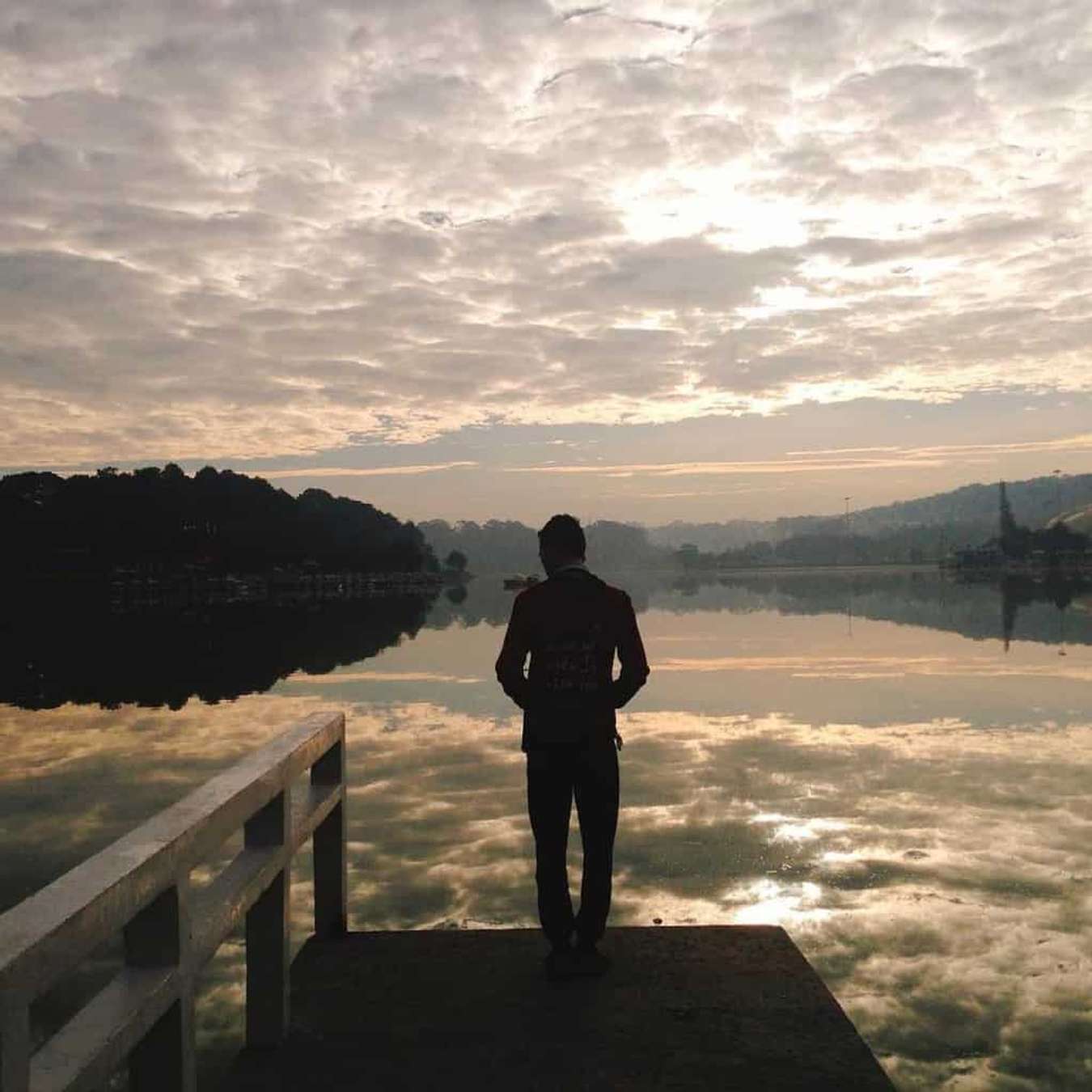 Xuan Huong Lake is most beautiful in the afternoon. @callme.nguyentam
Lam Vien Square
Located by Xuan Huong Lake, Lam Vien Square stands out from afar with its wild sunflowers and stained-glass artichoke buds, which can be seen as a new symbol of the city. Inside the two works are the performing arts palace, cafe, bar, restaurant… with a view overlooking the poetic Xuan Huong Lake.
Address: Next to Xuan Huong Lake, near Big C Dalat.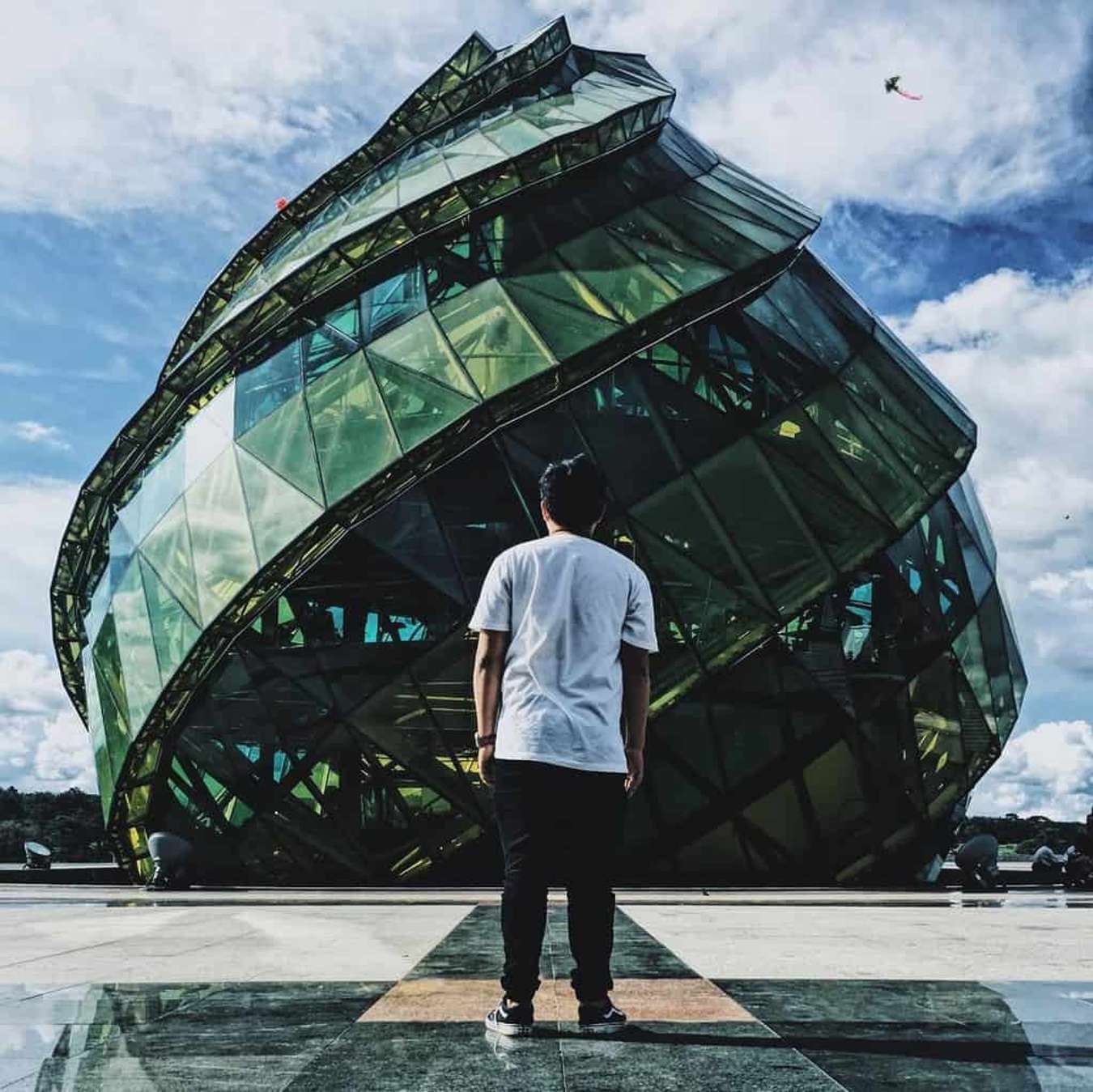 The famous artichoke bud at Lam Vien Square. @leduy1994
Chicken Church
Still retaining the Roman architecture of the French period, Da Lat Cathedral is affectionately known as the Chicken Church because of the big chicken image on the top of the bell tower.
Address: 15 Tran Phu, Ward 3, City. Da Lat.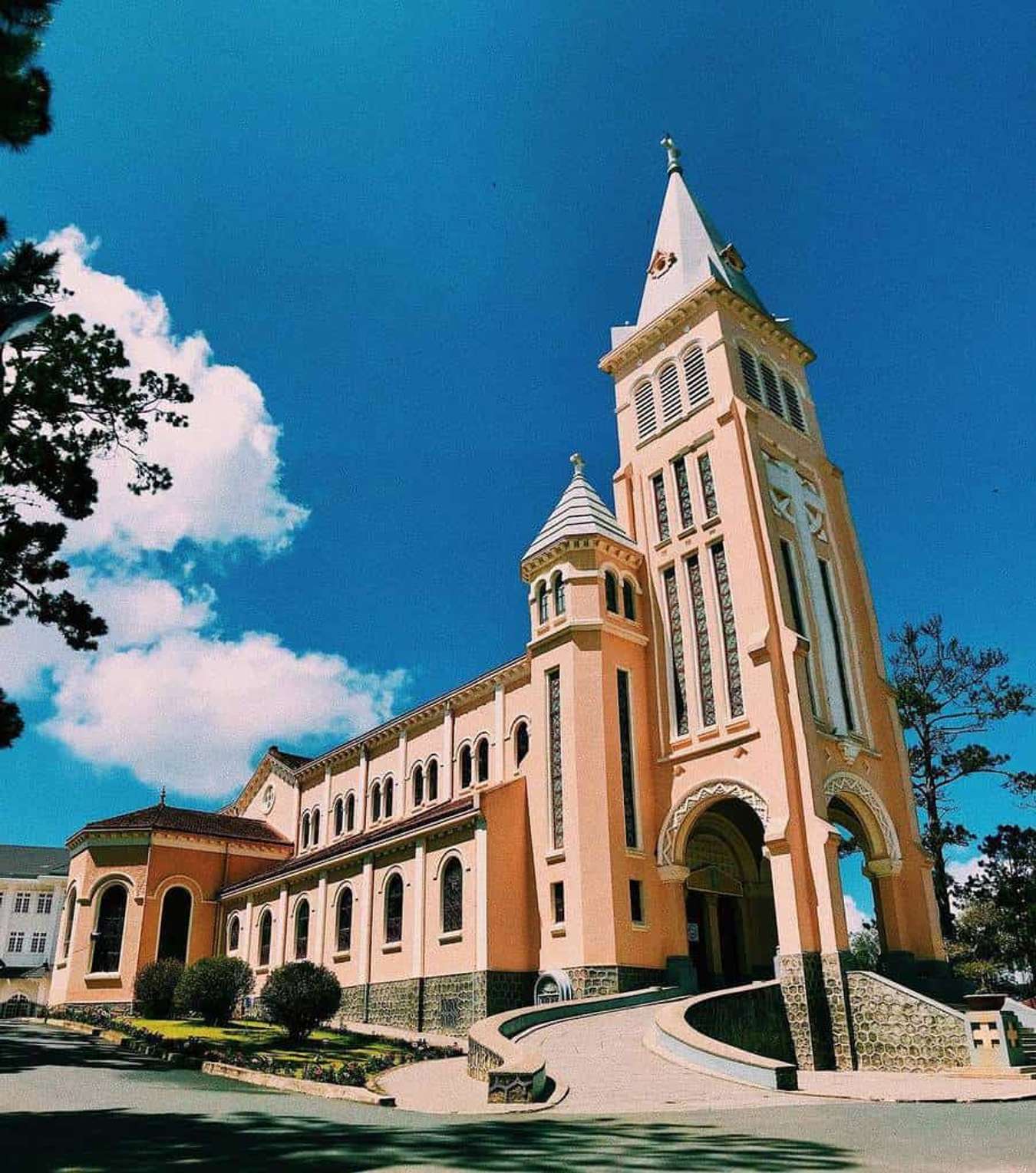 Chicken Church has typical Roman architecture. @hiep__phan
Domaine de Marie Church (Palace of Notre Dame)
Built during the French period, Domaine de Marie church has the typical architecture of communal houses in the Central Highlands. Located on Mai Anh hill, in the middle of cherry blossom forest and sea fairy, the church has a striking pink color.
Address: 01 Ngo Quyen, Ward 6, City. Da Lat.
Opening hours: From 4:30 to 21:00.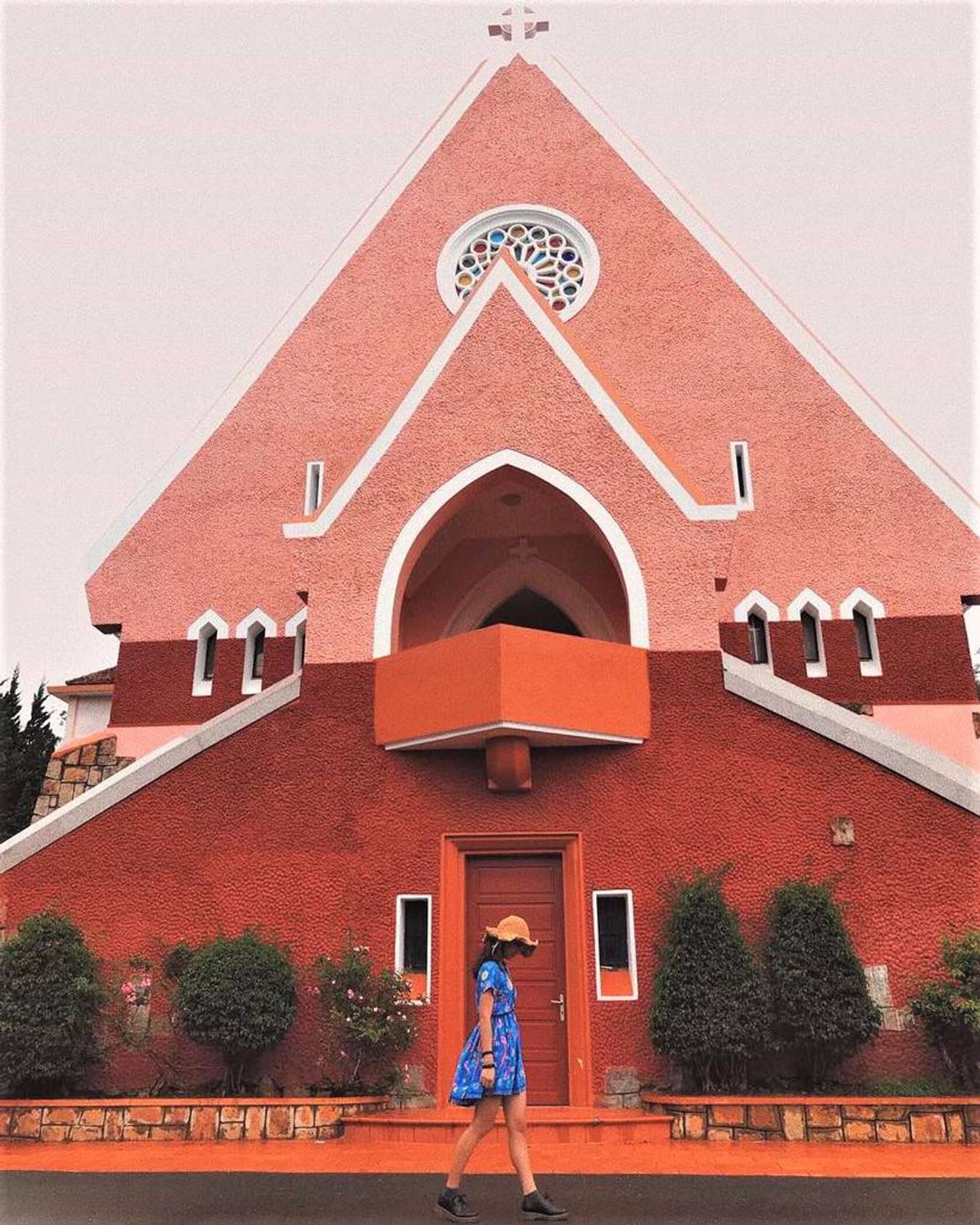 Domaine de Marie Church stands out in pink tones. @jarareab.jb
Bao Dai Palace
Da Lat is a resort land, so it is not surprising that there are three villas built by King Bao Dai as a place to work and relax. All three Bao Dai palaces have European architecture and the interior still retains the traditional Hue royal style.
Palace I: 01 Tran Quang Dieu, Ward 10, City. Da Lat – Ticket price: 30,000 VND / entrance ticket, 150,000 VND / package ticket with 7 makeup and fun services at Palace I.
Palace II: 12 Tran Hung Dao, Ward 10, City. Da Lat. Palace II is less exploited for tourism than the other two palaces.
Palace III: 01 Trieu Viet Vuong, Ward 4, City. Da Lat – Ticket price: 25,000 VND / adult, children under 1m2 are free of charge.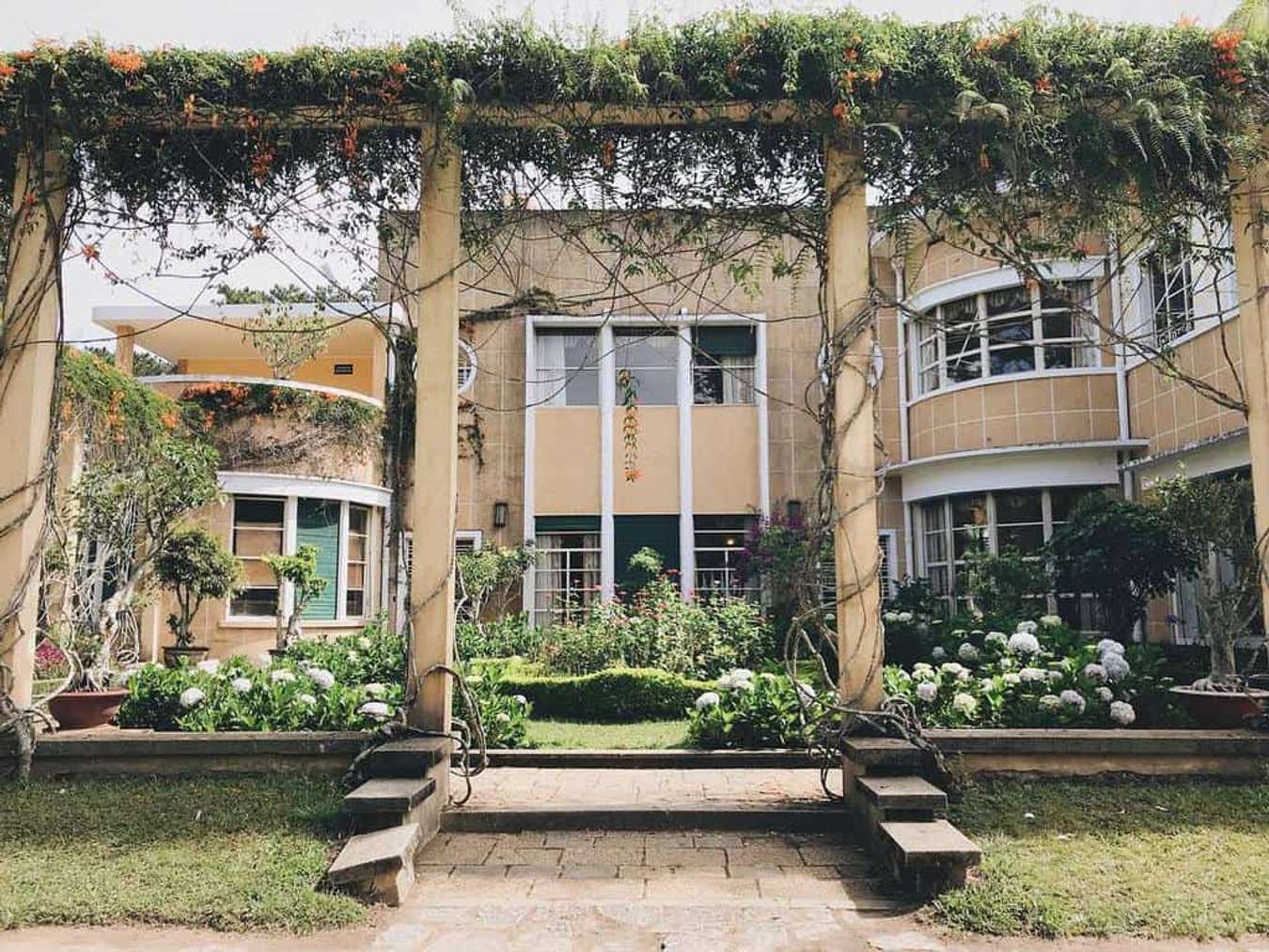 The garden at Bao Dai palace is also an ideal "virtual living" spot. @hyvhuynh
Da Lat Pedagogical College
With a history of 90 years, the school was built by the French with a large bell tower and Western-style arc-shaped lecture halls. However, it is a pity that since April 2019, Da Lat Pedagogical College has temporarily stopped welcoming tourists until the latest official announcement. The reason given by the school is that the number of visitors is too large, so the school has temporarily stopped allowing visitors to visit for a while.
Address : 29 Yersin, Ward 10, City. Da Lat.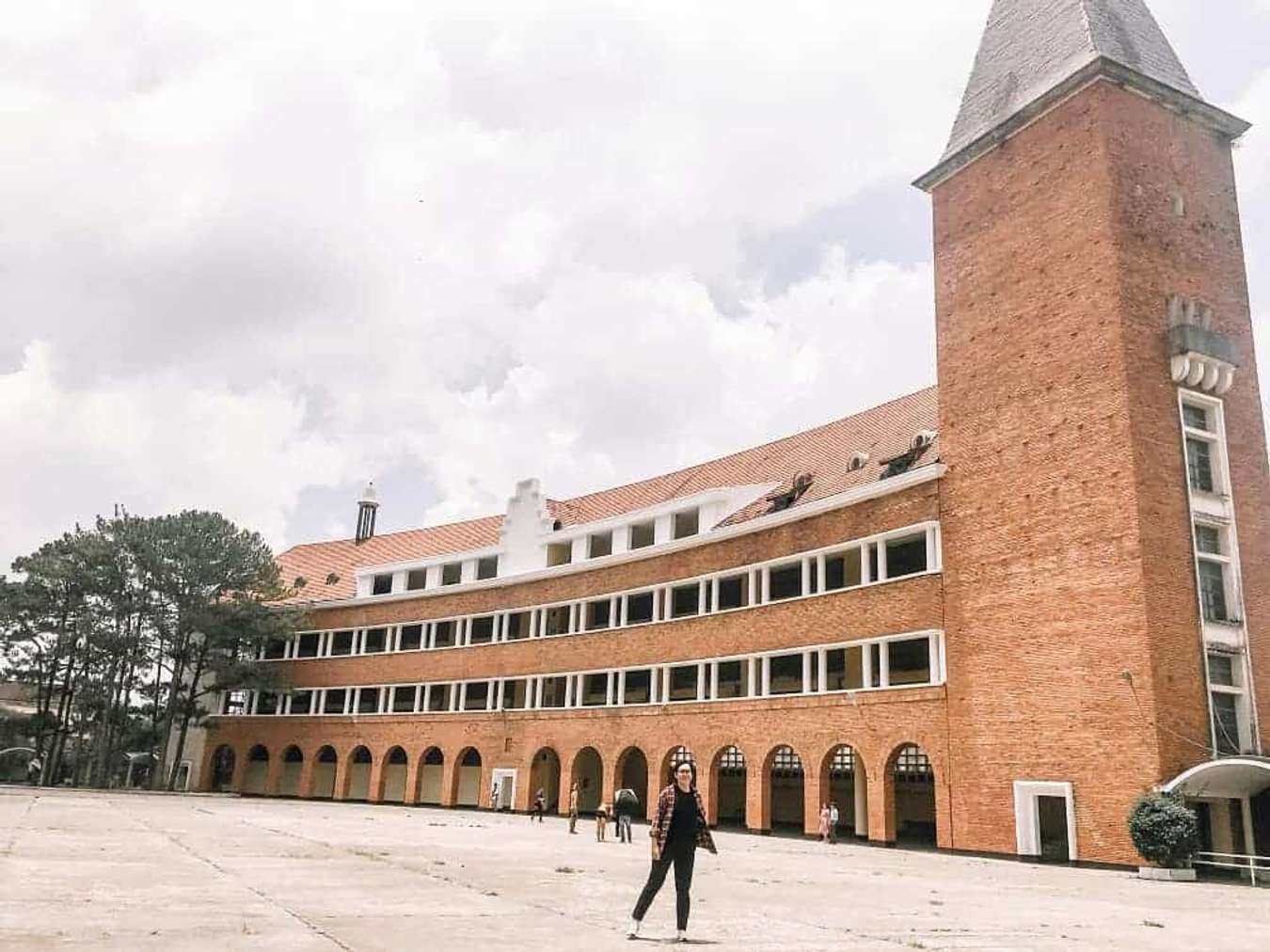 European-style lecture halls. @anta_phann
Dalat Night Market
As a familiar gathering place for tourists every night, Da Lat night market gathers shops, specialty stalls, woolen fashion products and lovely souvenirs. You can also book a hotel room near Da Lat Night Market so that you can easily move to the market.
Address : Stretching Nguyen Thi Minh Khai Street, Ward 1, City. Da Lat.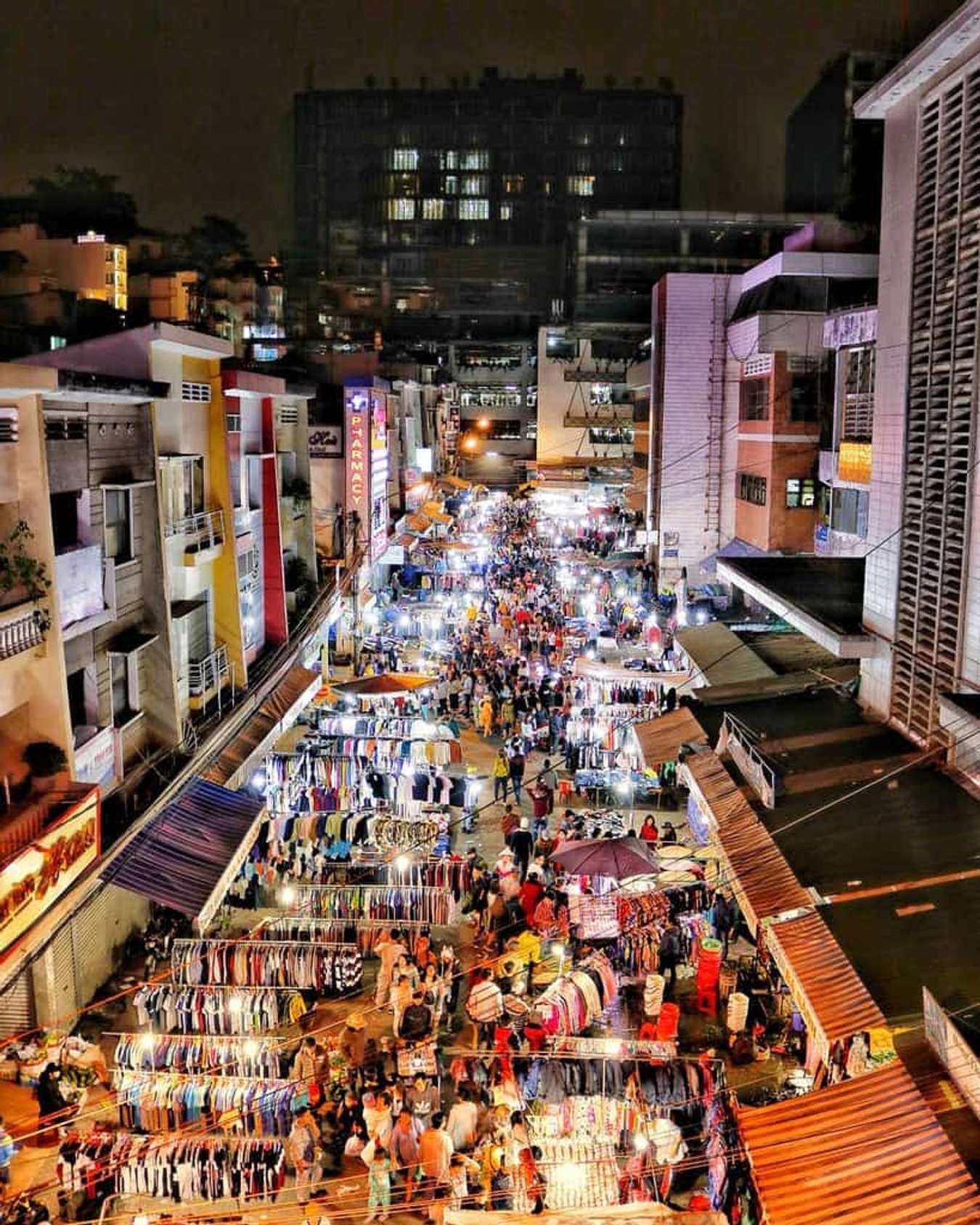 Da Lat night market is bustling with enough food, fashion and souvenir stalls. @tu.noisy.biography
Dalat Railway Station
With bold French architecture, Da Lat train station is one of the most attractive places in Dalat travel guides. There are still old steam train cars and old tracks tinged with time. Currently, the station only runs once, serving tourists from the city center to Trai Mat station, the location that appeared in the brilliant May movie . Ticket price: 85,000 VND / round trip ticket (from 15 guests, the car will run).
Address : No. 1 Quang Trung, Ward 10, City. Da Lat.
Opening hours: 6am to 5pm.
Entrance ticket price: 10,000 VND / person.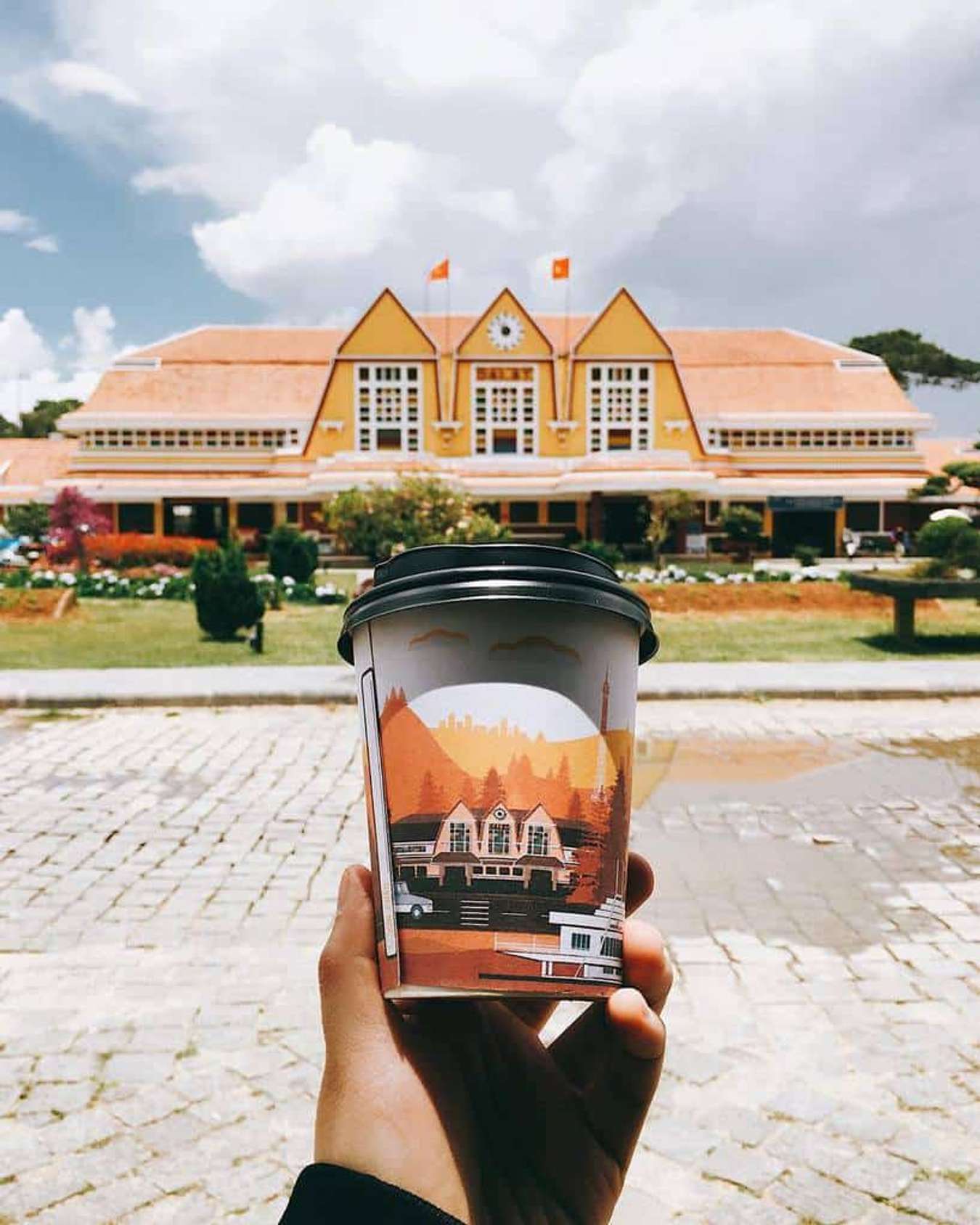 Da Lat station still retains its nostalgic image. @cacaooi_thongdalat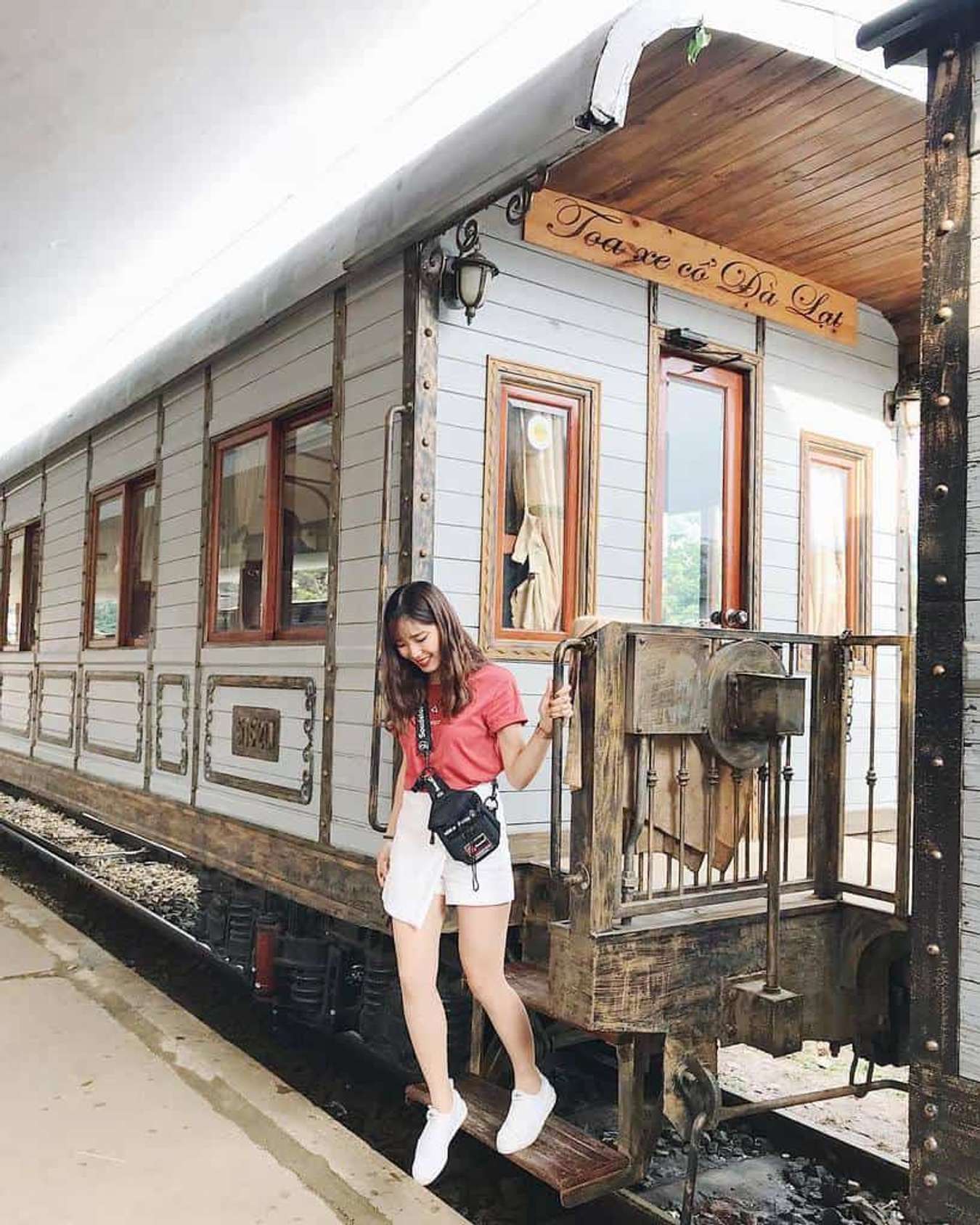 A place to check-in is to know immediately Da Lat. @manhstagram_
Dalat Children's House
As a familiar photo spot for tourists, Da Lat Children's House is most famous for its white benches in the outdoor stand area, which are dusty and old as if they have experienced many mists and winds. However, since the end of 2017, because the area has deteriorated quite seriously, this outdoor stage area has been closed, not allowing visitors to take pictures.
Address : 13 Dinh Tien Hoang, Ward 2, City. Da Lat.
Ticket price: Free admission.
Hours of operation: From 5 a.m. to 10 p.m.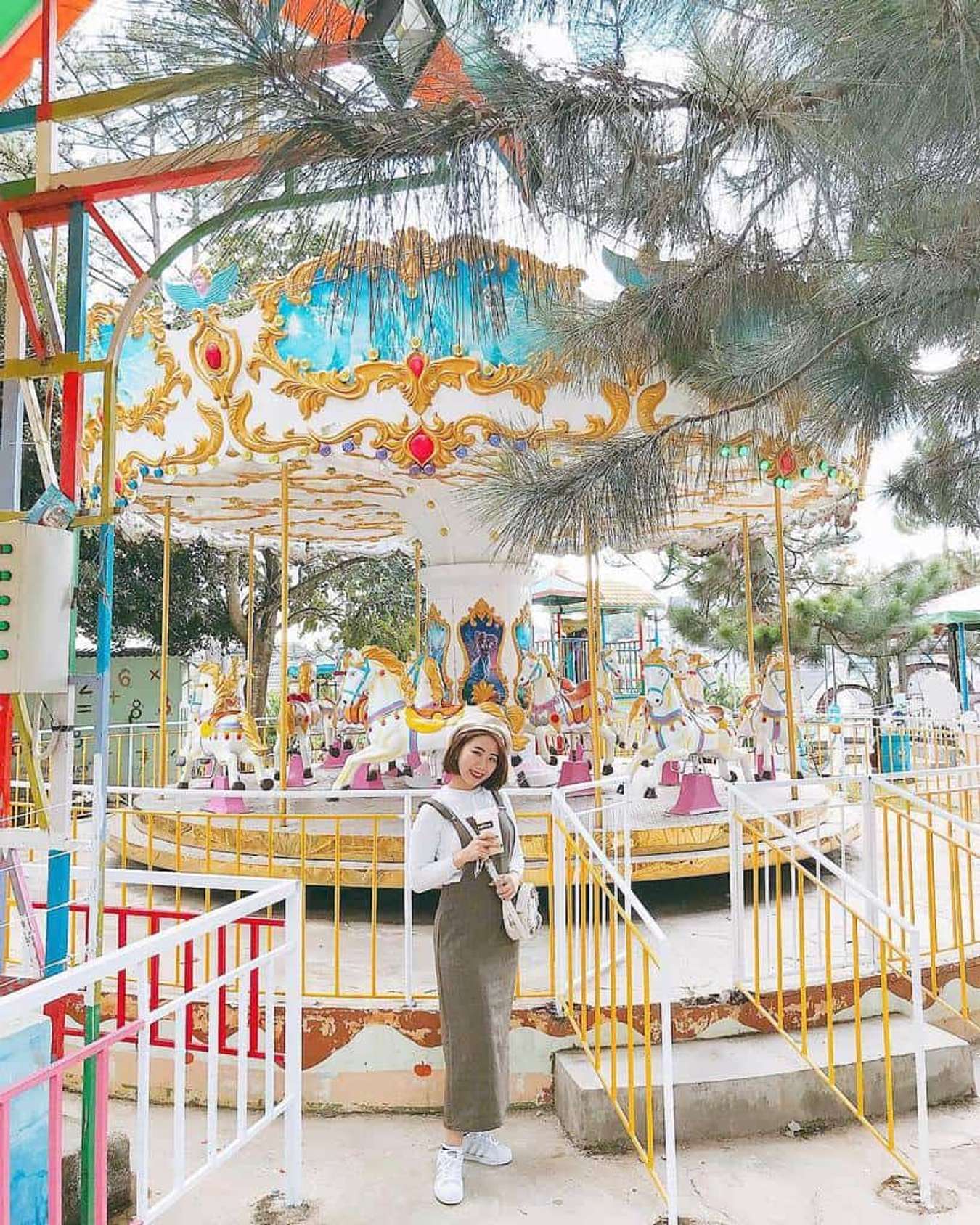 There is also a colorful game area. @hngmngoc
Ve Chai Temple
Located at the last station of the train line of Da Lat station, Ve Chai pagoda is impressed by its architecture and extremely sophisticated ceramic mosaic reliefs. In particular, the temple has the tallest bell tower of 37 m in Vietnam, Dai Hong Chung with 8 and a half tons, the heaviest in Vietnam, and the statue of Bodhisattva Avalokitesvara made from 700,000 immortal flowers.
Address : 120 Tu Phuoc, Trai Mat, Ward 12, City. Da Lat (8 km from the city center).
Hours of operation: From 8 a.m. to 5 p.m.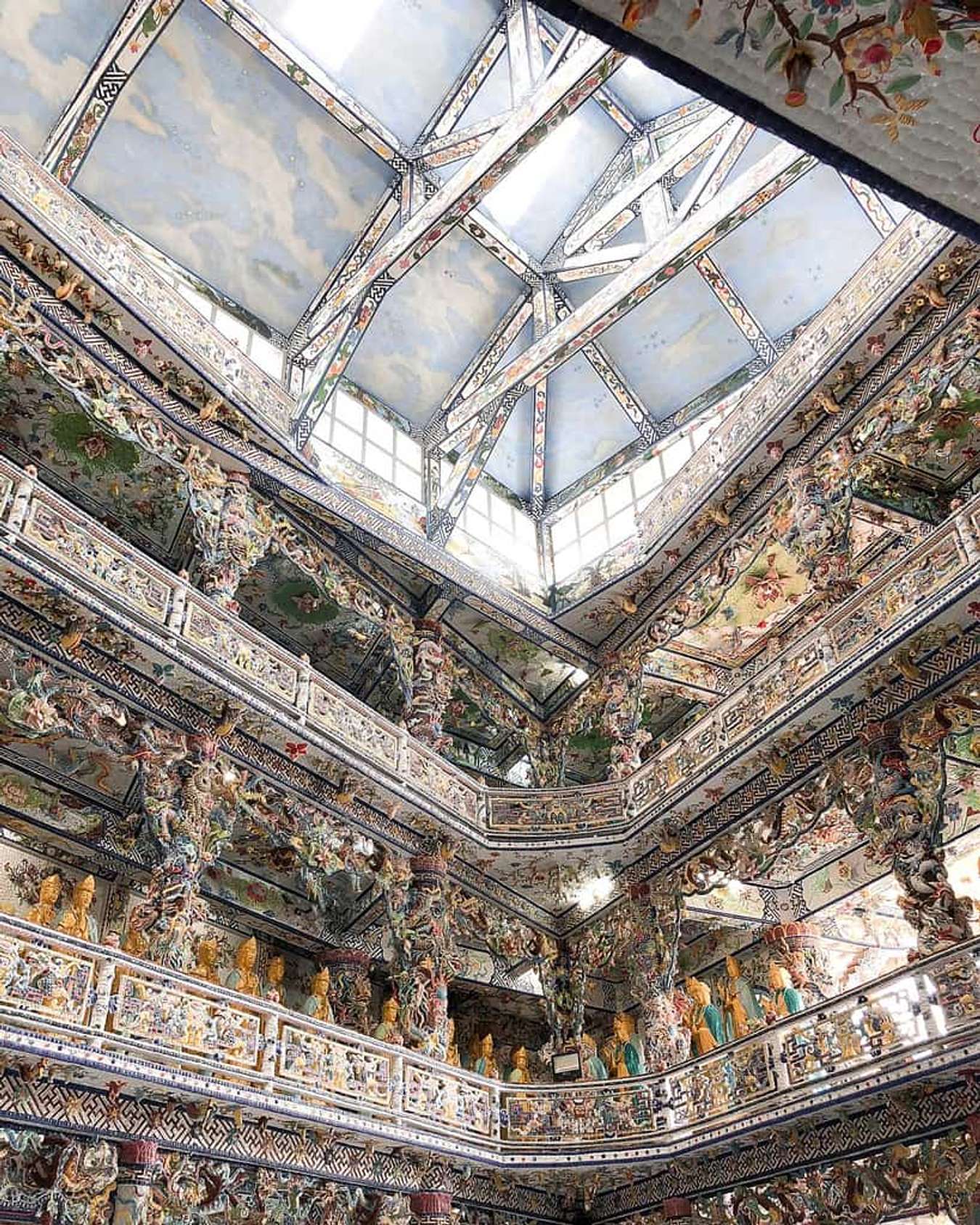 The unique architecture and fancy patterns at the temple are sure to make you admire. @prosnix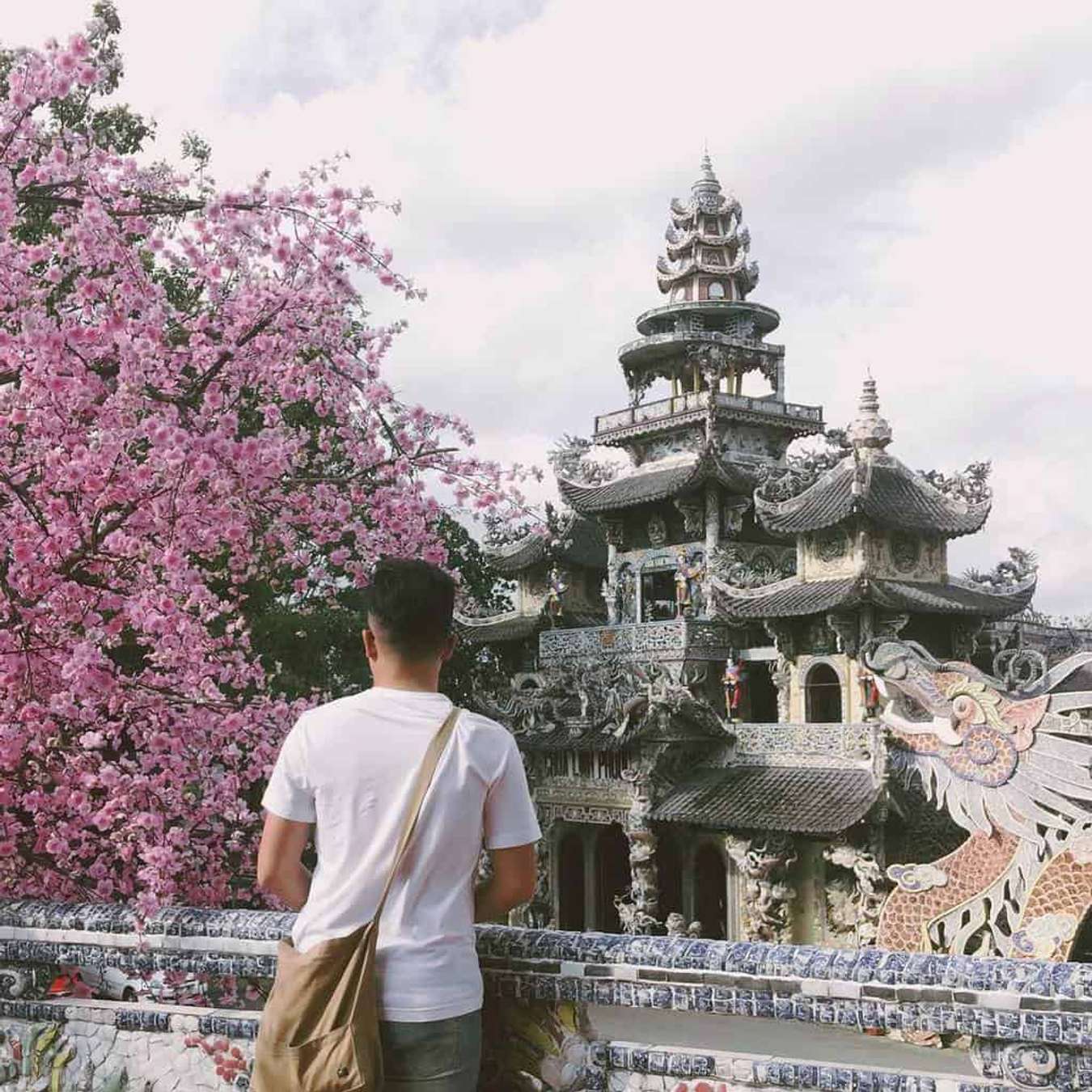 I thought I was lost in the land of Japanese cherry blossoms. @tyttchimm
4.2 Northern area of ​​Da Lat city
Going north of the center of Da Lat, you will enjoy the poetic and majestic nature of Da Lat with two famous valleys of the land of thousands of flowers and the mountain known as "the roof of Da Lat".
XQ Da Lat History Shop
As a famous hand-embroidered painting village of Da Lat, XQ History Shop is also attractive with ancient Hue architecture, bringing a nostalgic atmosphere about a Vietnamese art space. Young people often call this place a "little Japan" in the middle of Da Lat.
Address : 80 Mai Anh Dao, City. Da Lat.
Ticket price: 20,000 VND / person.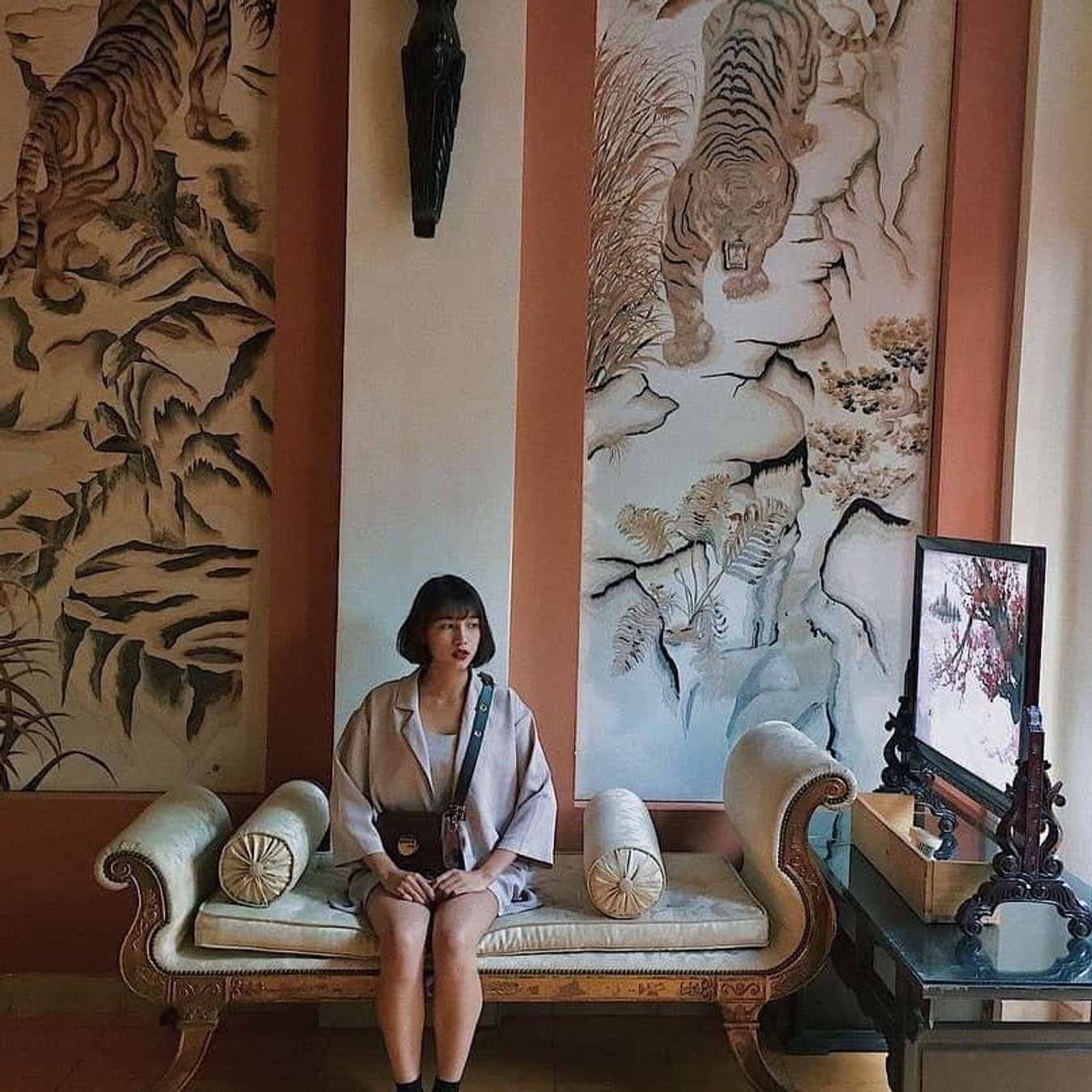 XQ History Shop has a nostalgic Vietnamese atmosphere. @ng_tquynh
Valleys love
Nestled between pine forests and green hillsides, Valley of Love is a famous tourist destination in Da Lat since ancient times. The valley area has small landscapes, flower gardens, romantic lakes… suitable for tourists to take pictures and relax.
Address : No. 3-5-7 Mai Anh Dao, Ward 8, City. Da Lat.
Ticket price: 100,000 VND / adult; 50,000 VND / child. Ticket price includes entrance ticket, boat ride or duck ride, train ride. If you want to ride a Jeep, the price is 360,000 VND/car/carriage for 5, 6 people.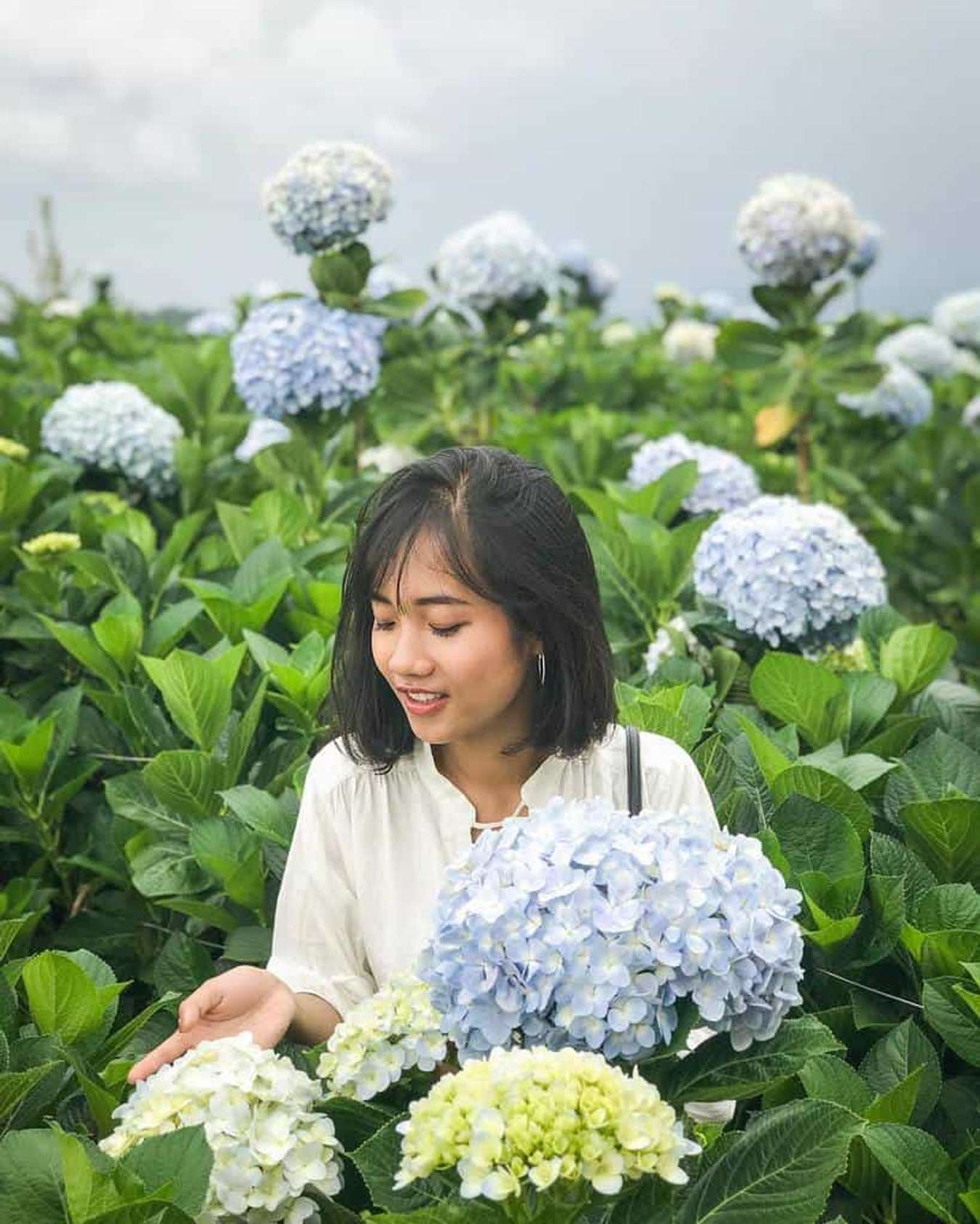 The hydrangea garden is enchantingly beautiful. @lynkpabo
Golden Stream Lake
Suoi Vang Lake is one of the famous places to hunt clouds and watch the sunrise in Da Lat. The "golden time" to come here is before dawn, admiring the sun gradually revealing itself behind the clouds and the misty pine forest. Suoi Vang Lake is also known as one of the most beautiful "cloud hunting" places in the misty land of Da Lat and the most ideal place for outdoor camping. If you want to watch the sunrise at the lake without having to get up early to move, you can choose to camp by the lonely pine tree – an extremely famous and most poetic place beside Suoi Vang lake.
Directions to Suoi Vang Lake: Follow the asphalt road next to the Golden Valley tourist area, you will meet a small hill, climb up the hill to arrive. Located about 15 km from the center of Da Lat city to the northwest, the next to Dankia lake, Golden Valley in Lat Dong village – Lat commune – Lac Duong district, City. Da Lat.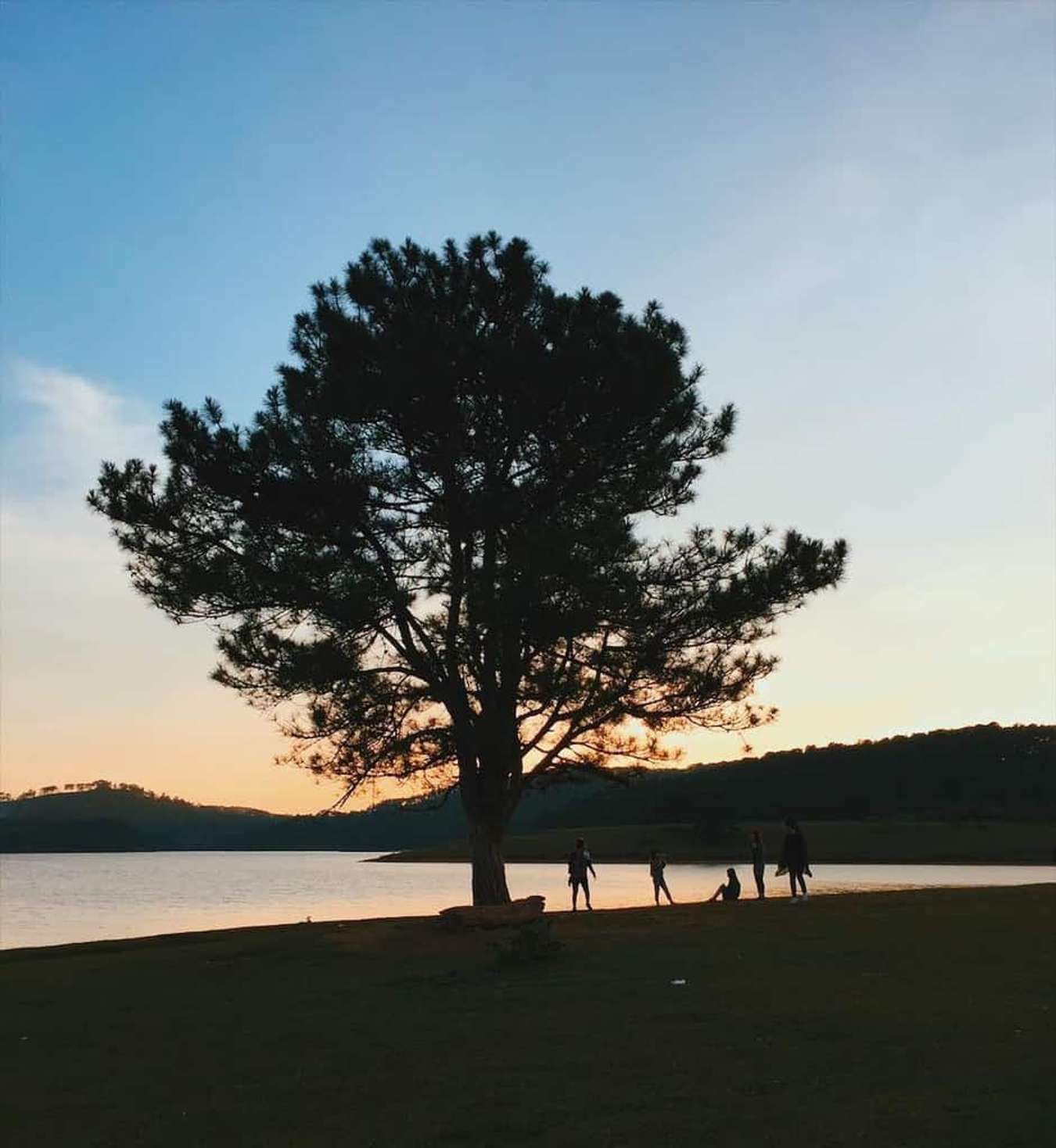 The famous lonely tree at Suoi Vang lake. @_hien_six
Mountain Langbiang
As the highest mountain range in Da Lat, Lang Biang is an ideal place for travelers who like to be active with trekking, jeep riding or trekking activities. In particular, the resort also offers adventure sports such as rope climbing and paragliding with panoramic views of the city.
Address : Lac Duong district, Lam Dong province (12 km north of the city center).
Opening hours: From 8 a.m. to 5 p.m.
Ticket price: 30,000 VND/person. Jeep cost 60,000 VND / person / round trip or 400,000 VND / car 6 people.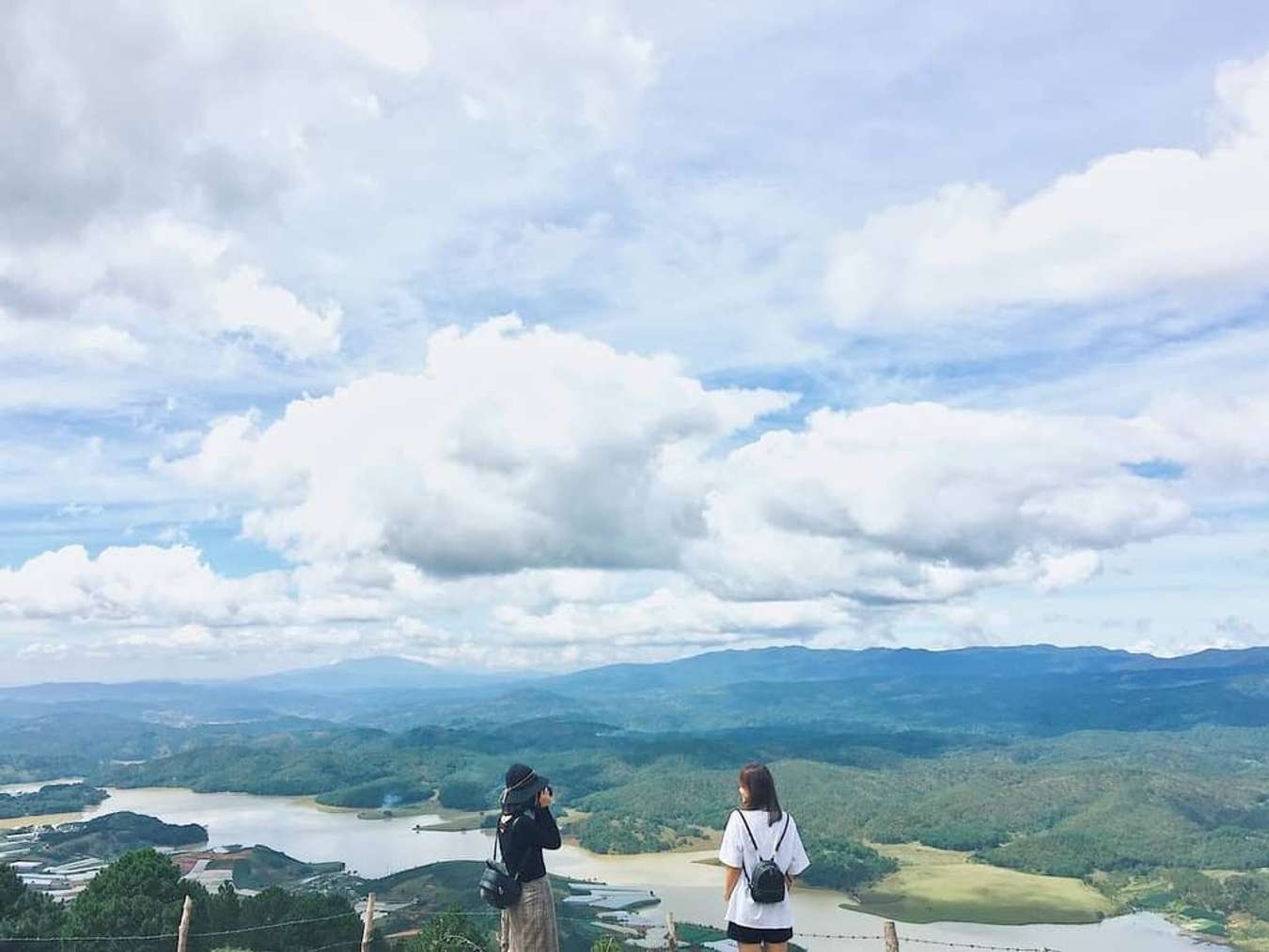 The view from the top of Lang Biang mountain. @imhanhng
4.3 The area south of Da Lat city
Going south, you will have the opportunity to explore a series of beautiful and majestic places that have been named the symbols of the city in many Da Lat travel guides from the past to the present.
Tuyen Lam Lake
As the largest lake in Da Lat, Tuyen Lam Lake is surrounded by green pine forests, bringing a charming and poetic scene of a mountain town. This area also focuses on high-class resorts, golf courses, yachts, etc. to serve the resort needs of tourists.
If you want to try a new experience when visiting the lake, you can refer to Traveloka Xperience's camping tour by Tuyen Lam lake . Here you will be able to participate in interesting activities such as: rowing boat to the camping site, setting up a tent with the provided equipment, chatting and singing together and enjoying the evening BBQ party with friends. premium wine…
Address: Ward 4, City. Da Lat, about 6 km south of Da Lat city center.
Directions: When driving, follow Highway 20 for about 4 km, go down Prenn pass, then turn right along Truc Lam Yen Tu street. Go straight for more than 1 km to Tuyen Lam Lake.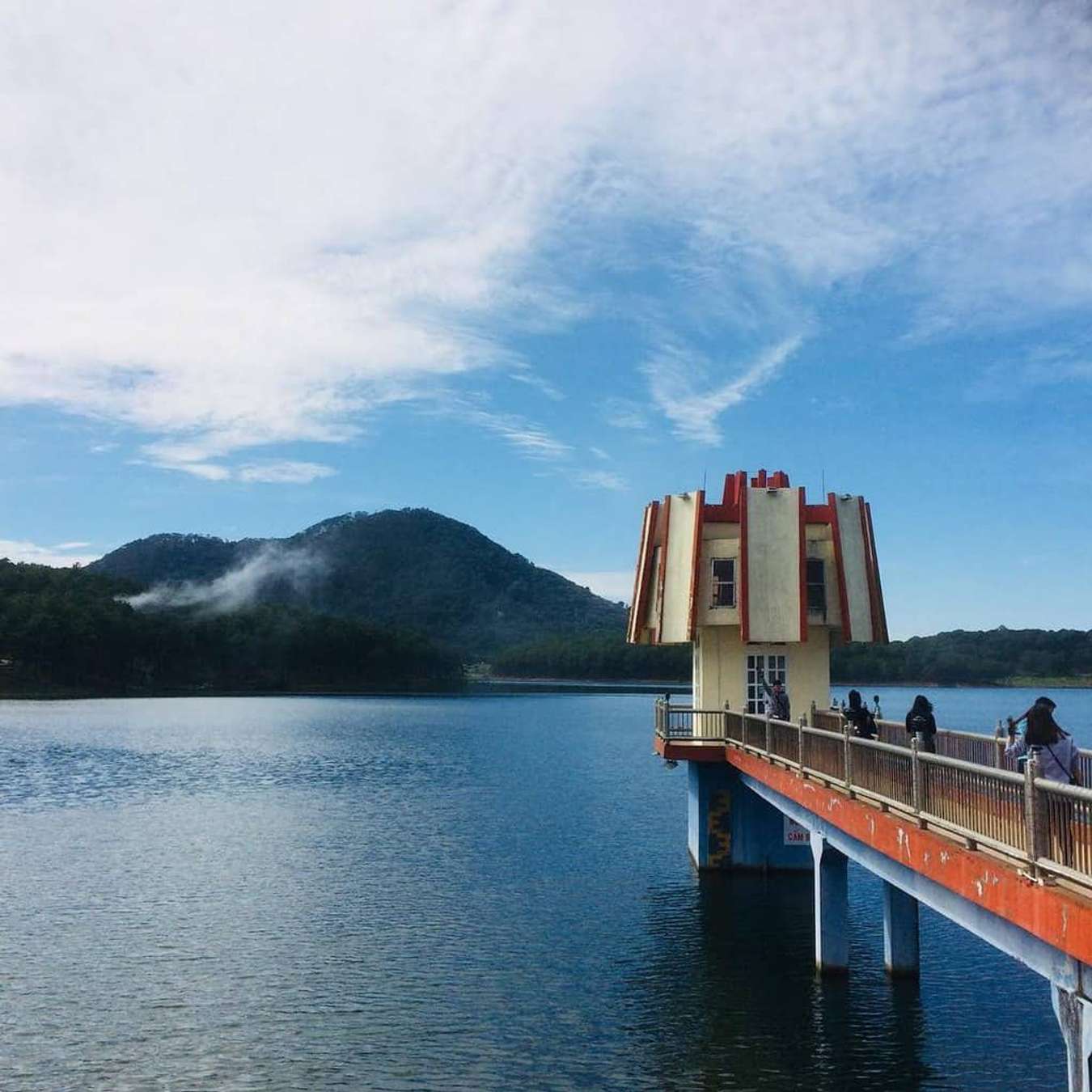 The poetic Tuyen Lam lake in the middle of pine hills. @hothimythuan56
Truc Lam
Located on Phuong Hoang mountain, Truc Lam Zen Monastery is the largest Zen monastery of the Truc Lam Yen Tu lineage. You can try the Dalat cable car experience when going from Robin Hill to Phoenix Mountain.
Address: On Phuong Hoang Mountain, Ward 3, City. Da Lat. It is about 5 km south of Da Lat city center.
Opening hours: From 5am to 9pm every day of the week.
Cable car ticket price: 50,000 VND / way or 70,000 VND / round trip.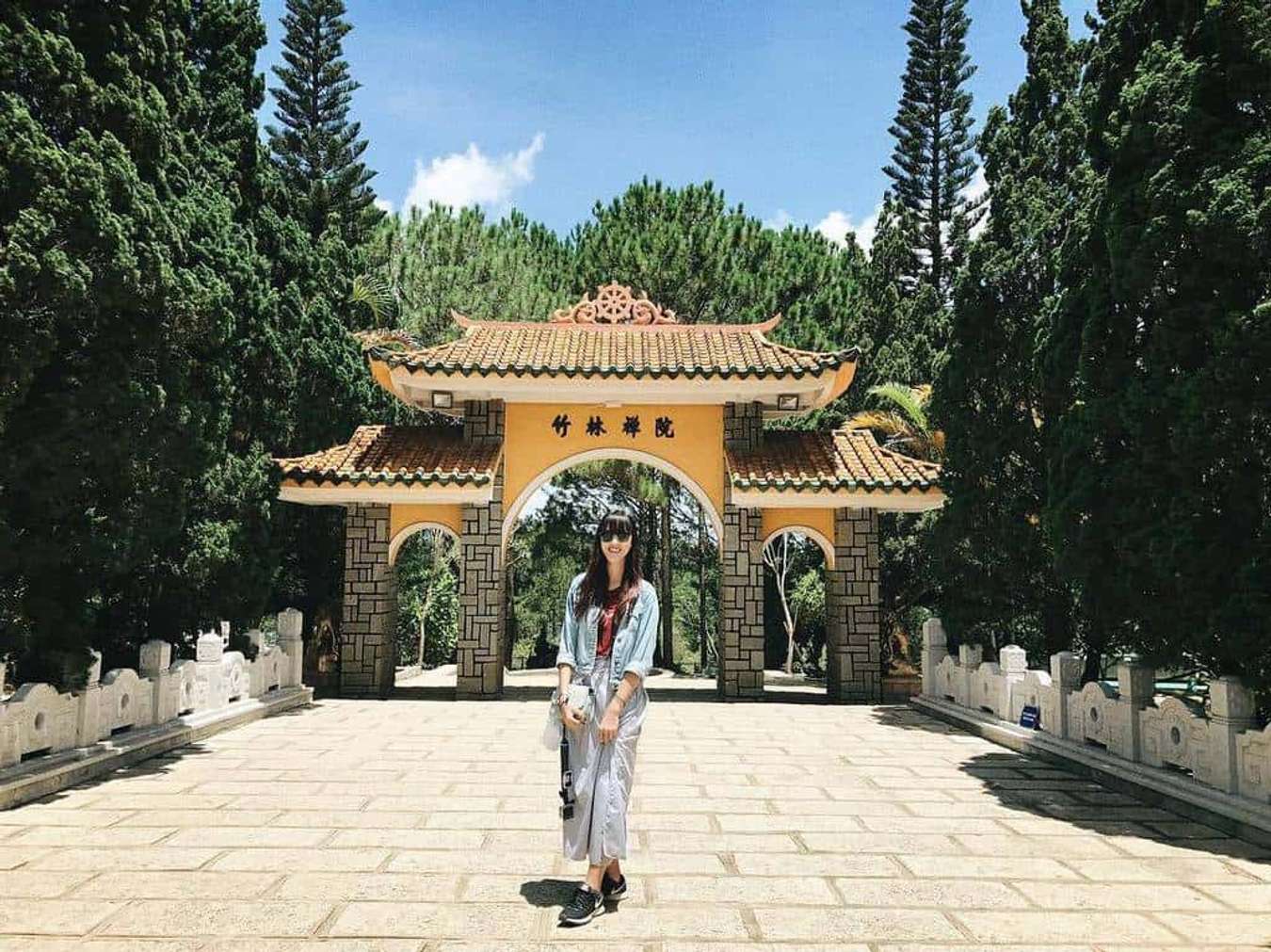 Peaceful, dignified atmosphere of Truc Lam Zen Monastery. @pangmella
Datanla Waterfall
Leaning against the Prenn pass, Datanla waterfall has a gentle, sometimes intense look, allowing visitors to freely explore and conquer. Fun activities at Datanla waterfall are also quite diverse such as cable car, slide, adventurous rope climbing, balancing bridge, death challenge…
Address: Prenn Pass, Highway 20, Ward 3, City. Da Lat.
Ticket price: 30,000 VND / entrance ticket, games will have their own prices. If you want to play more games that are both cost-effective, you can pre-book through Traveloka Xperience the High Rope Course Dalat ticket and the New Alpine Coaster Datanla sled ticket at extremely favorable prices.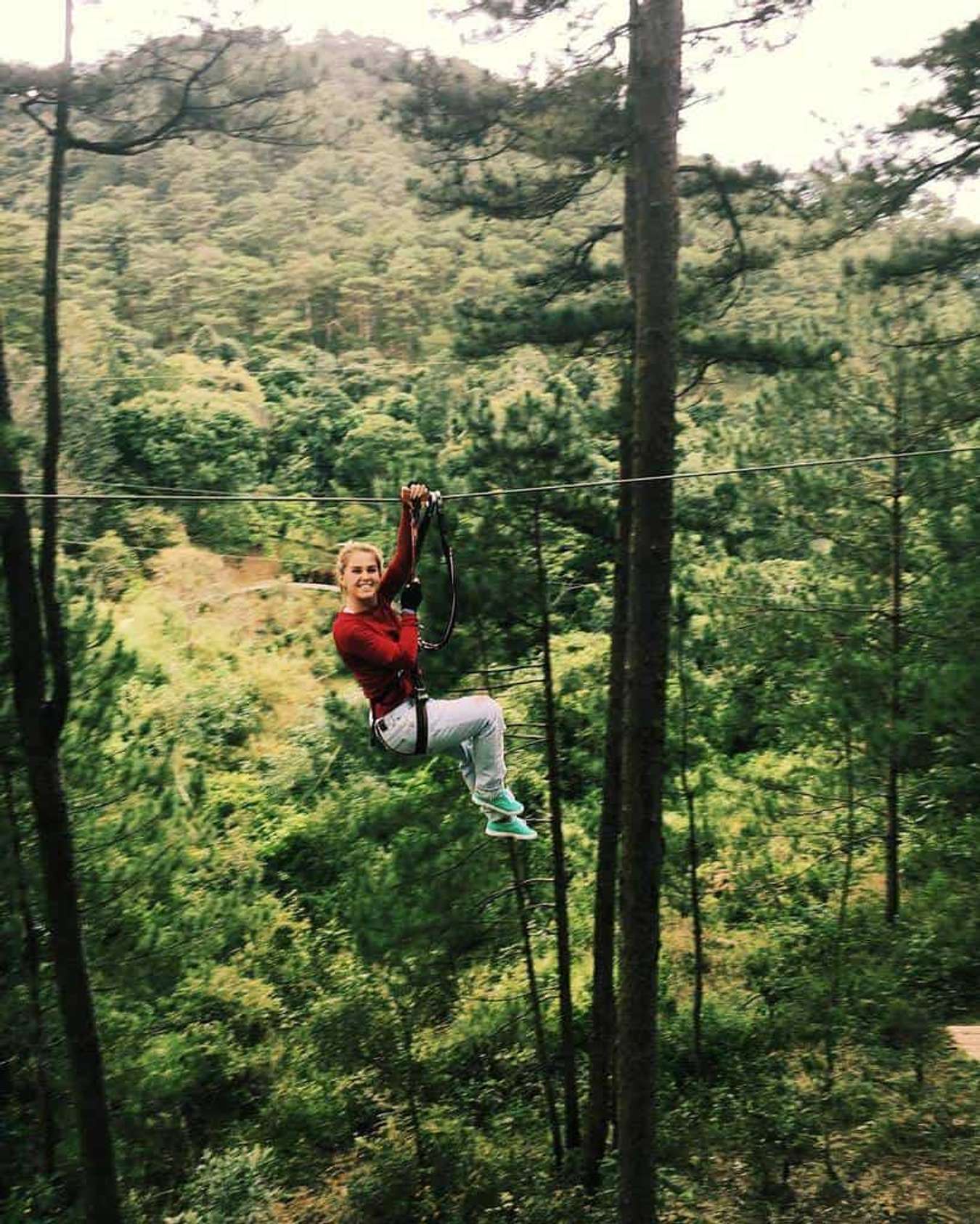 Challenge the adventure at Datanla waterfall. @_danshina
Pongour Falls
With its unique layered shape, Pongour is known as the Nam Thien De Nhat Waterfall. The waterfall looks like a woman's long hair, which is associated with the legend of the talented female chief of the K'Ho ethnic group.
Address: Tan Hoi Commune, Duc Trong District, Lam Dong Province.
Ticket price: 10,000 VND/person.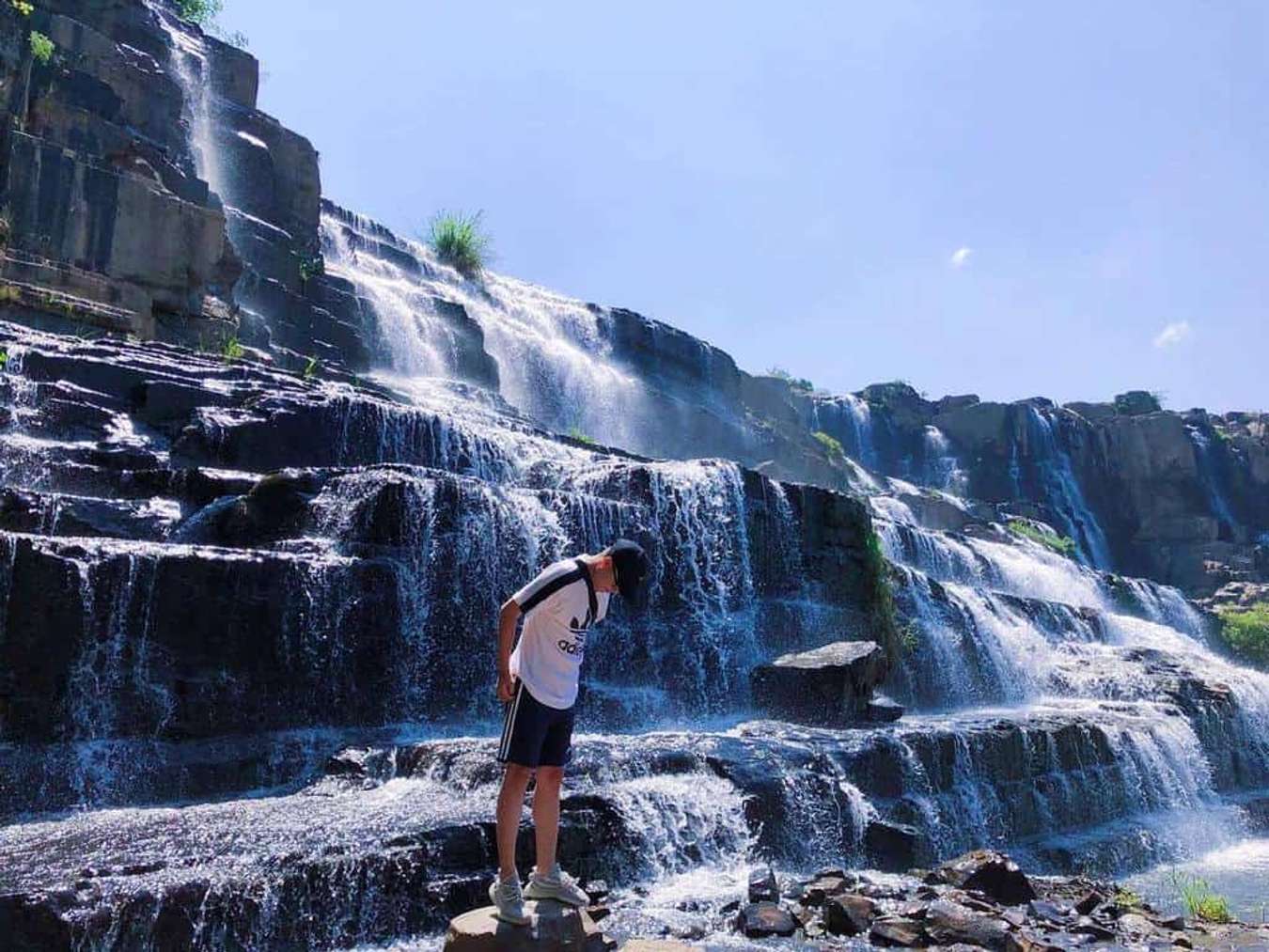 Pongour Waterfall looks like a girl's hair from afar. @___lam.lam__
Cau Dat Tea Hill
Traveling to Dalat, you must visit the "specialty" tea hill. Coming to this 100-year-old tea hill, you will enjoy the fresh atmosphere of morning dew, light sunshine, and fragrant tea leaves. The most beautiful tea hill is in the early morning, when the dew drops are still on the leaves, each ray of sunlight gently covers a green tea hill.
If you just want to hunt clouds and watch the sunrise on the tea hill in the morning, you can refer to Traveloka Xperience's Half-Day Dalat Cloud Hunting Tour . You will be able to hunt rattan and take pictures on a wooden carpet, then visit Cau Dat Farm tea hill, where you can have breakfast at your own expense. There are also other activities in the tour such as visiting the high-tech strawberry garden, visiting Nang Coffee with sheep fields and lovely Koi fish pond.
Address: Cau Dat hamlet – Xuan Truong commune, about 20 km southeast of Da Lat city center.
Opening hours: From 8:30 a.m. to 5:30 p.m.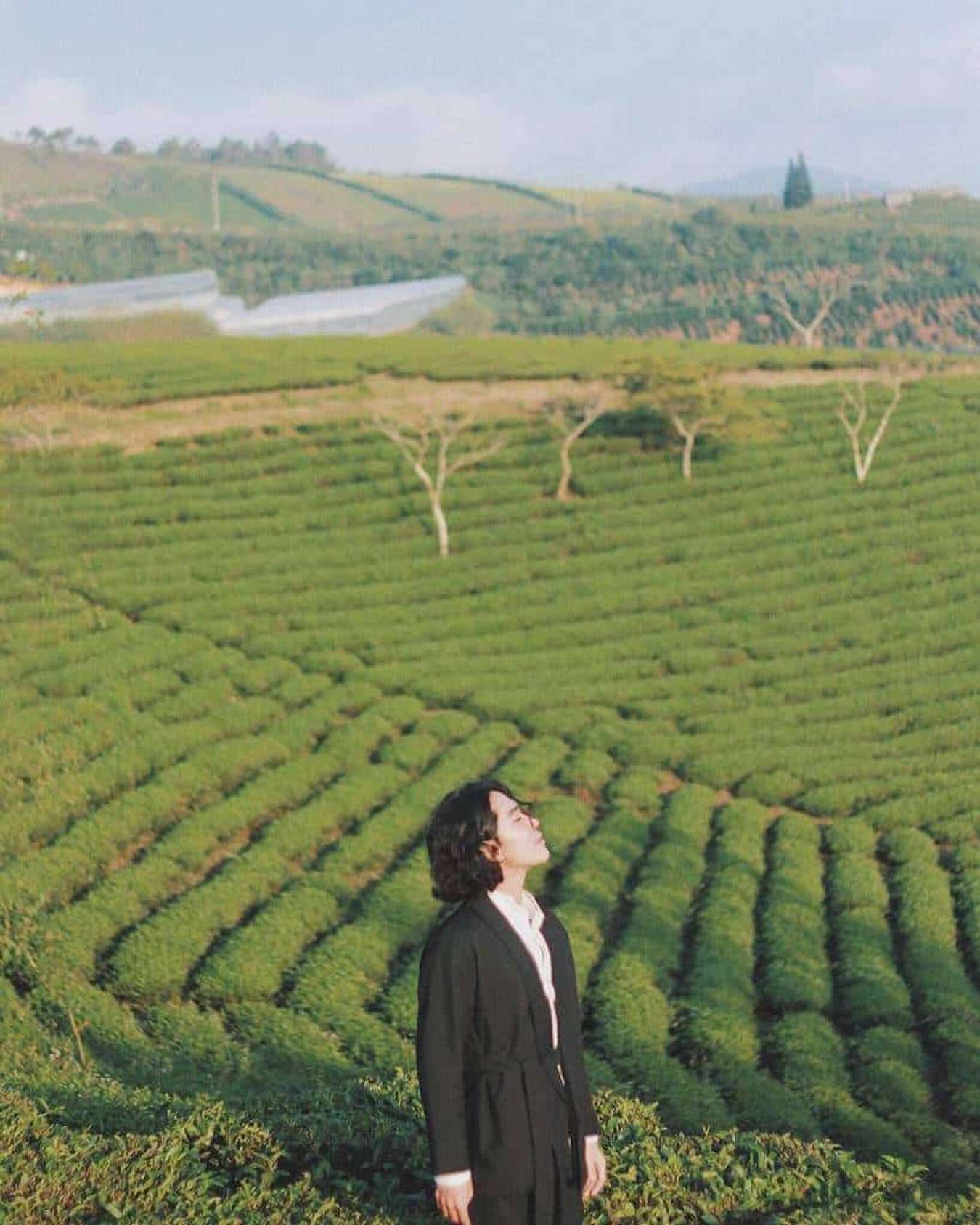 The space is full of the aroma of tea hills. @danigram.x
In addition to Cau Dat tea hill, near Da Lat there is also Bao Loc tea hill.
4.4 New tourist destinations in Da Lat attract young people
Besides familiar tourist destinations, a Da Lat travel guide for young people is indispensable for new places to play, or " secret places" not everyone knows .
Zoodoo Zoo
If you are curious about kangaroos, ponies, sheep, or Alpacas, then come to Zoodoo Zoo to see and have fun with them. Zoodoo is an Australian-style open zoo model, suitable for those who are interested in learning about nature and animals.
Address: Sub-zone 94A, Da Nhim commune, Lac Duong, Lam Dong province.
Opening hours: From 8 a.m. to 6 p.m.
Ticket price: 100,000 VND / adult, 50,000 VND / child under 1.2 m.
Note: To ensure the natural development conditions for the animals, the zoo only accepts a limited number of visitors a day, so it is best to book tickets in advance. 
Besides, you remember to refer to the details of Zoodoo Dalat review articles to learn more about this place.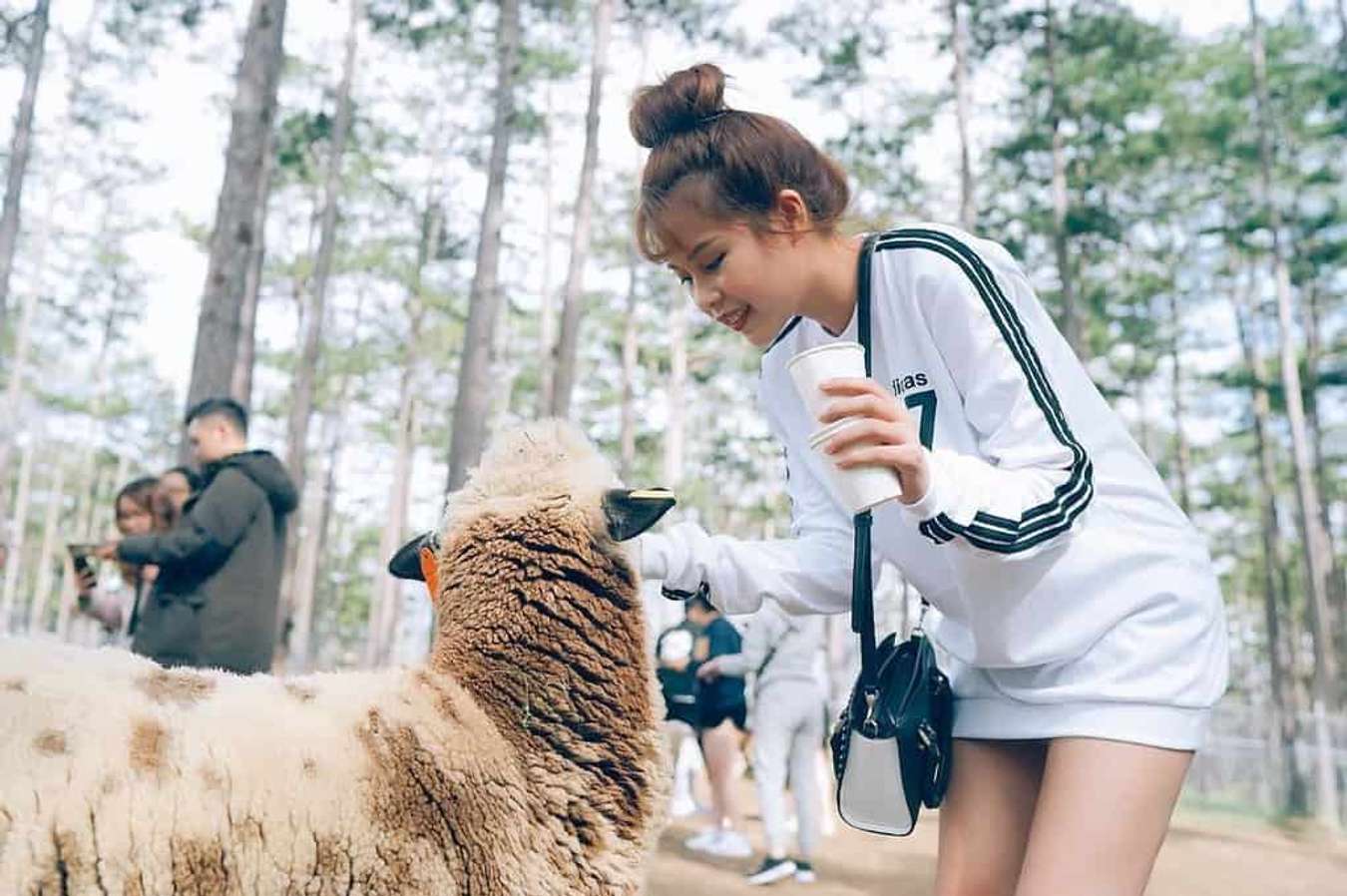 Zoodoo's natural open zoo model. @nicablahblahdeduck
Dalat Milk Farm
Although located quite far from the center, young people are still fascinated by Dalat Milk Farm because of the romantic farm scene like Europe. Welcoming you after a long journey are green lawns, cool lakes, herds of dairy cows, and especially a flower field that blooms every season when buckwheat or sunflower comes.
Address: Tu Tra commune, Don Duong district, Lam Dong province, about 25 km from the center of Da Lat city.
Opening hours: Closes at 16:00.
Admission Fee: Free admission.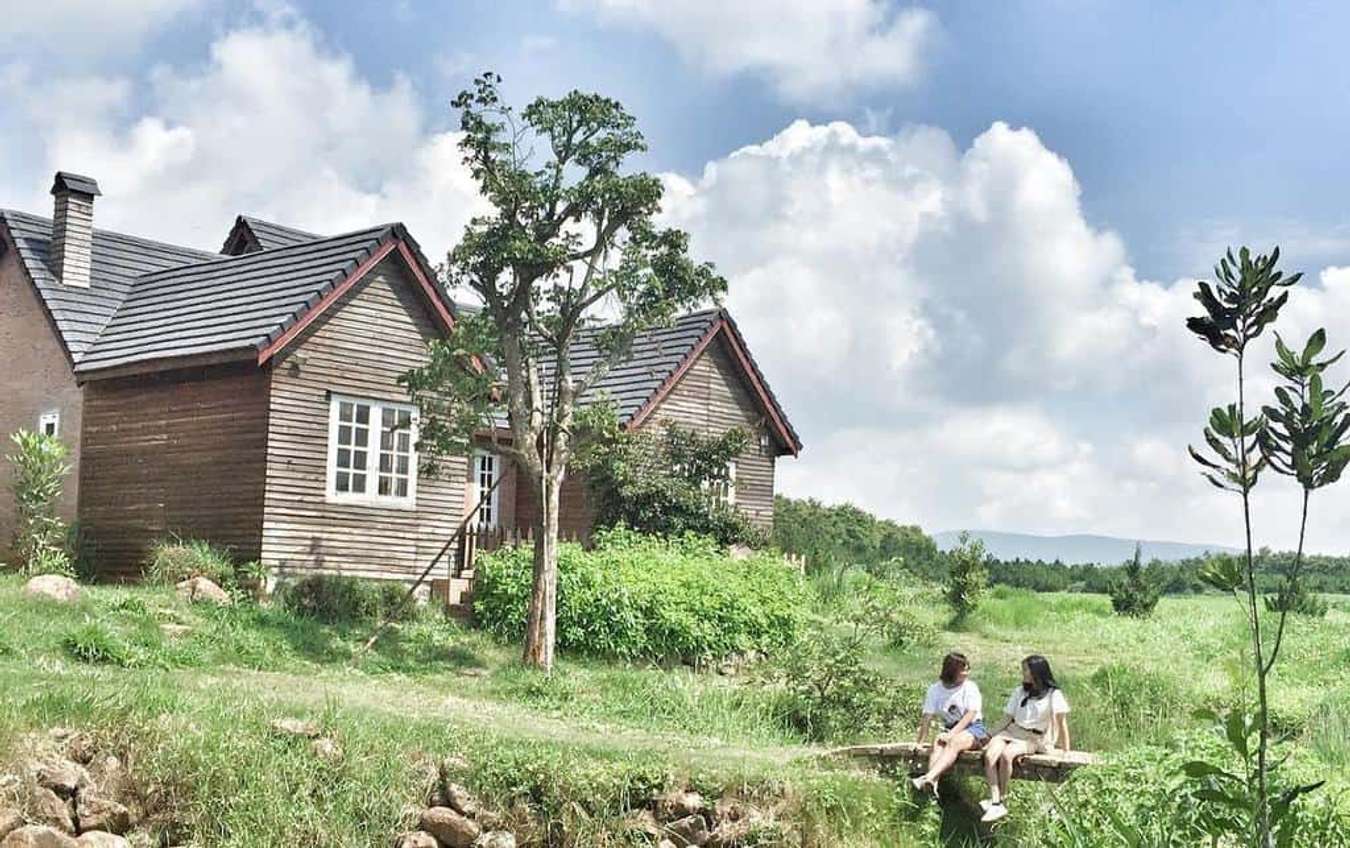 The scene is as peaceful as a European farm. @bsanggg__
Secret Garden Studio
For those of you who like to live virtual, you should not miss Secret Garden. This place converges enough mountains, deep forests, Tuyen Lam lake, wooden bridge … both poetic and a little bit magical, spoiled for you to save extreme photos.
Address : Near Tuyen Lam Lake and Sculpture Tunnel, Ward 4, City. Da Lat. Secert Garden is located at the end of the Sculpture Tunnel's parking lot.
Entrance ticket price: 50,000 VND / person.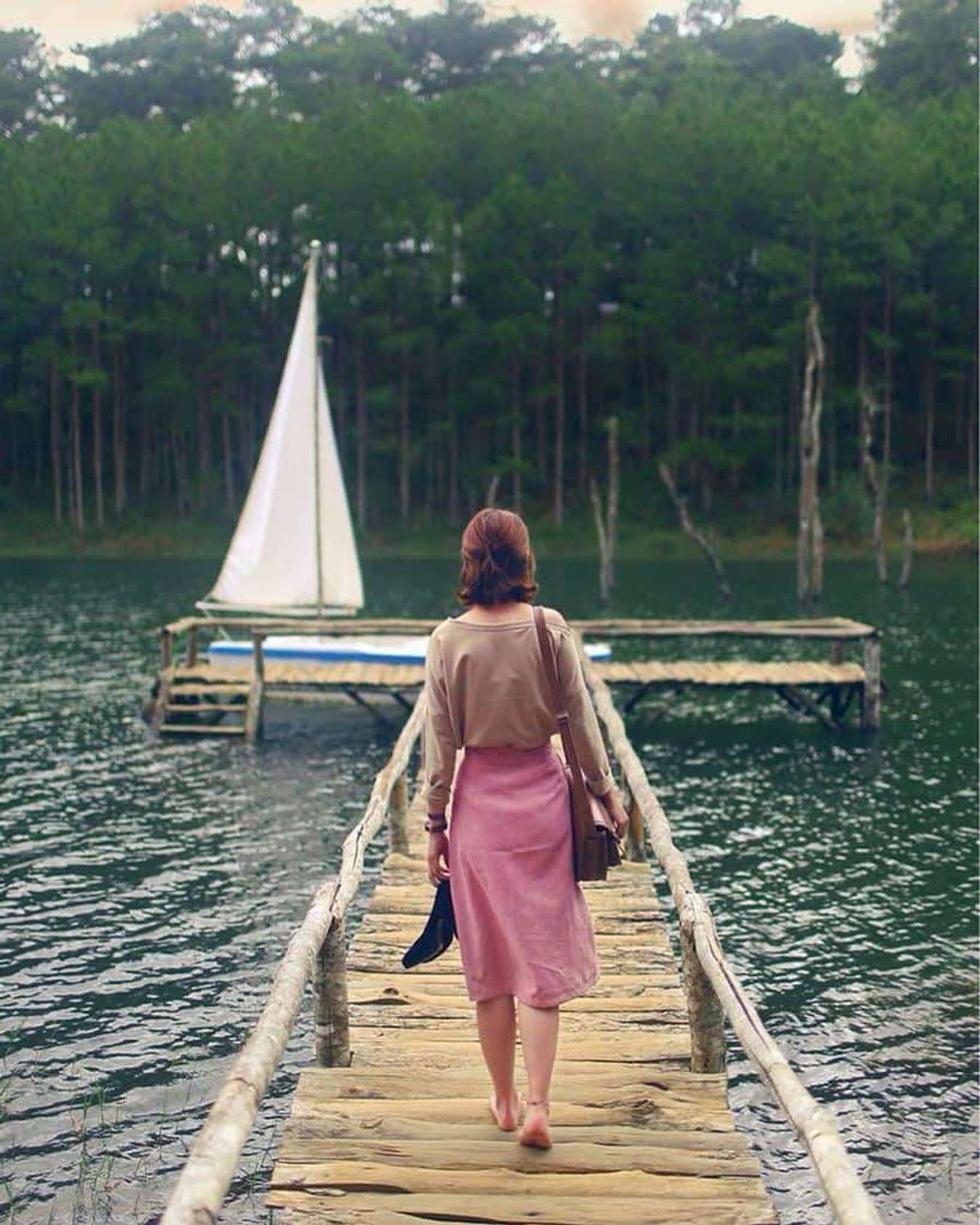 Secret Garden has a lot of space for you to "live virtual". @tong_ho_khanh_linh
Linh Quy Phap An Pagoda
Located between Bao Loc and Da Lat, the temple is located halfway up the mountain. The most famous of Linh Quy Phap An is the "Torii heaven gate" – a place for you to spread your eyes across a mountainous area, clouds and sky. It can be said that in Vietnam, only Linh Quy Phap An Pagoda has a Torii gate in this special Japanese architectural style.
Address : The pagoda is hidden in the middle of Phap An Son forest, at hill 45, hamlet 4, Loc Thanh commune, Bao Lam district, Lam Dong, 21 km south of Bao Loc city center.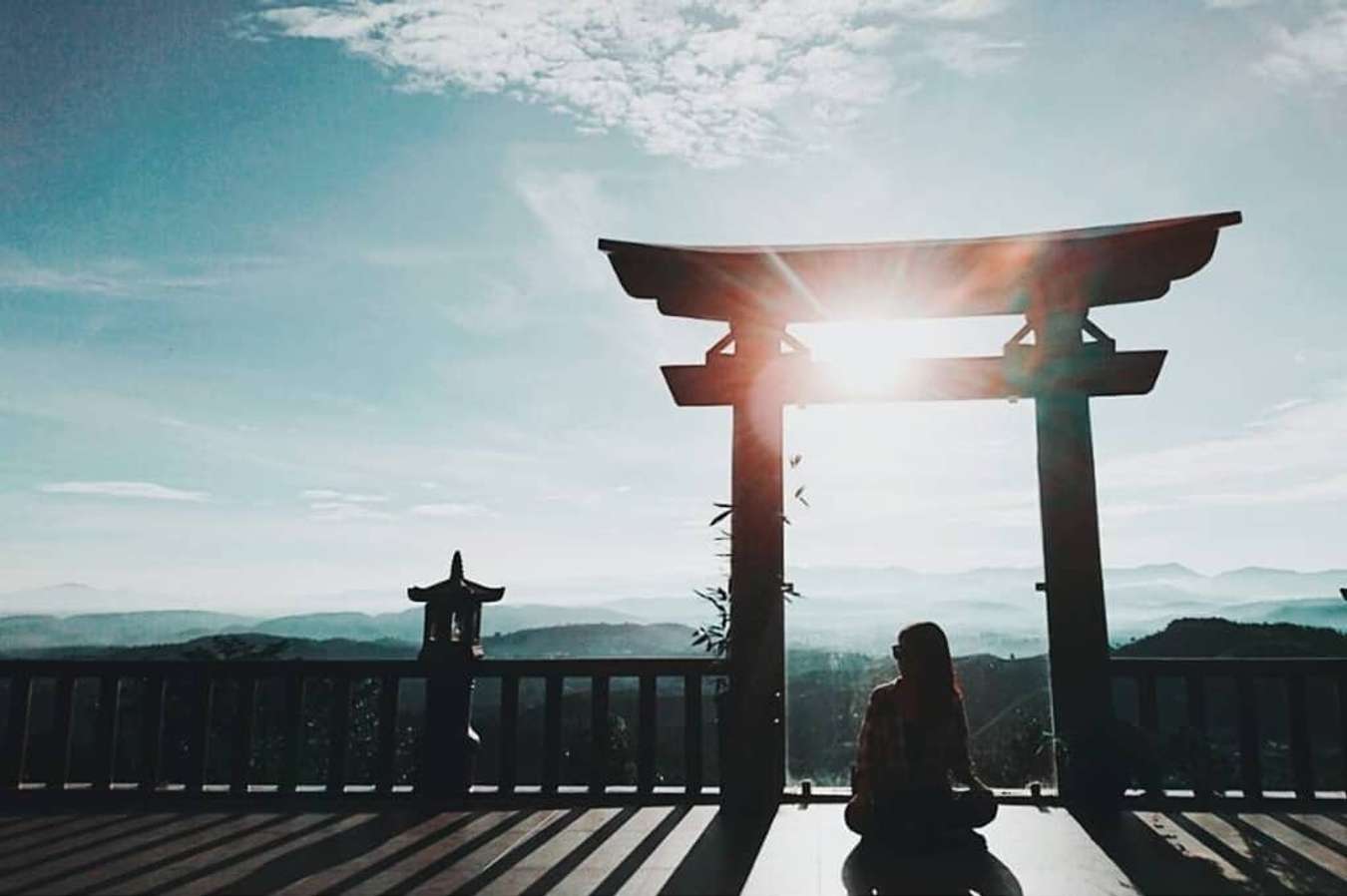 Heaven gate with dreamlike scenery. @p.tuyetnhung
You have just finished reading an extremely long list of experiences and places in Da Lat to visit, but don't think this is the end! Although extremely familiar, Da Lat still has its own charm. Try once to experience all the "great" things that are only available in Da Lat !
5. What delicious dishes does Dalat have?
The fresh and cold air is the condition for "heavenly, favorable, and human-friendly" conditions for you to enjoy the culinary paradise of Da Lat. Here is a list of "must-try" dishes that you should save in your Dalat travel guide right away!
Baked rice paper
Or compared as "Vietnamese pizza", a piece of crispy rice paper, full of pate, shrimp, cheese, sausage, … is enough to warm your stomach on a cold day.
61 Nguyen Van Troi. Open from 16:00 to 21:00.
112 Nguyen Van Troi. Open from 14:00 to 22:00.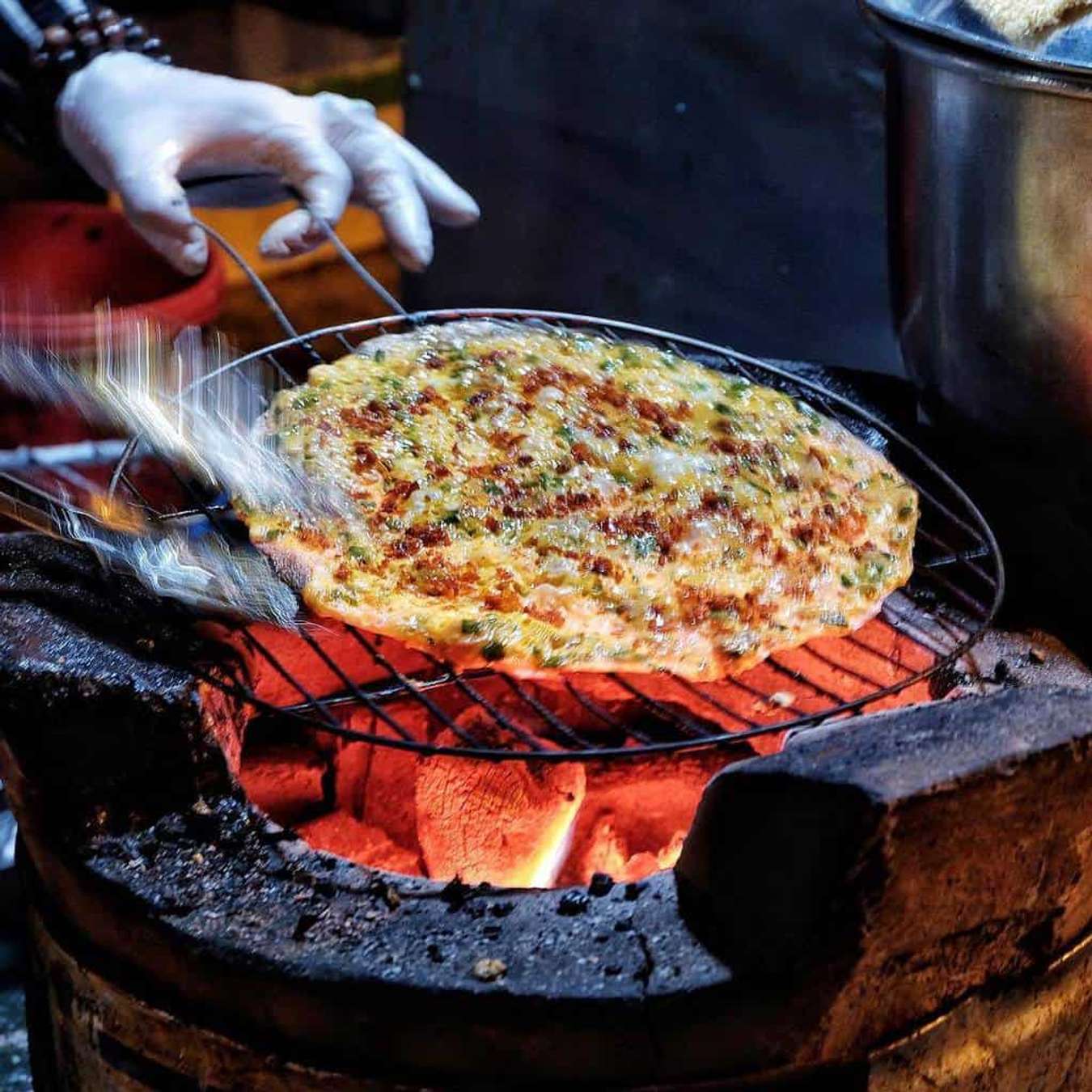 Special "Vietnamese Pizza" of Da Lat. @maryderoux
Baked rolls
Nem is grilled on charcoal, served with sour food and soy sauce to make it attractive. Some famous grilled spring rolls restaurants in Da Lat city such as:
Ba Hung's shop: 254 Phan Dinh Phung. Open from 11 a.m. to 9 p.m.,
Ba Nghia shop: 04 Bui Thi Xuan. Open from 9am to 10pm.
Although Dalat grilled spring rolls are not strange, they are charming in their own way. @huyennguyen.tak
Wet cake with chicken hearts
Soft chewy wet cake eaten with chicken hearts and rich fried chicken, adding a little sweet and spicy fish sauce is enough for you to remember forever. Here are a few sites for your reference:
Quan Trang: 15F Tang Bat Ho.
Quan Long: 1A/1 Thong Thien Hoc.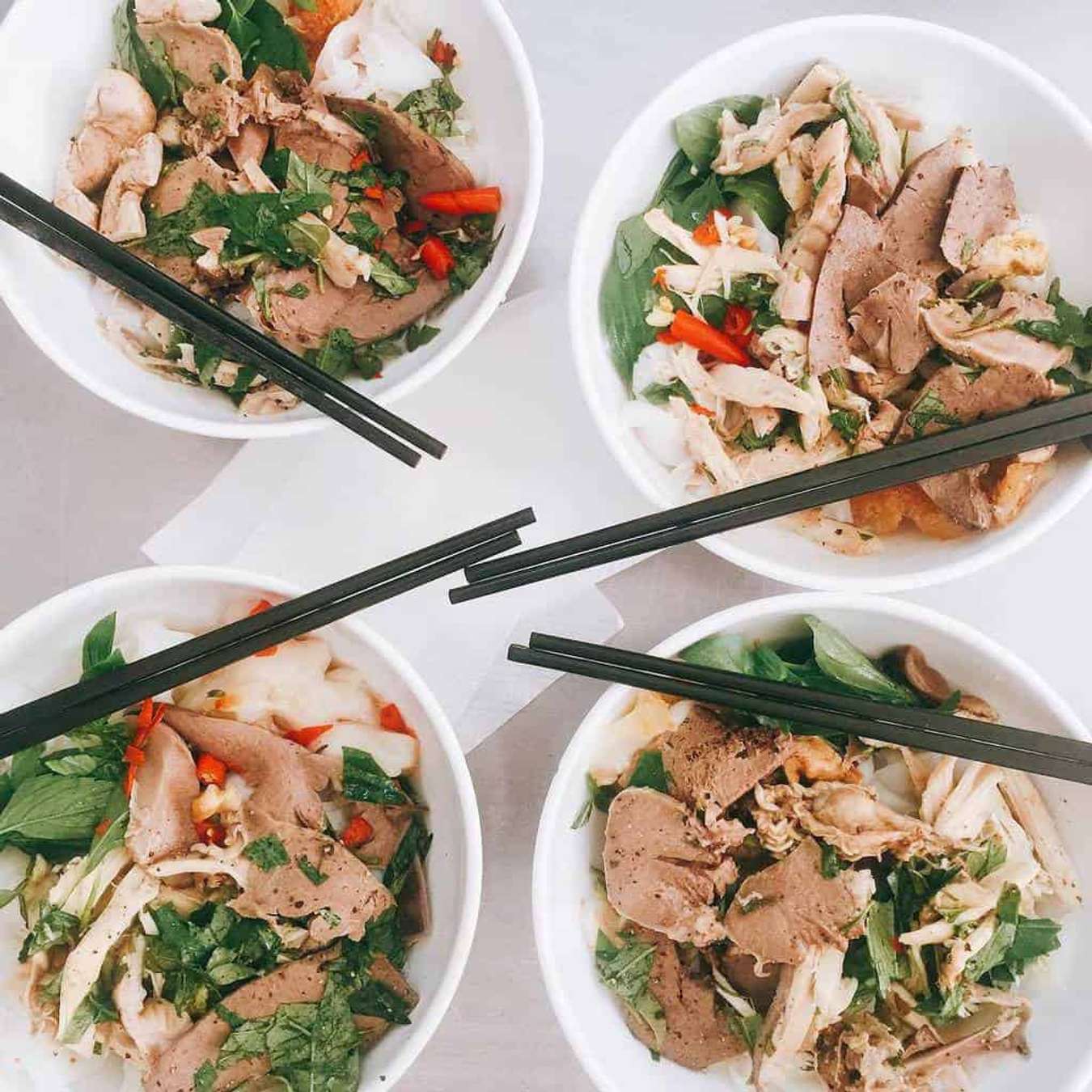 Wet cake with chicken hearts seems to be a dish that only Da Lat has. @xuboss__
Hot soy milk
The weather is cool and there is nothing better than a cup of hot and fatty bean milk. Soy milk is often sold with pepper cakes, croissants, and banh Su… for a warm late night meal. In Da Lat, the most famous address is soy milk at 63 Tang Bat Ho.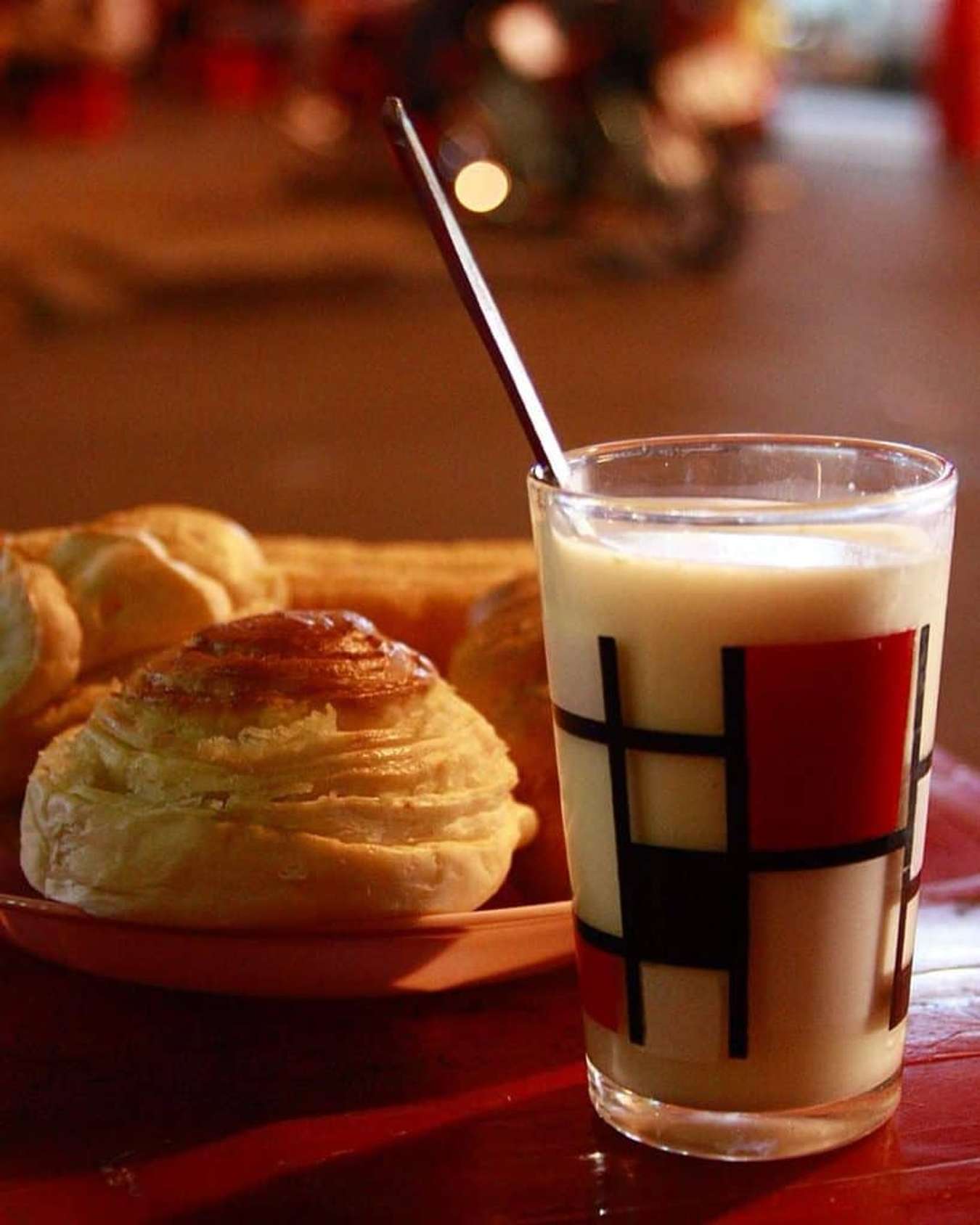 Hot soy milk for a cold day. @khanhnguyen_64
Bread shumai
Not a Saigon-style shumai sandwich, Da Lat shumai sandwich is a must to sit down, slowly dip the bread crumbs into the hot sauce in the cold weather.
26 Hoang Dieu. Open 6am – 9am.
Shop BH: 16A Nguyen Chi Thanh. Open from 7am to 10pm.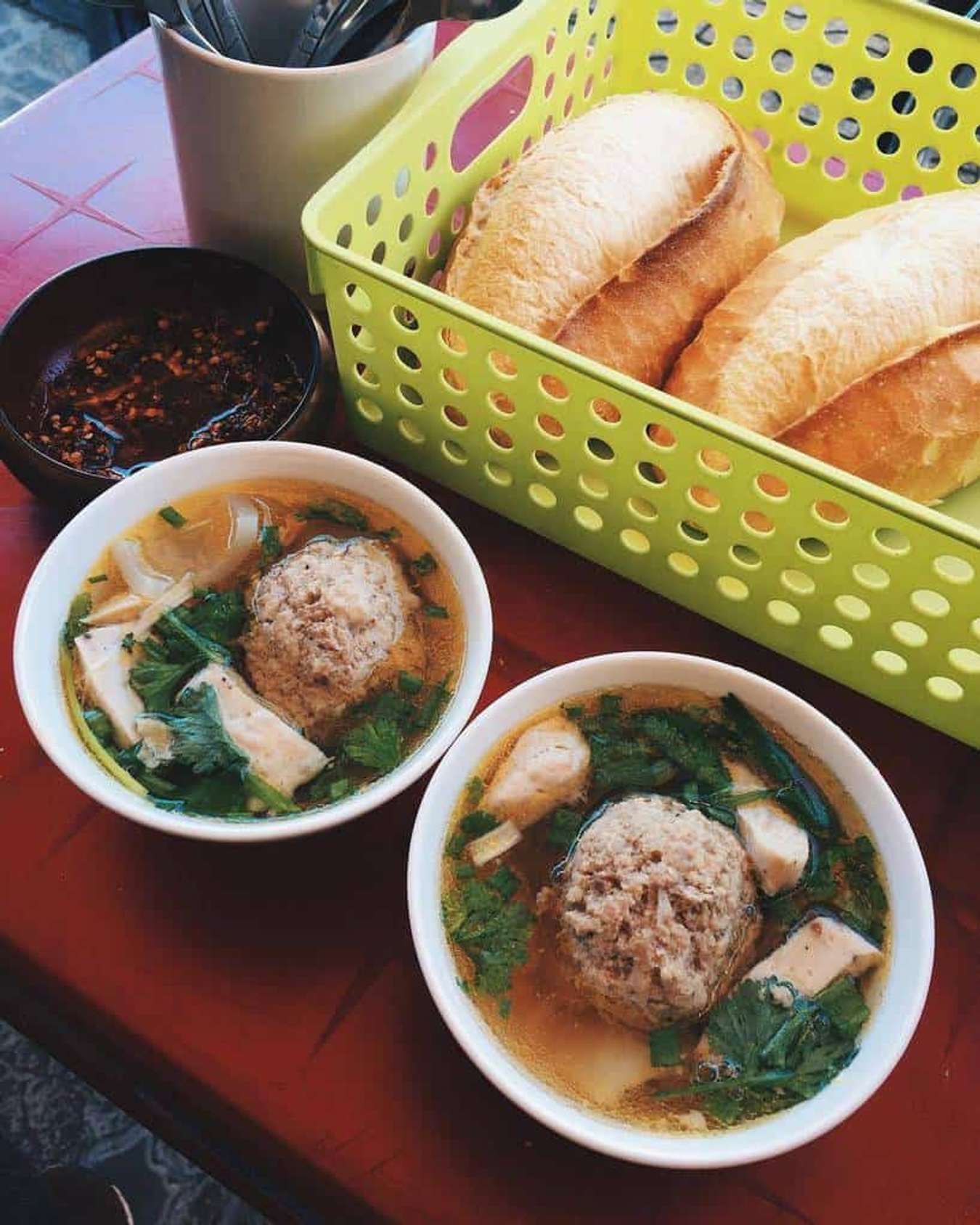 The way Da Lat people eat shumai bread is as slow and gentle as the atmosphere here. @linh.hh_
Hotpot – Grilled
A boiling hot pot or smoky grilled dishes is always something to seduce the stomach, especially in the cold weather of Da Lat.
Tile BBQ: 111 Bui Thi Xuan.
Grilled Roof Tiles: January 18, Nguyen Du.
Tile Cu Duc: 6A Nguyen Luong Bang.
Ba Toa shop: 1/29 Hoang Dieu.
Quan Hanh: 150 Bui Thi Xuan.
Nang Huong Restaurant Da Lat: 29 alley 1 Hoang Dieu.
Yersin beef hot pot restaurant: 27/44A Yersin.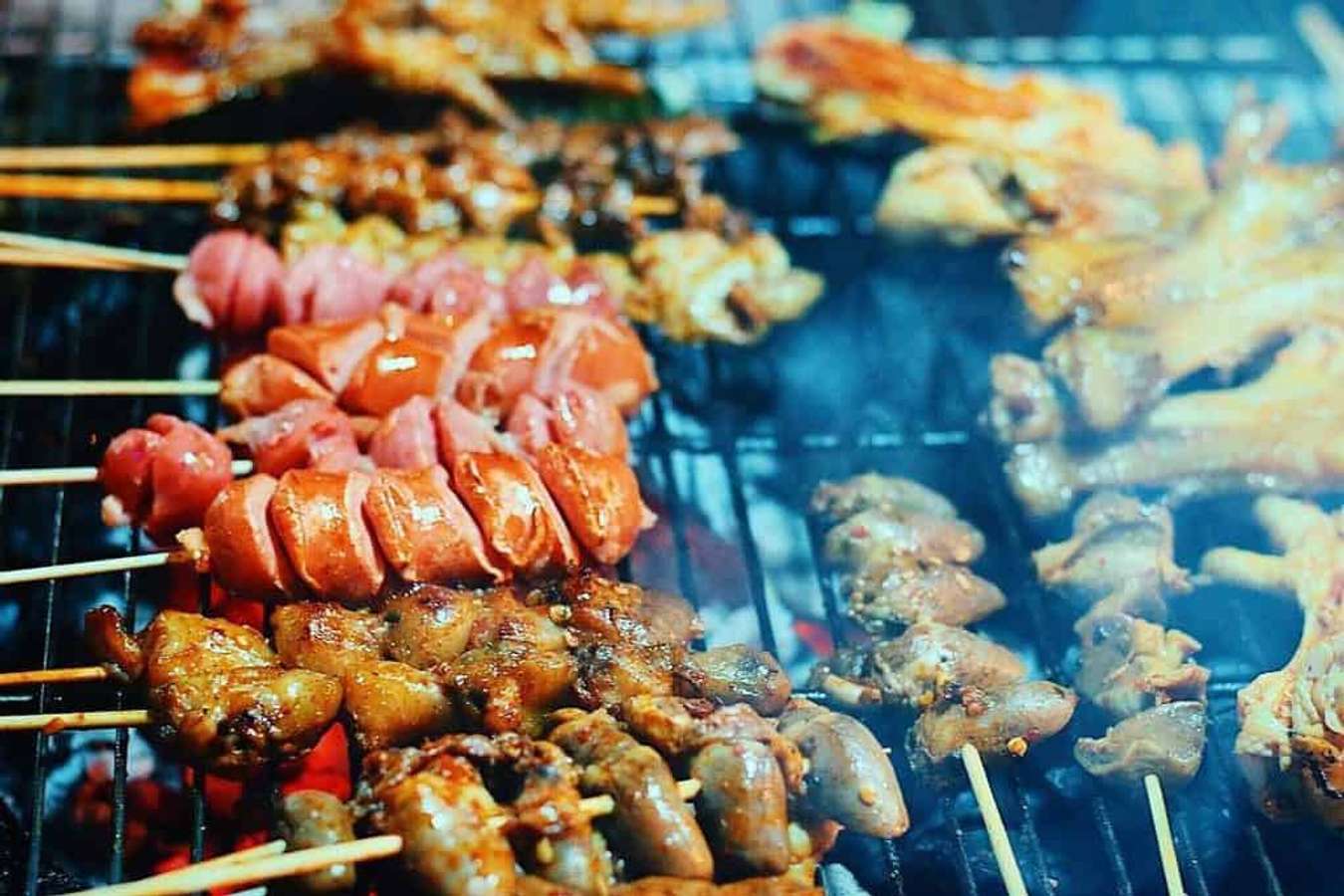 There is nothing more attractive than a hot pot or a few smoky grilled skewers. @doremark
Coffee shop in Da Lat
The beautiful cafes are also the ideal places to take pictures and rest for young people during their trip to Dalat. This city has no shortage of lovely coffee spaces, bringing a sense of peace like the atmosphere here. Refer to the list of cafes that come to Da Lat to check-in!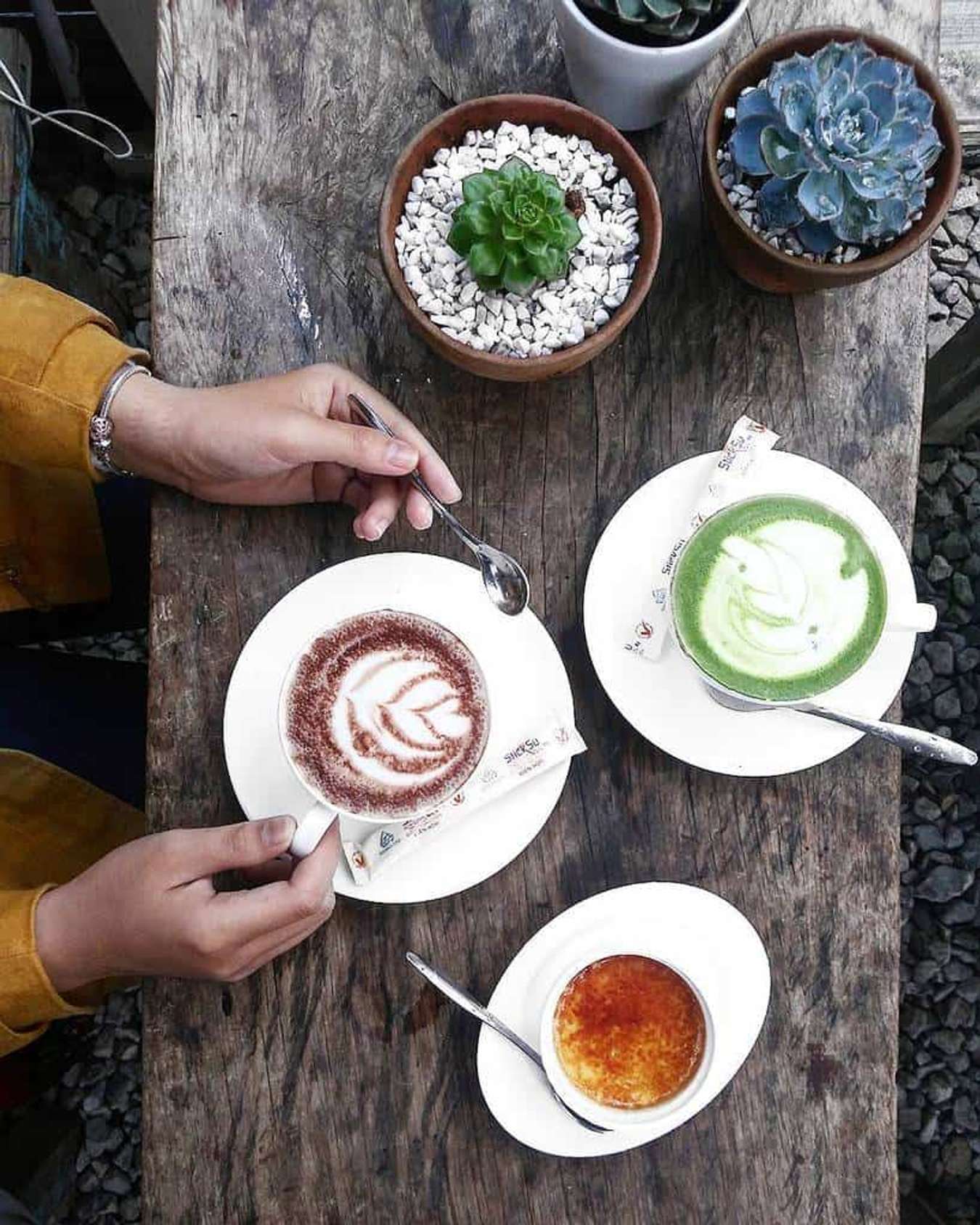 Coming to Da Lat, it is impossible to ignore the lovely cafes. @ha.hann
This is certainly not all of Dalat's culinary paradise. If your goal to this foggy city is to "break the island" all the delicious dishes, then pocket the Dalat travel experience right away – the top 30 Dalat dishes not to be missed.
Besides, as a gift for your loved ones, you can easily find and buy Dalat specialties such as dried fruits, fruit jams, artichokes, strawberries, Dalat wine…
6. Which hotel in Dalat?
For those who come to Da Lat to have a relaxing vacation in the fresh air, go straight to Dalat resorts. Swiss-Belresort Tuyen Lam Dalat , Terracotta Hotel & Resort Dalat , Zen Valley Dalat , Anna Mandara Villas Dalat … are just a few names that can give you a trip beyond satisfaction.
As a famous tourist city, of course, Da Lat hotel system is extremely diverse with a full range of prices to serve all the needs of visitors. You can check out our suggestions below to find very cheap shelters.
Dalat Hotel
Aparang 3 Hotel: For those of you who want to change the atmosphere and stay in a place with a more modern style but still affordable, go to Arapang 3. With the price from 1,000,000 VND/room for the location near the center, it's really great.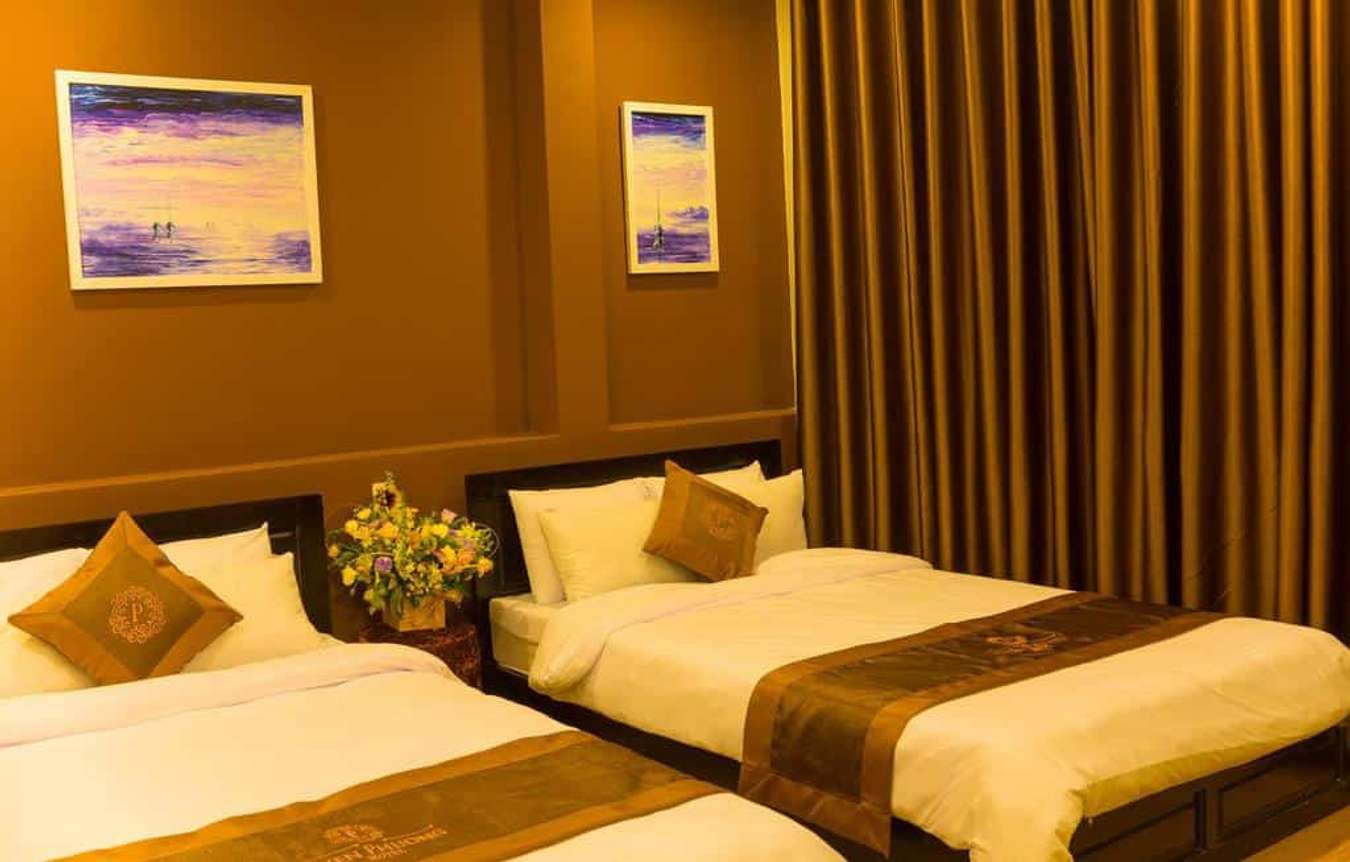 Luxury bedroom at Arapang 3 hotel. @arapang3hotel
Xuan Cuong Hotel: Xuan Cuong Hotel is always full of sunshine during the day. The space here is also very large and clean. The special thing is that you only need to walk about 30 steps to the night market. Because it is located in the center of the hotel, there are also many souvenir shops, noodle shops and nice coffee shops around the hotel.
Uyen Phuong Hotel: Uyen Phuong Hotel is one of the ideal shelters for those with tight budgets but still looking forward to a spacious and clean space. If you are too familiar with cheap homestays in Da Lat, try coming here to experience the new space.
Homestay Dalat
In addition to traditional hotels, the form of hostels and homestays in Da Lat is also increasingly popular, allowing you to fully enjoy the cozy atmosphere in the mountain town. Check out the cheap homestays in Da Lat to find the best place to stay.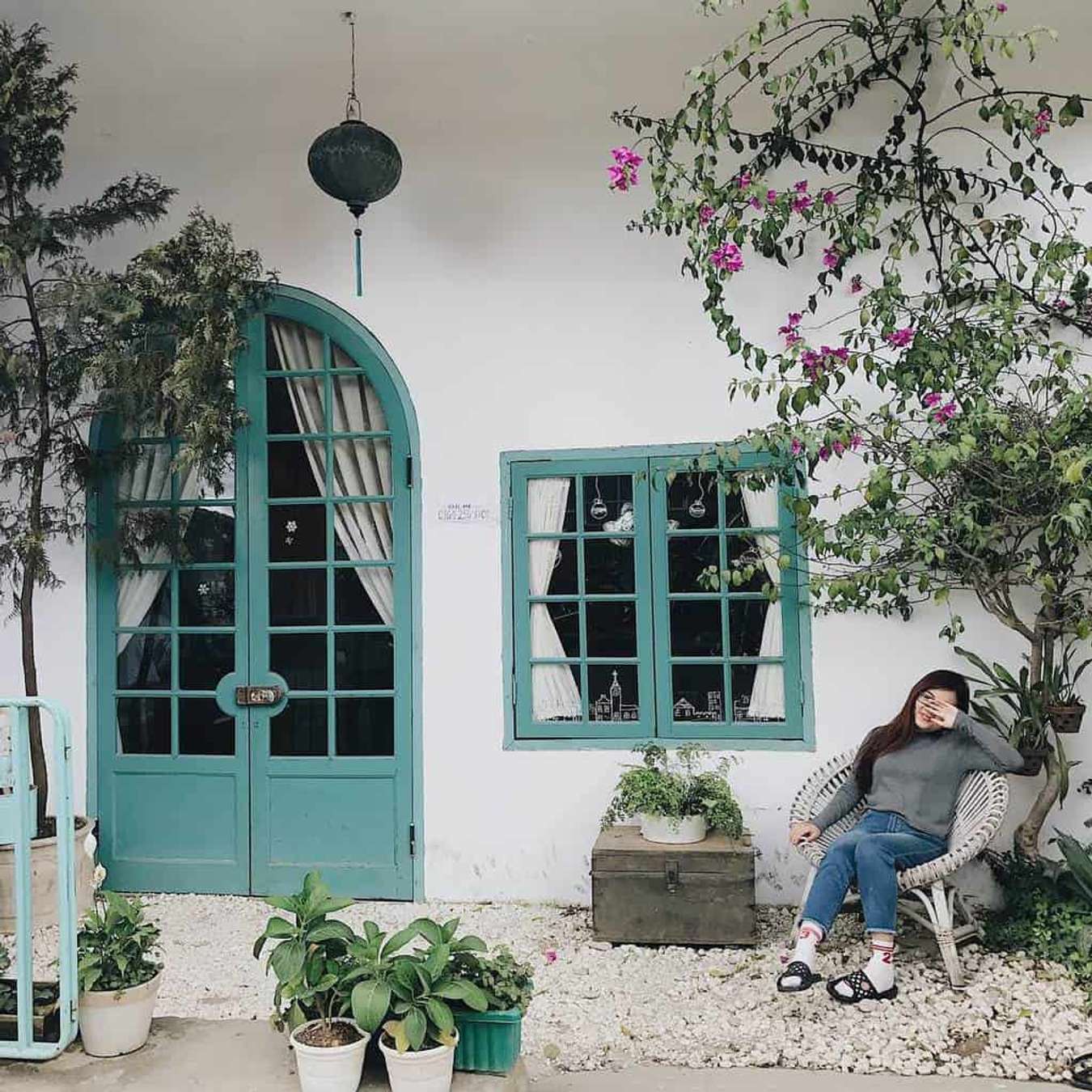 Da Lat is famous for its beautiful hostels and homestays. @katherine.lsf
Villa Dalat
Especially, if you are traveling in a large group or family, and want to find a private place to relax comfortably, why not think of the type of villa in Dalat. This is also one of the new types of accommodation in Da Lat that is very popular with tourists in recent days. Some names for you to consider are Hong Mon Villa , Sense Villa Dalat , Monet Garden Villa …
One thing to note when booking a hotel in Da Lat is that this city is always in the top hottest places for residents who love to travel. So if you intend to come here, don't forget to plan early, book in advance with Traveloka to find the best price!
7. Some other special notes when backpacking Dalat
The weather in Da Lat in the evening is quite cold, you should bring warm clothes and scarves to avoid colds and coughs. Especially, the weather can change suddenly from rain to sun, so prepare yourself a hat, an easy-to-fold umbrella to cover rain and sun.
Da Lat's terrain is mainly mountainous, so it's best to wear soft shoes, making your movement more comfortable.
The streets of Da Lat are clear and less traffic jams, there are no traffic lights. But if you go to tourist destinations far from the city, there will be difficult passes, so you need to be careful with the steering wheel.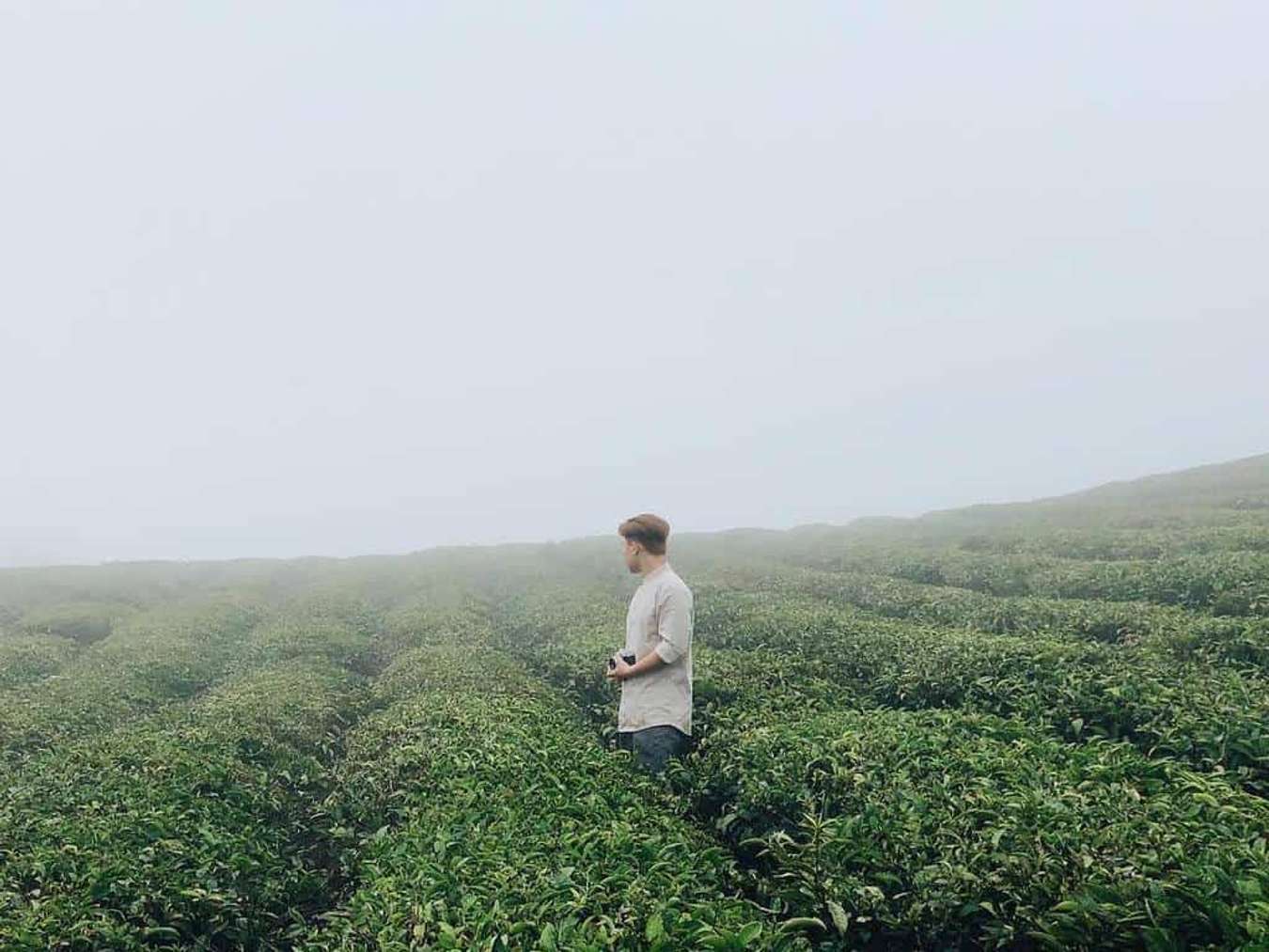 Da Lat is beautiful and idyllic, a suitable place to "escape the world". @dejaywu
Before buying, eating at markets or tourist areas, you should consult the price first, or ask the price before buying and pay a reasonable price to avoid being challenged.
If you intend to go on a trip to Dalat but still don't know how to go, don't forget to learn the secret from us just mentioned.
With the detailed self-sufficient Dalat travel experience from A – Z above, we hopes you will have moments with great experiences in the foggy city of Da Lat!