For generations, Hue has always been associated with the dreamy, ancient beauty of the ancient land, even though it has now become one of the central cities of Vietnam. If you suddenly want to leave the noisy city, immediately save the following self-sufficient Hue travel experiences to enjoy the classic rhythm of life on each street.
It seems that each city of Vietnam has its own nickname: Hanoi is a thousand years of civilization, Saigon is the pearl of the far East, and Hue is the land of dreams, the land of the ancient capital despite having passed hundreds of years. but still the ancient, gentle, passionate look as time always slows down here.
But Hue does not only have ancient relics. As the center of the central strip of land, Thua Thien – Hue province in particular and Hue city in general are also favored by nature when lying in the midst of countless beautiful landscapes of the sea, river, mountain, pass…. What are you waiting for without bringing along the following Hue travel experiences and starting to dream of a peaceful walk, not in a hurry, slowly enjoying the beauty of the ancient land.
Belonging to the transitional zone between the two South – North, the weather in Hue is a combination of both regions, reducing the harshness and also quite mild. The rainy season in Hue starts from May and lasts until November, which is the peak time for storms and floods, so it is necessary to monitor the weather before making the trip. Although Hue does not have a distinct winter like the northern provinces, the temperature is not high, possibly lower than 10 degrees.
According to many self-sufficient travel experiences in Hue, the best time for a visit is at the time of season change: between spring – summer and autumn – winter.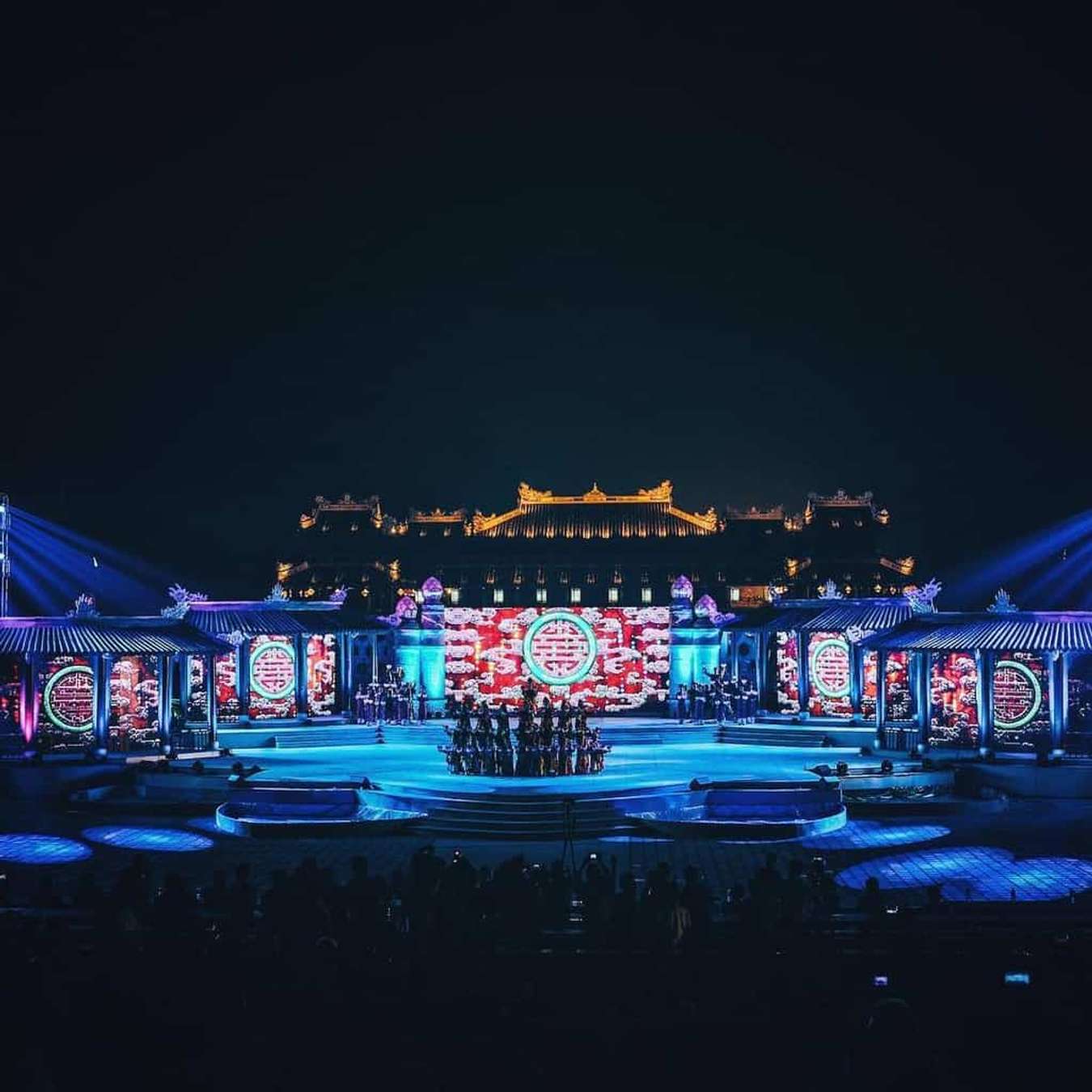 Hue Festival is the city's biggest tourism event. @redsforzato
April – May: This is the time when the climate is mild, pleasant, suitable for all fun activities. Not to mention every 2 years, Hue Festival is held at the end of April, to honor cultural heritages and promote tourism. If you travel to Hue at this time, your trip is guaranteed to be 200% complete. If you go to Hue around the time of the annual Hue Festival, please refer to the Hue Festival travel guide
Flower season in Hue: No less than Hanoi with 12 flower seasons, Hue possesses many charming flowers blooming all year round. March and April is the cornflower season; summer is when the red phoenix blooms in a corner of the sky next to Trang Tien bridge; throughout May – August are the lotus flowers in the Imperial Citadel in full bloom… All contribute to the dreamy beauty of the ancient capital.
2. How to come to Hue?
By plane
As a large city in the Central region, Hue also has Phu Bai airport for convenient transportation. For tourists who do not want to spend too much time moving, the fastest way is to buy a plane ticket to Hue , relax in the sky for about 1 hour and then arrive.
Fly from Ho Chi Minh City to Hue in just a "blink" of 30 minutes, with fares from 400,000 VND/way.
Flight time from Hanoi to Hue is only about 1 hour, fares from 730,000 VND/way.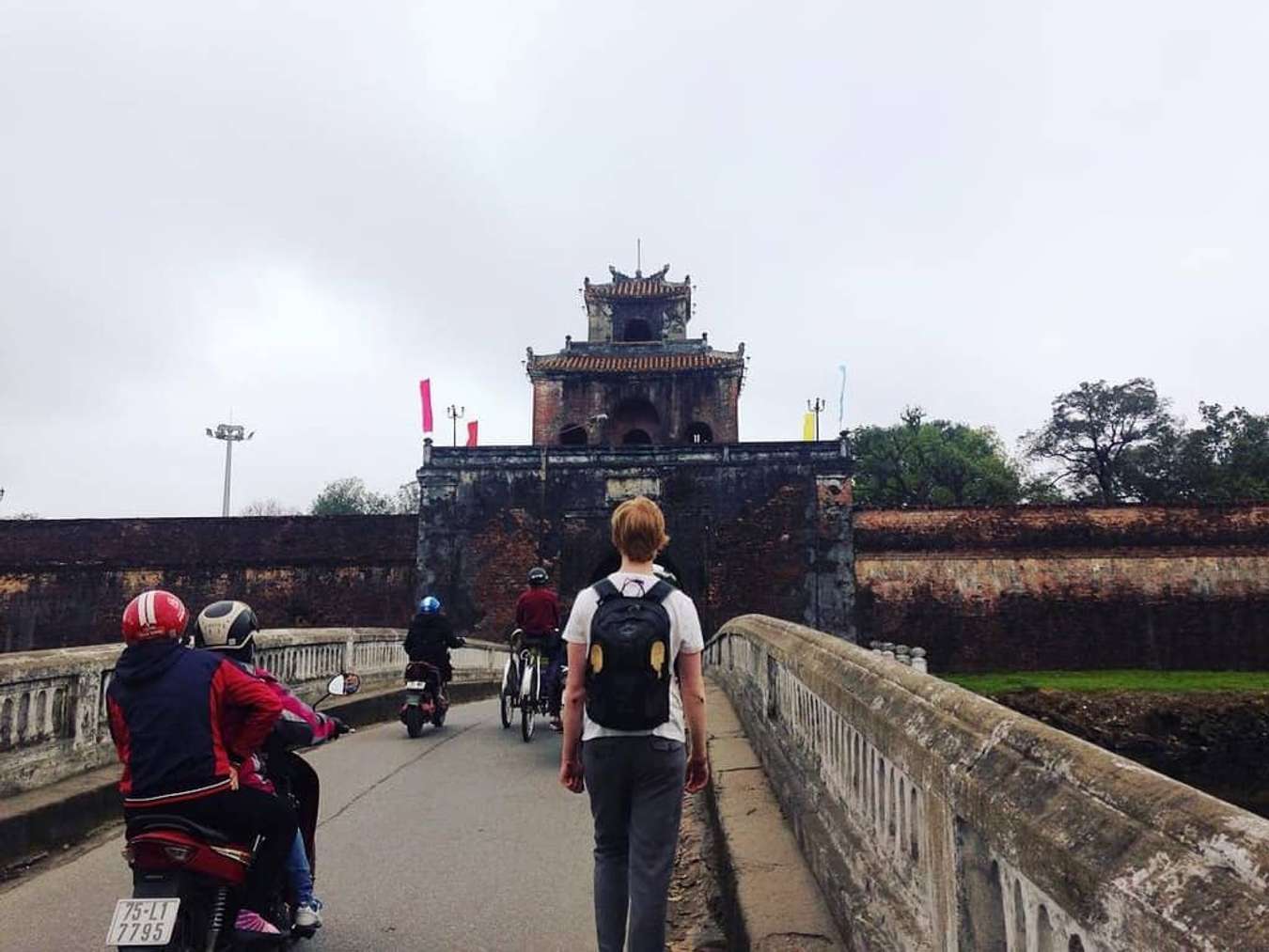 Hue always has a typical ancient atmosphere. @erika.kj
Phu Bai Airport is 15 km from the city center, so when landing, there are two ways to move into the city:
The most convenient is to take a taxi for about 250,000 VND / trip.
If you don't have a lot of luggage, the airport shuttle bus is a more economical way to travel with the price of only 40,000 – 50,000 VND/pax/turn.
By train
Trains are an interesting means of travel for those who want to spend time admiring the beauty on both sides of the road. You can check the appropriate train times and trains here .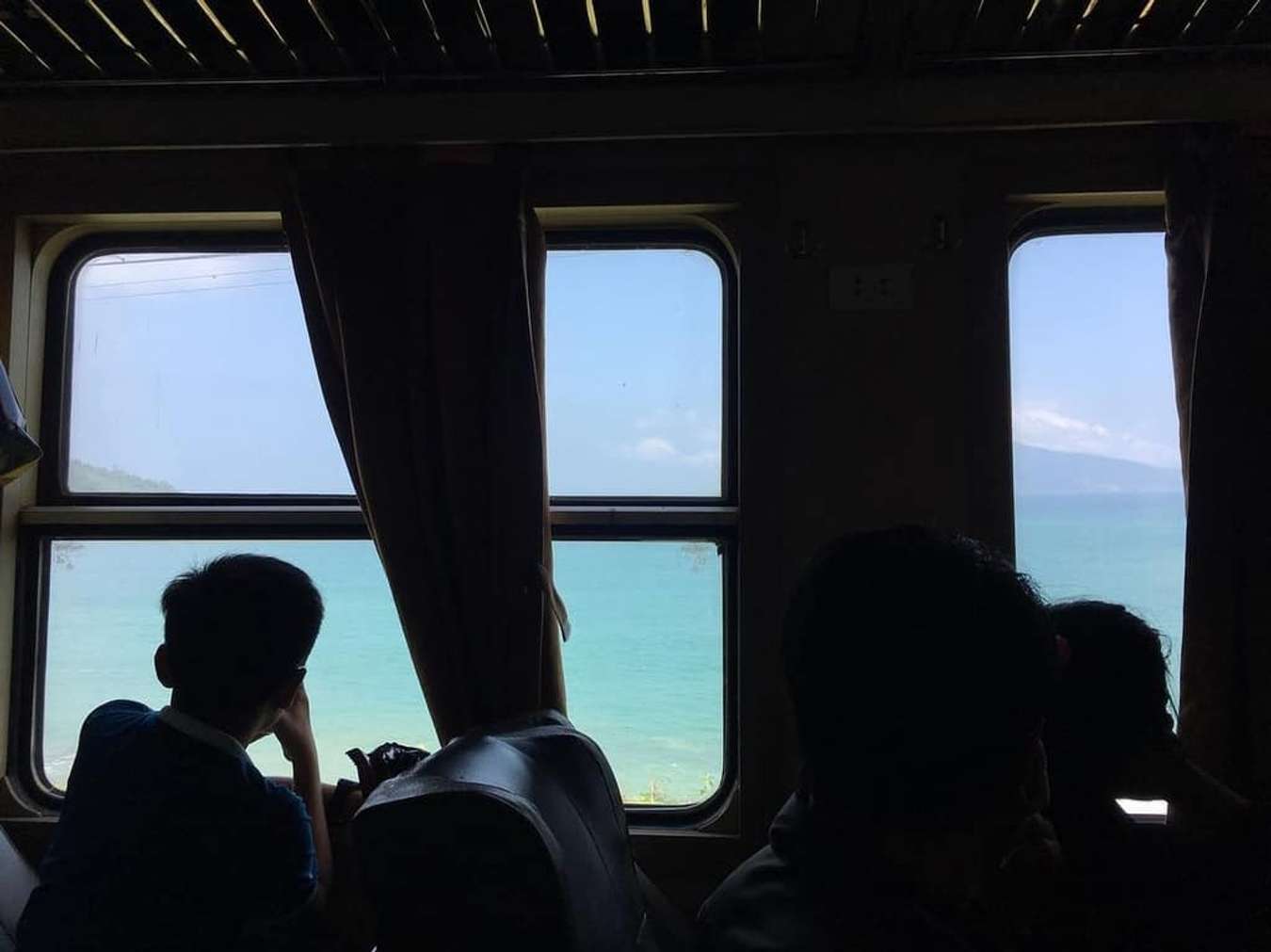 Choose to take the train to enjoy the roadside scenery. @yjnl123
Trains Hanoi – Hue cost from 300,000 to 955,000 VND/way/pax, traveling for about 14 hours
Trains from Saigon to Hue are more expensive from 400,000 to 1,050,000 VND/way/pax, and run from 18:00 to 22:00.
If you combine Hue – Da Nang travel, you can save quite a bit of time and budget when the train from Da Nang to Hue only takes 3 hours and costs 50,000 – 120,000 VND / way / person.
By coach
The most affordable price is to choose Hue travel by bus. Currently, there are many high-quality sleeper bus companies traveling from all over the country with routes to Hue.
From Hanoi, there are Hoang Long, Camel Travel, The Sinh Tourist, with prices ranging from 250,000 to 350,000 VND/time, running approximately 12-16 hours.
From Saigon are Tam Minh Phuong, Minh Duc, Hoang Long, Huong Ty firms, prices from 400,000 to 650,000 VND/time; The journey lasts 1 day from 20-24 hours.
From Da Nang, there are countless choices, of which the most popular are The Sinh Tourist, HAV Limousine, Huetourist… A comfortable car seat costs only 80,000 – 180,000 VND / way, about 2-3 hours to arrive.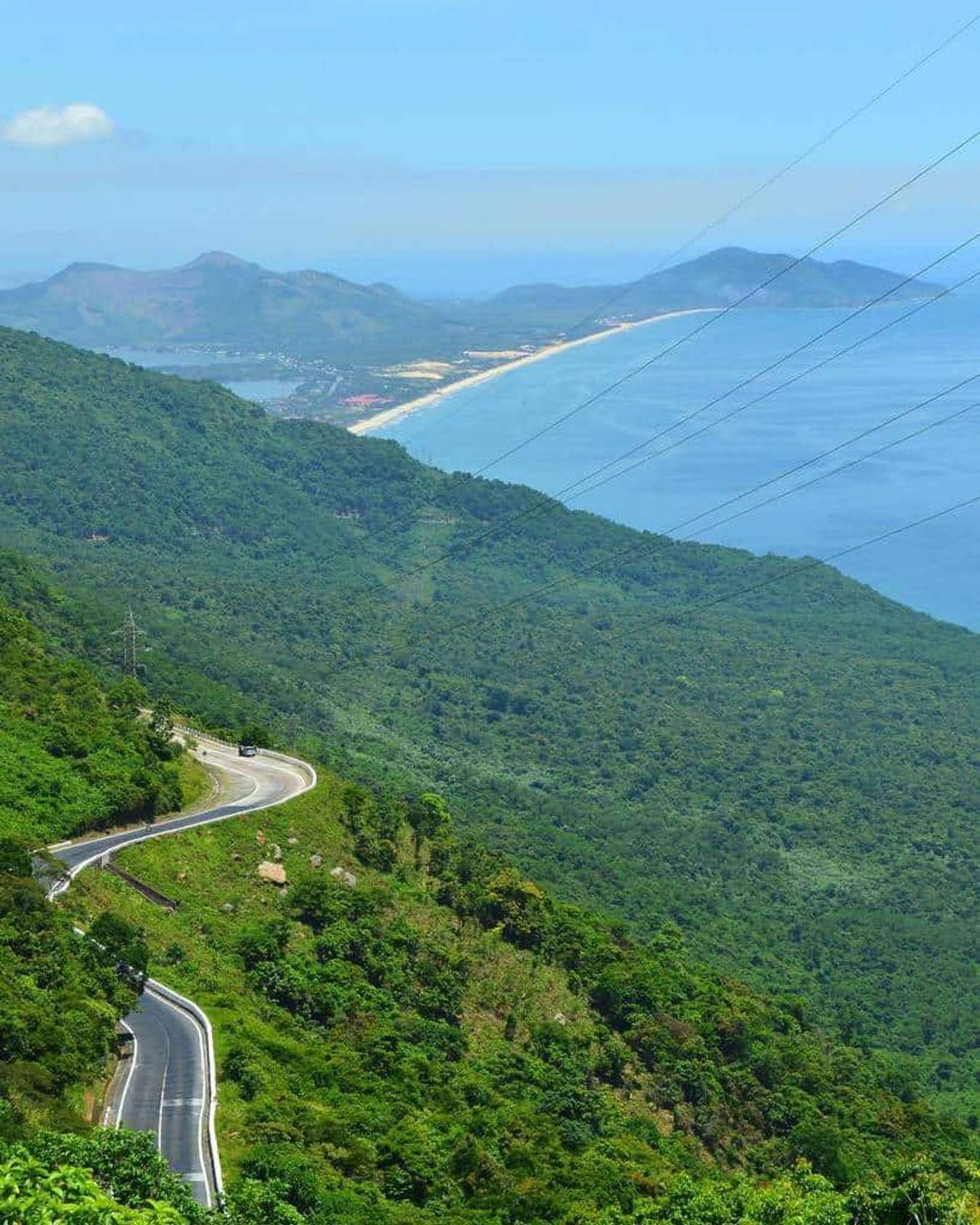 Choose the road for a chance to admire this view. @adventrouslinda
3. Means of transportation in Hue
Transportation is probably one of the last things you have to worry about when learning about Hue travel experiences. This city has so many ways for you to explore, yet it is extremely available and convenient.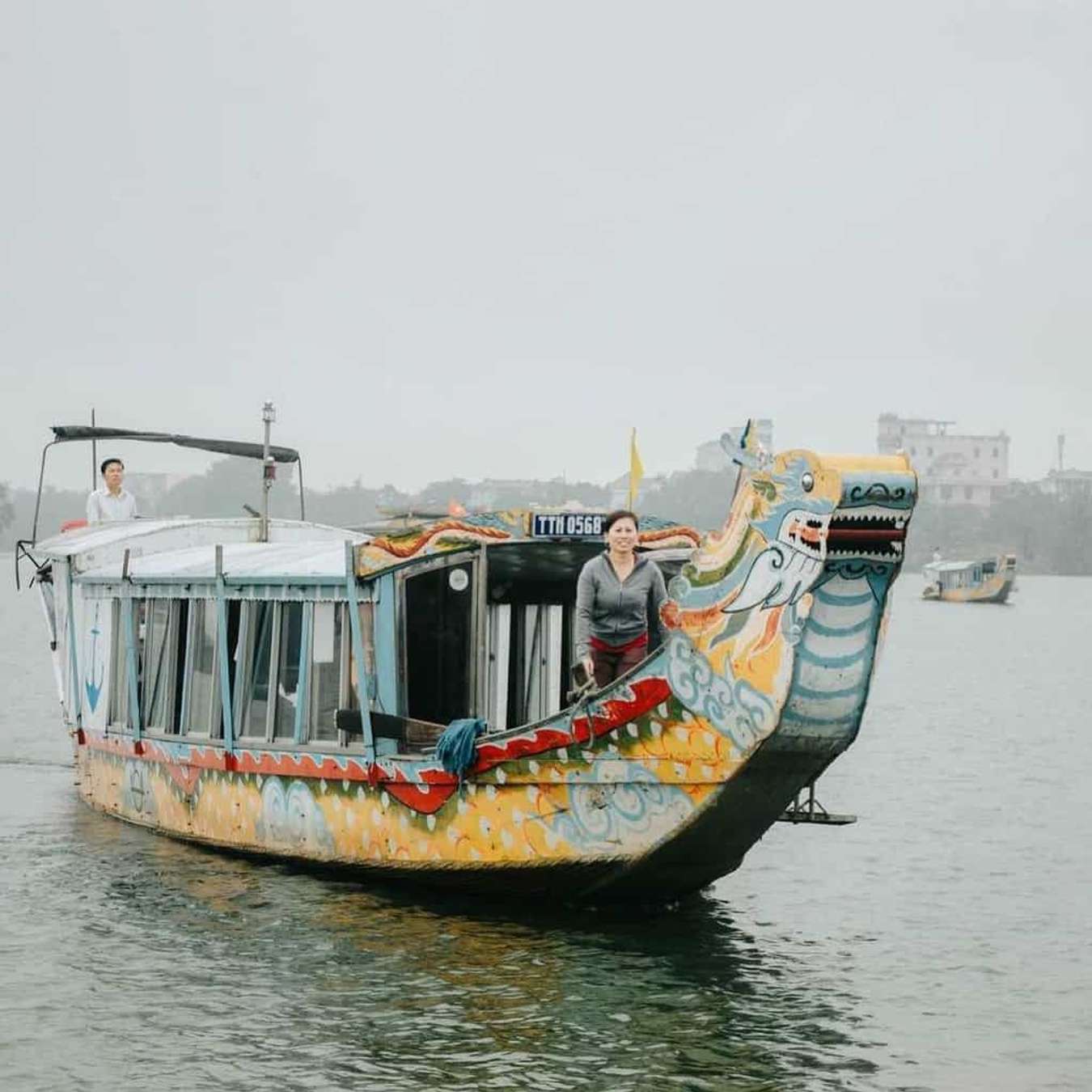 Do not miss the opportunity to take a boat trip on the Perfume River. @nguyen.duchuy
Motorbike: At the top of the list, especially for backpackers, must be renting a motorbike. As a tourist city, car rental services in Hue are very diverse, affordable from 100,000 to 120,000 VND/day. The easiest way is to contact the hotels in Hue, most of which have this service available for visitors.
Taxi: Do not want to drive far by yourself, then a taxi is ready to accompany you on all roads. Some familiar Hue taxi companies are Dong Ba (Tel: 0234.3.84.84.84), Mai Linh (Tel: 0234.3.89.89.89), Phu Xuan (Tel: 0234.3.87.87.87), Thanh Cong (Tel: 0234.3) .57.57.57)
Car: If you have a driver's license, renting a car for the whole family or group of friends to travel is also very interesting. Car rental in Hue will be about 500,000 – 900,000 VND/day.
Bicycle: Dreamy Hue and slow pace of life can't be more ideal for you to rent a bicycle around the city. The rental price is extremely affordable, only 20,000 – 30,000 VND/piece/day.
Cyclo: These rare cyclos are still active in famous tourist cities. The price of cyclo is also very "economic", 15,000 – 20,000 VND / person / hour for a discovery trip, and there are local people telling you good stories. One point to note is that cyclo in Hue does not have a unified unit but individual riders, so you need to agree on the price before getting on the bus.
4. Hue tourist destination not to be missed
Inner Citadel (Hue Citadel)
Visiting hours:
– Summer: From 6:30 to 17:30
– Winter: from 7:00 to 17:00
Entrance fee: 150,000 VND/person/way.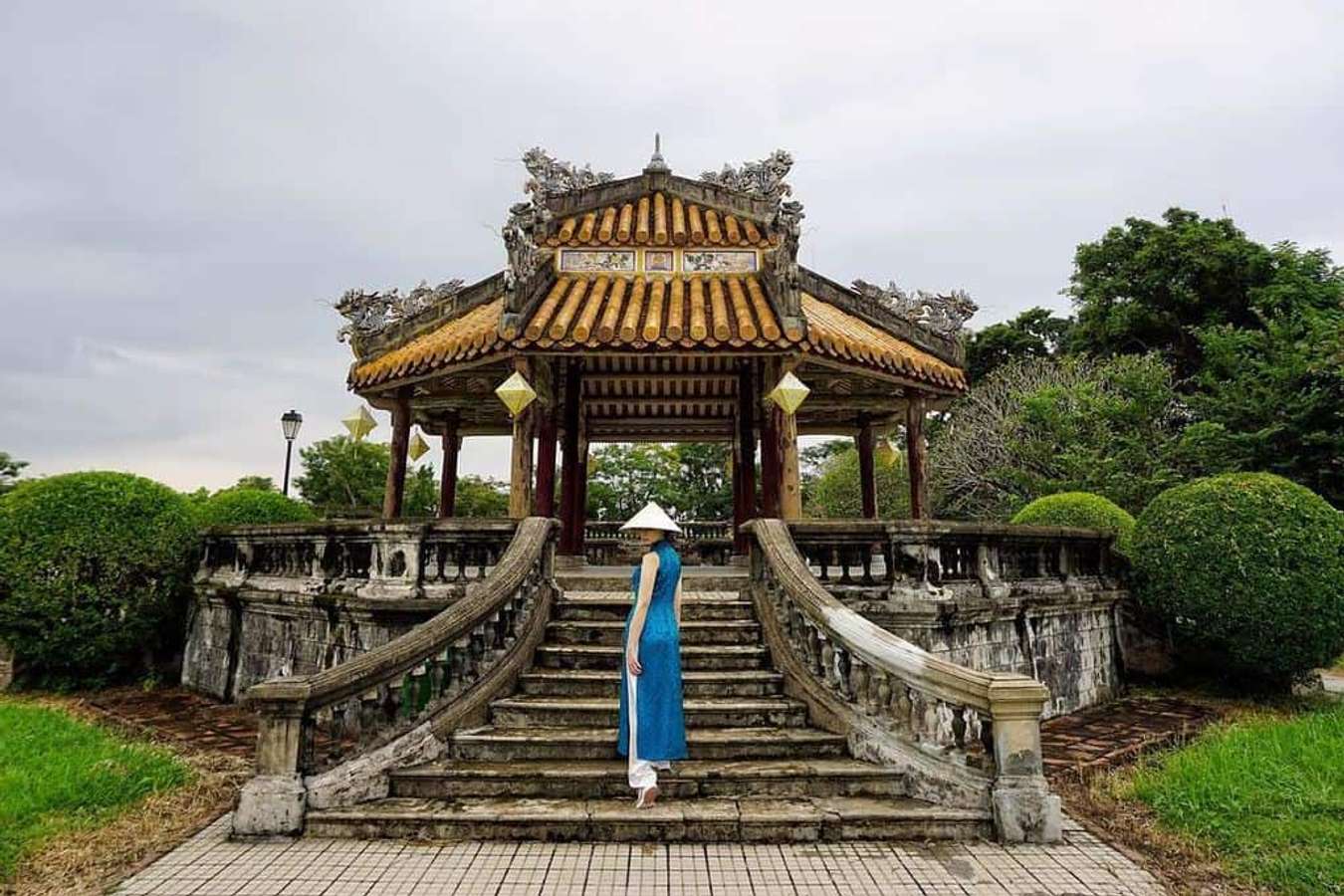 Hue Citadel is a place that any Hue travel experience cannot ignore. As the capital of the Nguyen Dynasty for 143 years, Hue Citadel has been recognized by UNESCO as a World Cultural Heritage. Hue Citadel covers an area of ​​520 hectares and is divided into two parts: where the common people and mandarins live, and the Imperial Citadel – where the king and royal family live and work.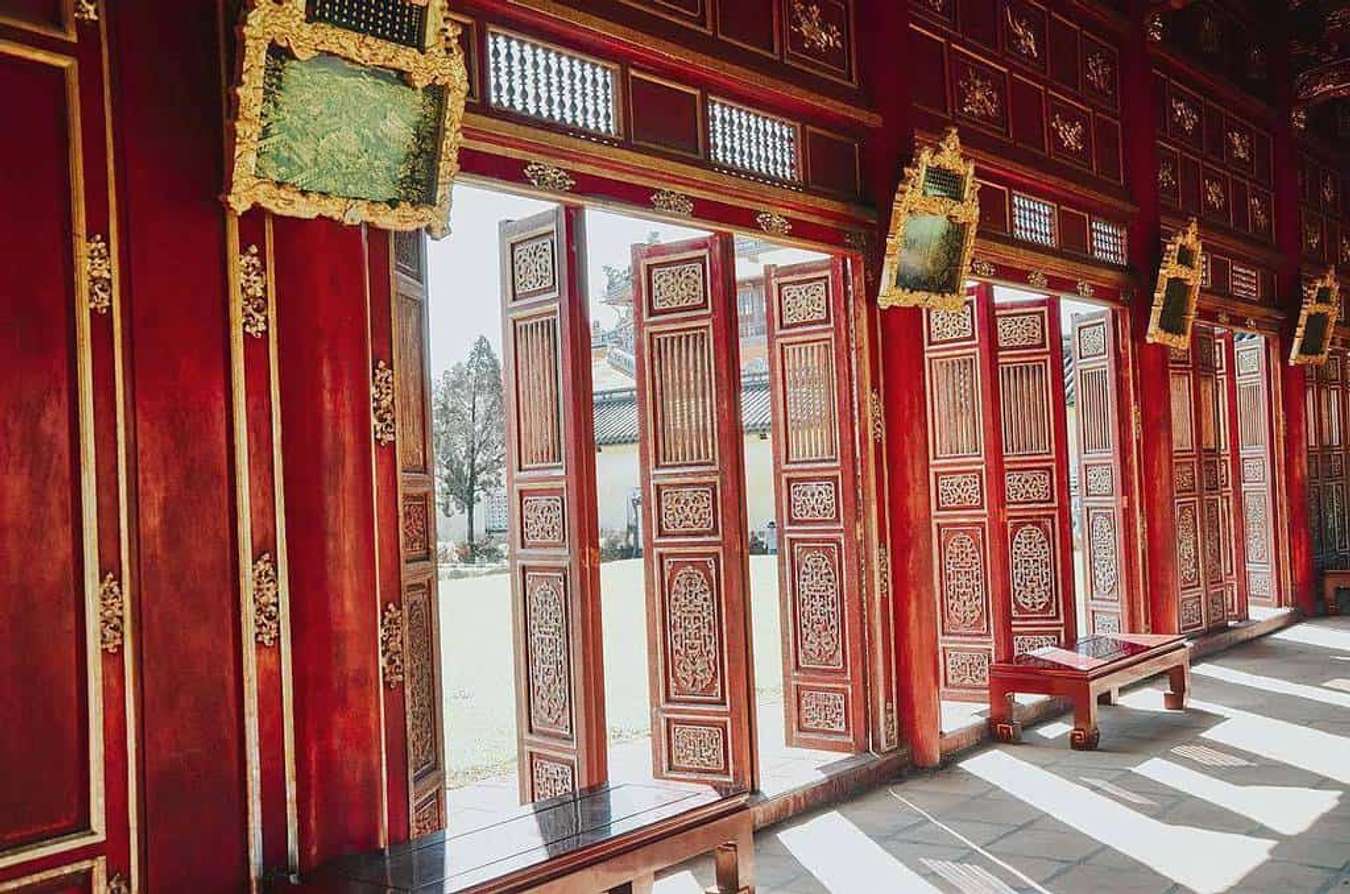 Simply put, the Imperial Citadel is the second citadel in the complex of Hue Citadel, where the kings and officials of the Nguyen Dynasty worked. The last citadel of Hue citadel is the Forbidden City, including the palaces where the king and royal family lived every day.
To complete a huge number of works inside the Imperial Citadel was a long process of many kings. However, all of them were built according to strict principles in feudal architecture, using the most luxurious materials such as lapis lazuli, glazed Bat Trang bricks, painted lacquer – etc.
Some important relics inside Hue Imperial Citadel:
Ngo Mon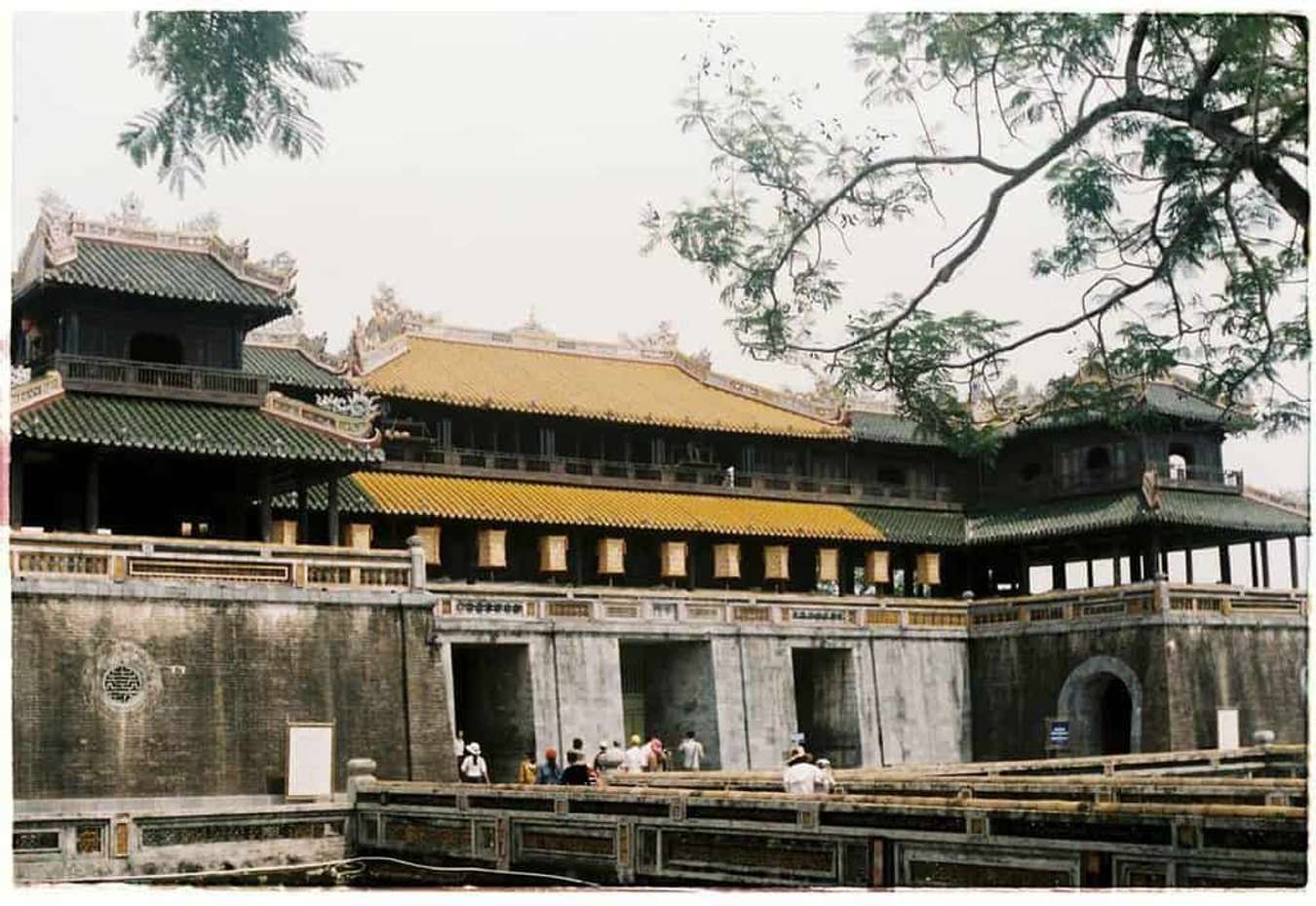 Ngo Mon is the place to witness many important historical events. @kim.prkshutter
As the main gate of the Imperial Citadel, Ngo Mon is only used as the king's passageway or to receive emissaries. Since it was built during the reign of King Minh Mang, Ngo Mon has been the site of many important events and ceremonies, including the event that King Bao Dai read the Declaration of Abdication in 1945.
Monument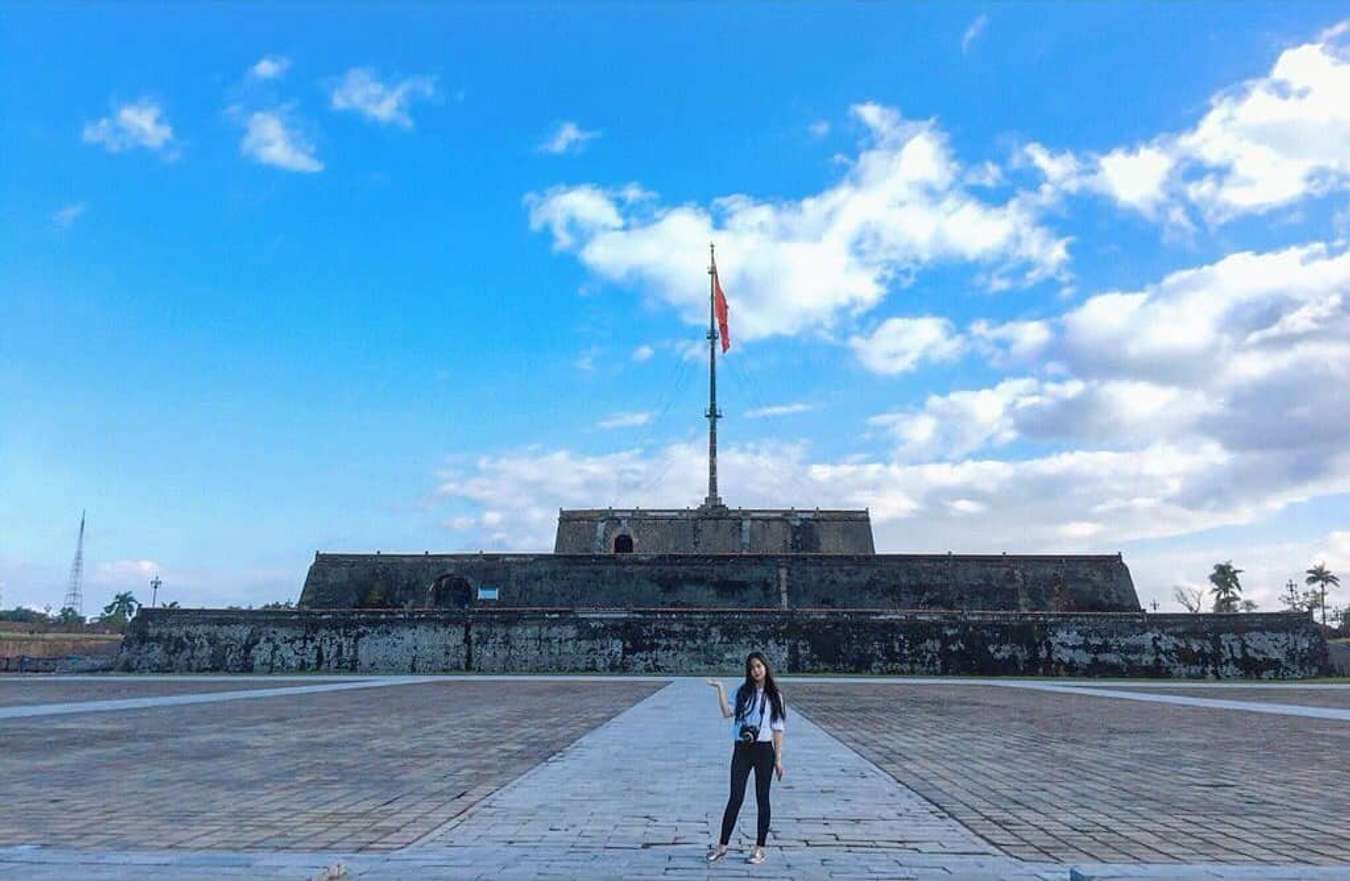 Large yard in front of the tower. @hoennn
The flagpole is a flagpole with the imperial flag, located in the middle of the south direction of the citadel – according to the words of the I Ching, it is "the male saint who faces the world" (the king faces the south to rule the world).
Thai Hoa palace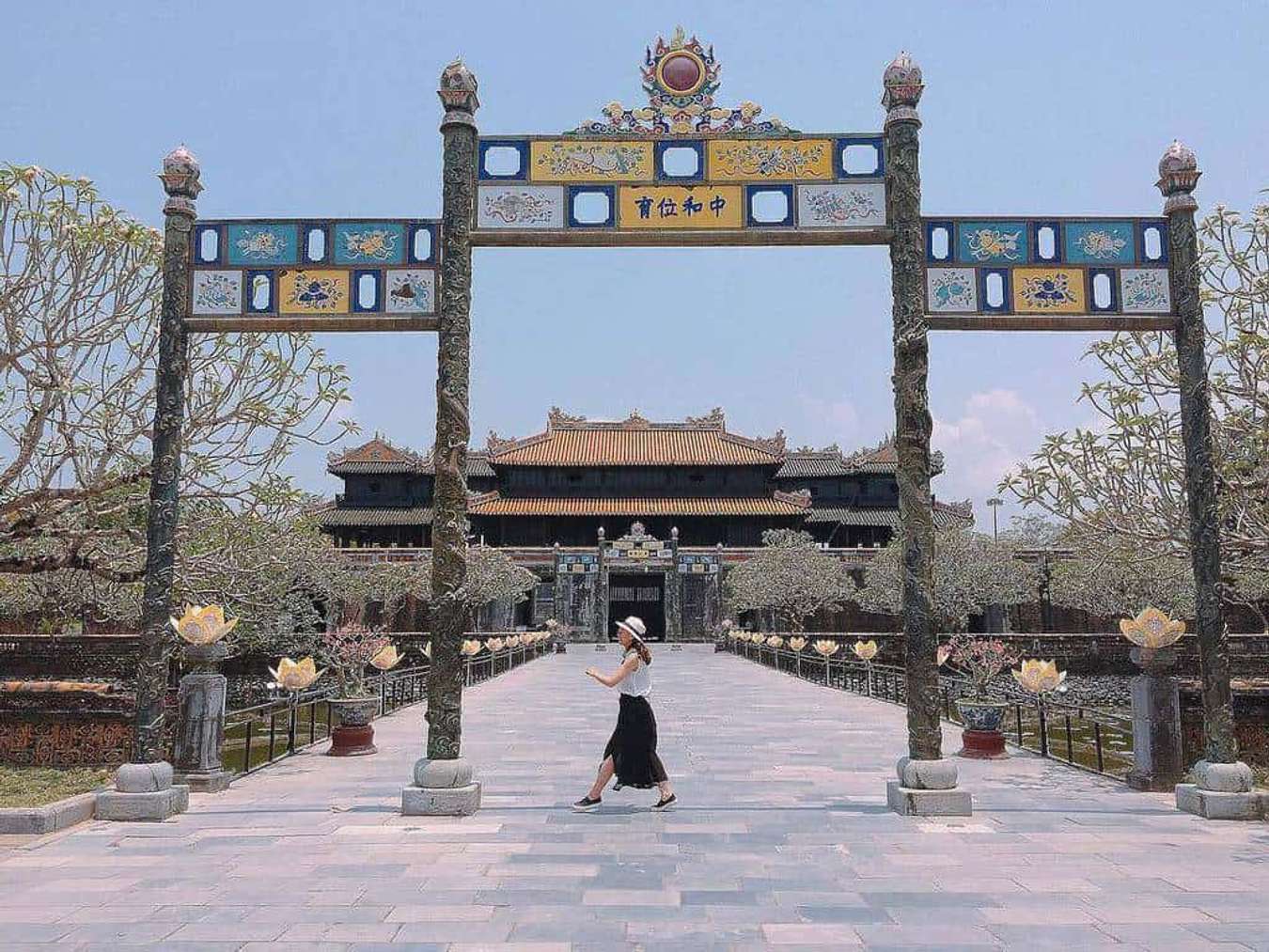 Thai Hoa Palace is the coronation place of the Nguyen Dynasty kings. @thaomitsstuff
As a symbol of the power of the Nguyen Dynasty, Thai Hoa Palace and Dai Trieu Nghi Courtyard were the places to hold important court ceremonies such as coronation ceremony, reception of ambassadors, king's birthday, or a royal meeting every month. 2 times.
Quoc Tu Giam – Museum of History of Thua Thien Hue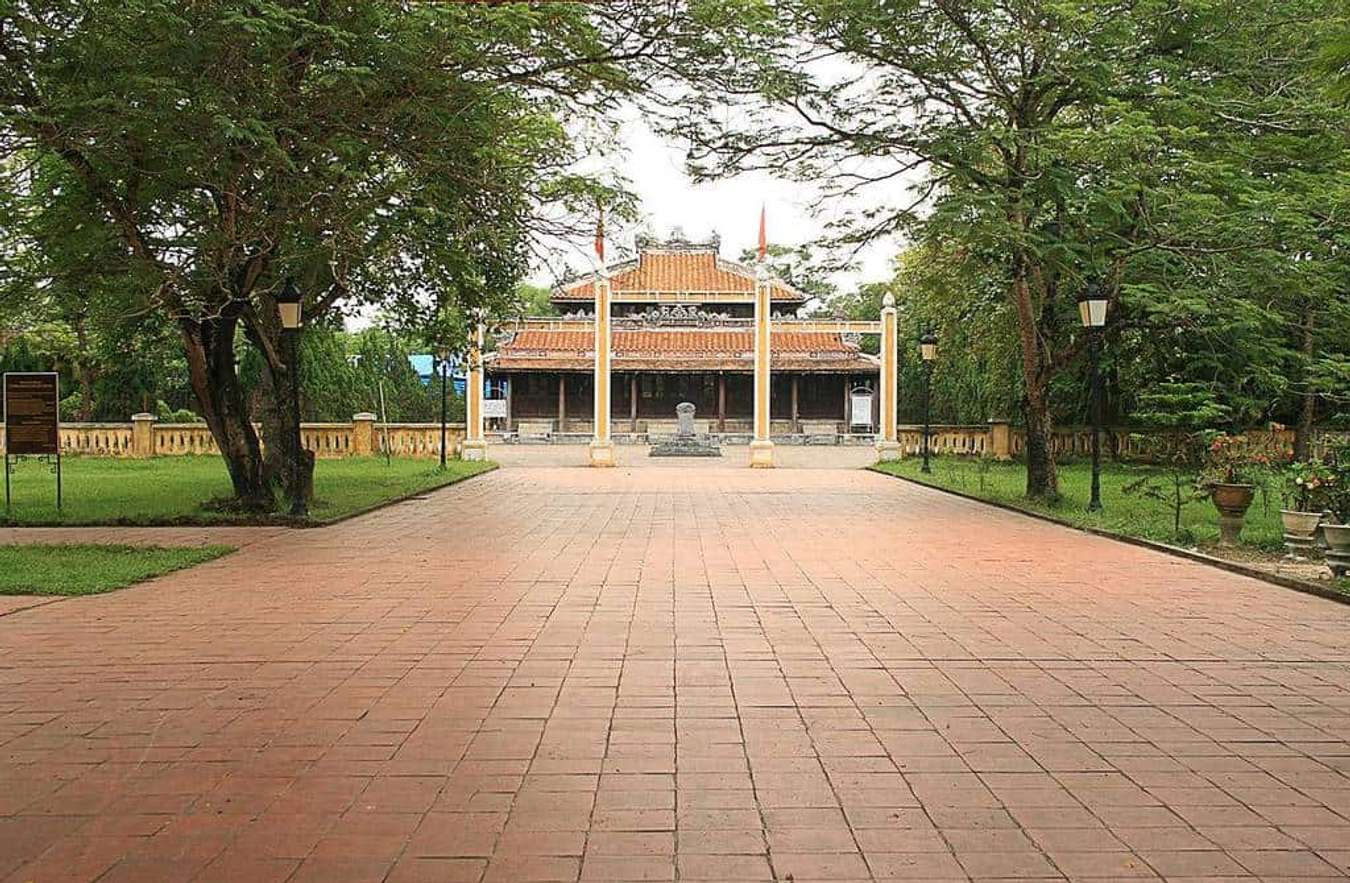 Quoc Tu Giam Hue is the only university in our country during the Nguyen Dynasty. @Internet
Quoc Tu Giam acted as a feudal university, originally established in Thang Long during the Ly dynasty. By the Nguyen Dynasty, Quoc Tu Giam was built in Hue, the facility outside Hanoi was designated as the Temple of Literature – a place to worship saints. Quoc Tu Giam Hue has since played the role of the only university in the country, gathering and training hundreds of talented Nguyen Dynasty.
Now, Quoc Tu Giam Hue has become the Museum of History of Thua Thien Hue, a place to store historical artifacts of Hue through many periods, especially the time of heroic war – resistance.
Address: 01 August 23 Street, Thuan Thanh Ward, City. Hue.
Visiting hours: Tuesday to Sunday
– Morning: 7:30 – 11:00
– Afternoon: 13:30 – 17:00
Entrance ticket price: 30,000 VND/person.
Long An Palace – Hue Museum of Royal Antiquities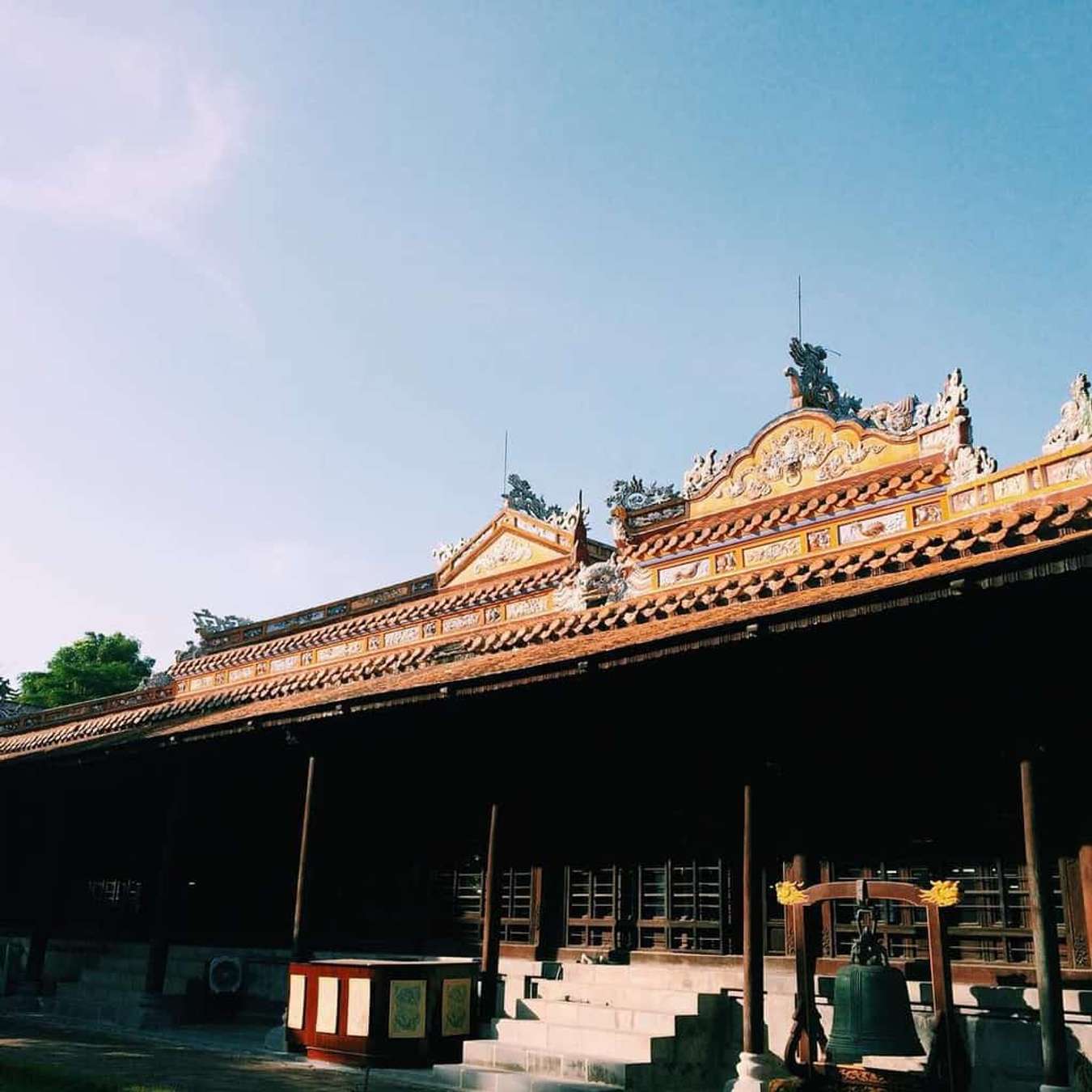 Long An Palace is now a place to save the image of a forbidden palace. @andang65
Built by King Thieu Tri as a place to rest and read, Long An Palace is now built into the Hue Museum of Royal Antiquities. This is the preservation of royal objects, providing a closer look at the golden life in the past.
Visiting hours: 7:00 – 17:00 every day (closed on Mondays).
General ticket price to visit the Citadel and the museum: 150,000 VND/ticket.
Hue city area
Hue Citadel is often briefly referred to as the inner citadel area, outside the ancient Hue citadel (now still in the territory of Hue city) there are also many famous tourist attractions.
Thien Mu Pagoda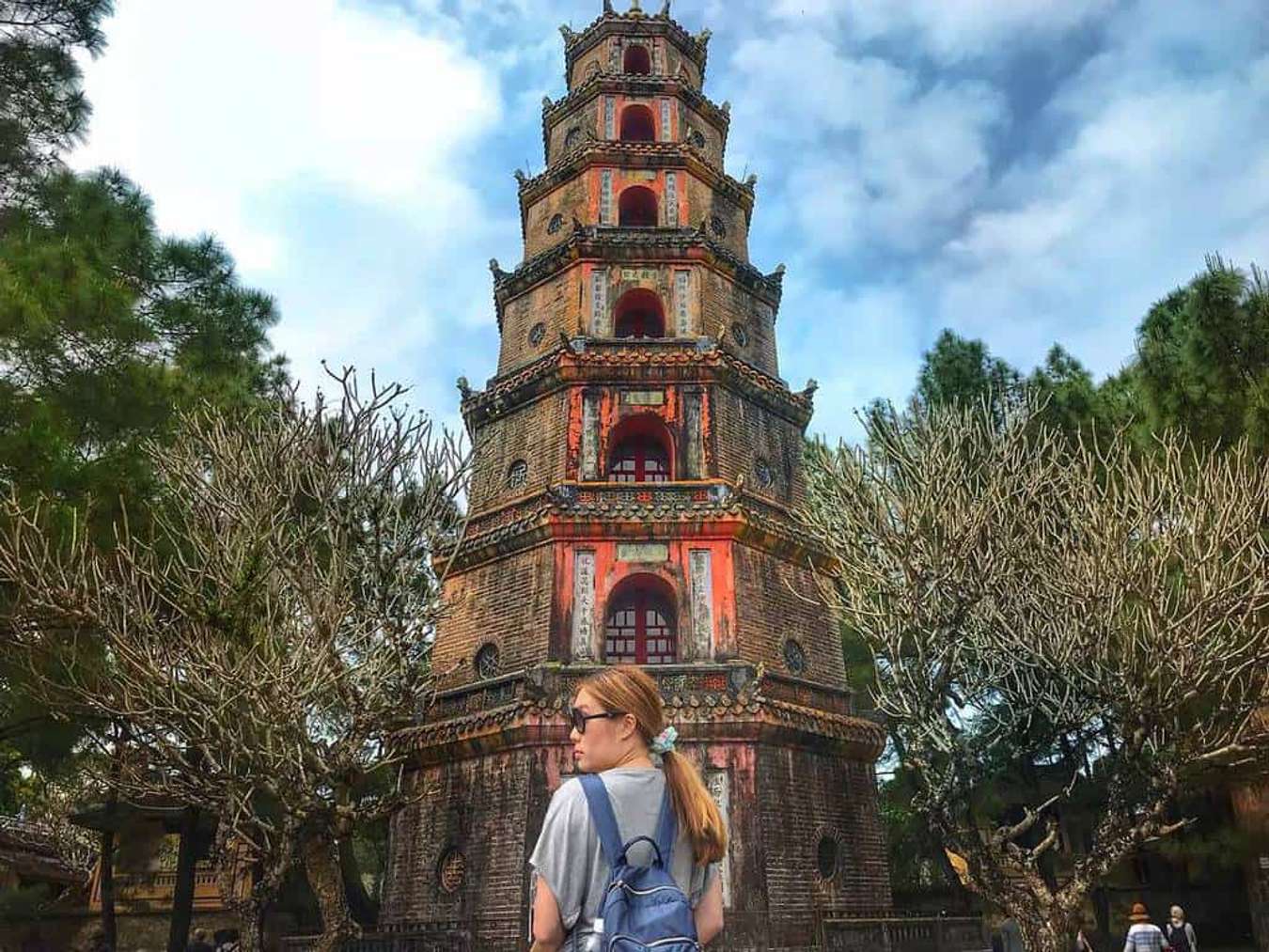 The famous 7-storey Phuoc Duyen tower of Thien Mu pagoda. @myamism
Thien Mu Pagoda owns a dreamlike location on Ha Khe hill, on the left bank of the Perfume River, which has long become a typical image of dreamy Hue. The pagoda was built in 1601 by the first king of the Nguyen Dynasty – Nguyen Hoang and remains the largest temple throughout this dynasty.
Attached to Thien Mu pagoda is Phuoc Duyen tower and the sound of temple bells ringing in the distance. What makes the bells of Thien Mu Pagoda so special is that the bells are struck twice a day, 3:30 and 19:30, each time hitting 108 times in an hour. It takes practice and passion to do this.
Address: Ha Khe Hill, 140 – 142 Nguyen Phuc Nguyen, City. Hue.
Visiting hours: 7:00 – 17:00 every day.
Huong river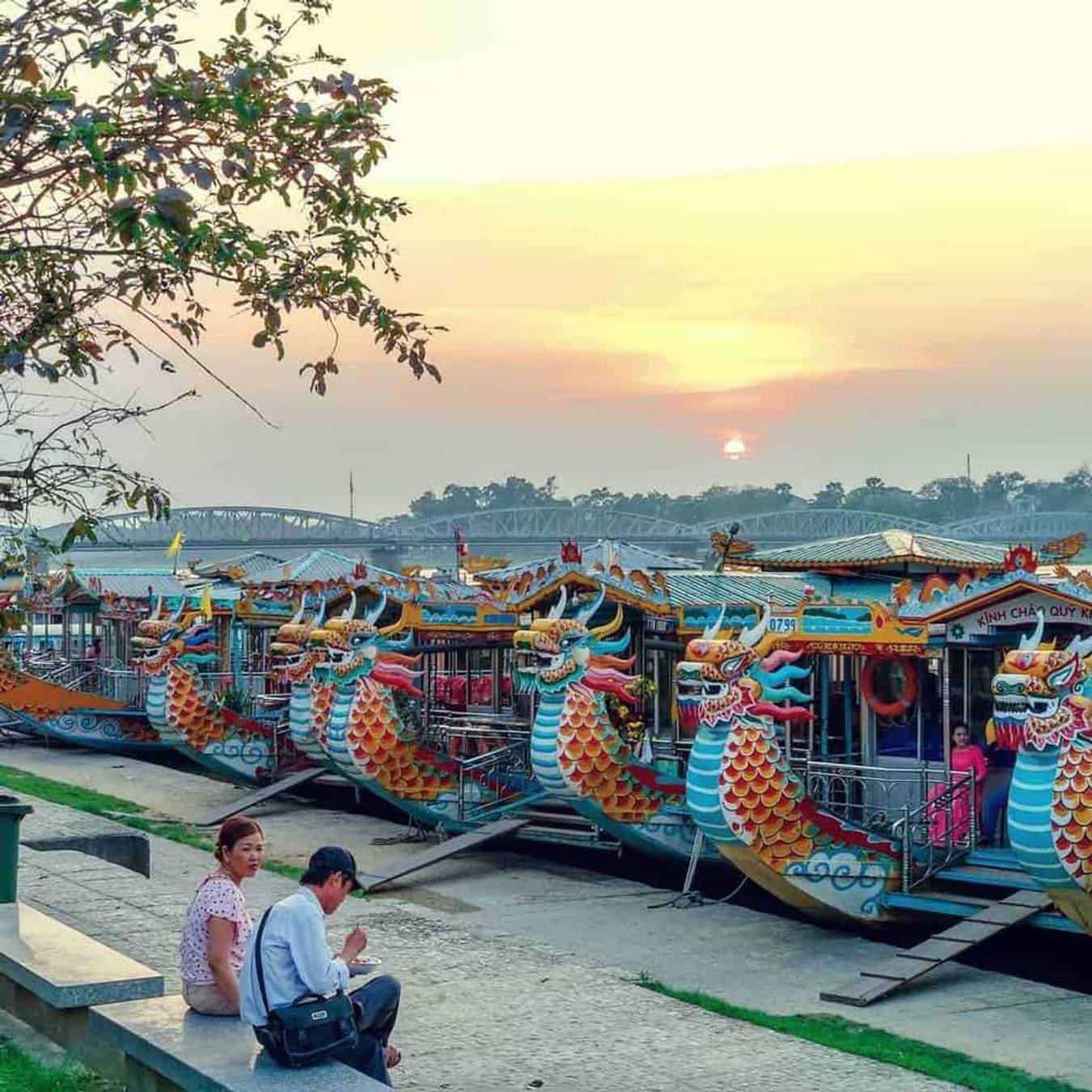 Perfume River by Toa Kham wharf. @phucvo1410
Stretching across the land of the ancient capital is the Perfume River. The river is peaceful, bustling, drifting, winding through the famous landmarks of Hue city.
The self-sufficient Hue travel experience has countless ways to admire the beauty of the Perfume River: watching the river from Thien Mu Pagoda, riding a dragon boat on the river, or listening to Hue songs on the river at night… Each experience is like a separate image. of this river.
Trang Tien Bridge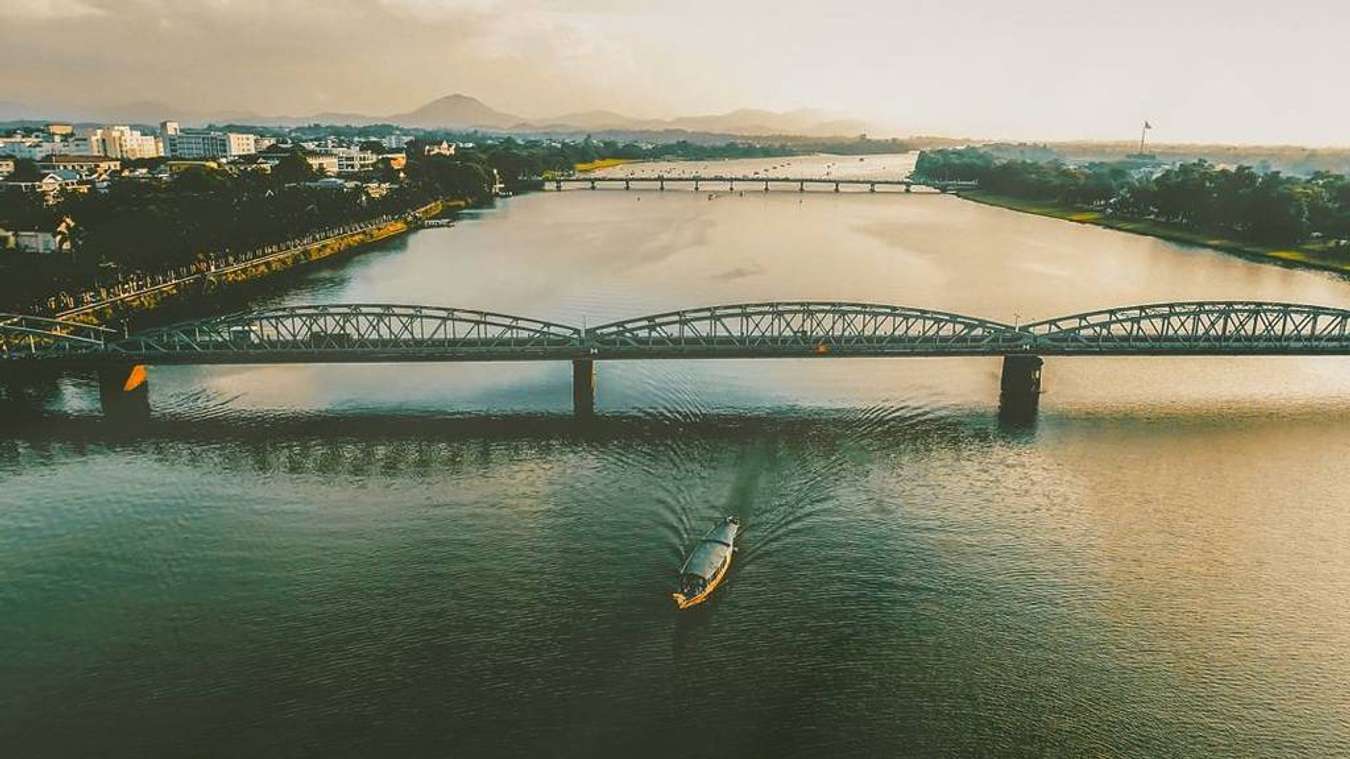 Trang Tien Bridge seen from above. @noellamjj
Also a symbolic image of the city, Trang Tien Bridge crossing the Perfume River is also something that Hue people are always proud of. The bridge was built more than 200 years ago, at first it was just a popular rattan material, but then the French built it into a six-span iron bridge like today.
If you have the opportunity to travel to Hue in the summer, do not miss the most beautiful time of Truong Tien Bridge – when the red phoenix flowers bloom, as if dotted in the inherent peaceful scene.
Dong Ba Market
Address: Tran Hung Dao Street, Phu Hoa Ward, City. Hue (100 meters from Truong Tien Bridge).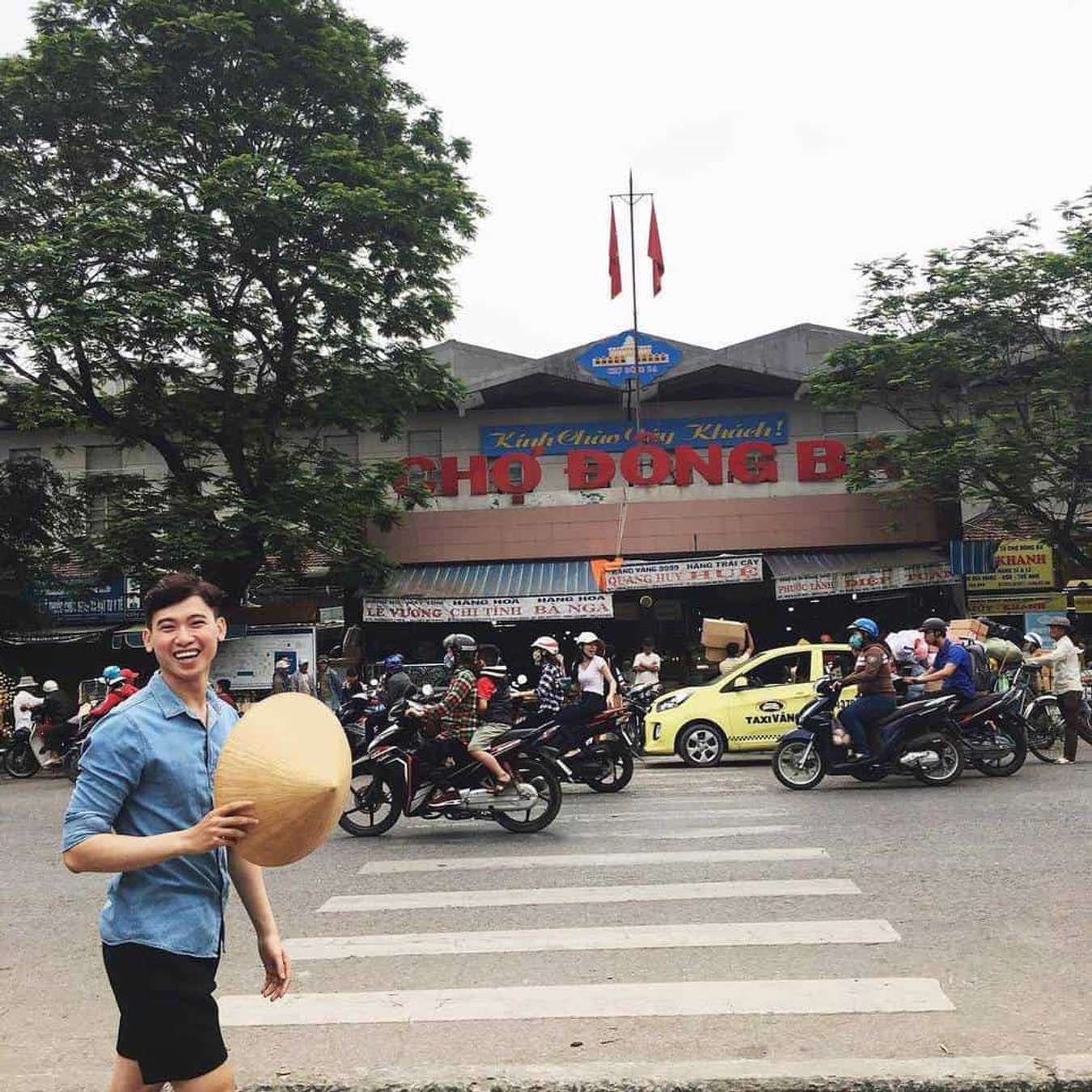 Dong Ba is the largest market in Thua Thien – Hue province. @xuanhuy_
Dong Ba is the most famous large-scale market not only of Hue but also of the whole Central region. The market sells a full range of products from food, daily necessities, to Hue specialties such as dried lotus seeds in Tinh Tam lake (in the Citadel), Phu Cam conical hats, or Ke Mon village jewelry…
Vong Canh Hill
Address: Huyen Tran Cong Chua Street, City. Hue (about 7 km from the center).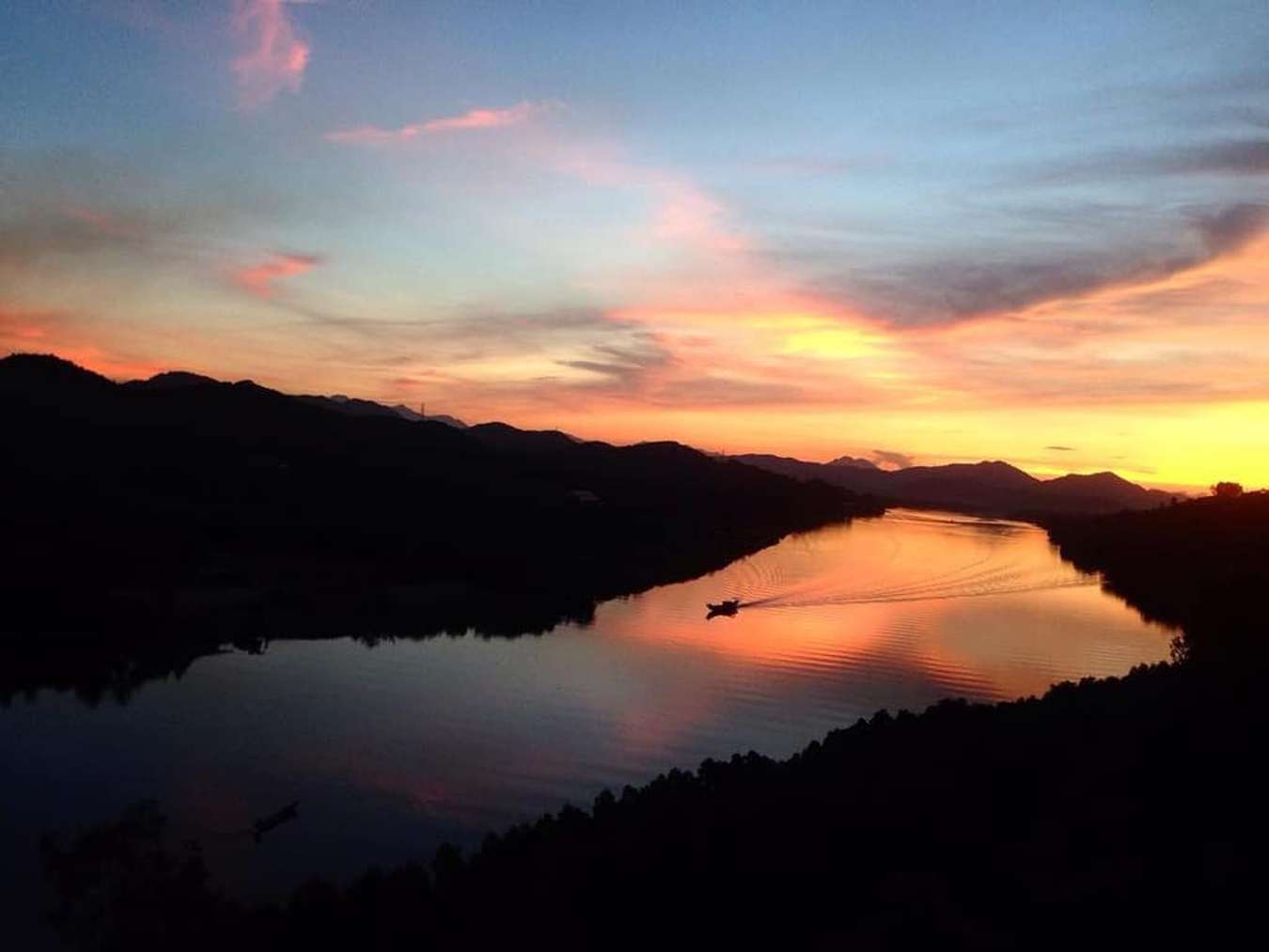 Sunset on the Perfume River seen from Vong Canh Hill. @everydayvietnam
Located in the southwest area of ​​the city, Vong Canh hill is located peacefully by the charming Perfume River. True to its name Vong Canh, standing on the hill, you can zoom your eyes to all the famous tourist attractions of Hue such as Ngoc Tran mountain – where Hon Chen Temple is located, the mausoleums, the roofs of temples. ancient … interspersed between the romantic green forests.
Ngu Binh Mountain
Address: An Cuu Ward, City. Hue (4km from the center to the south, in the area between Con Hen and Con Gia Vien).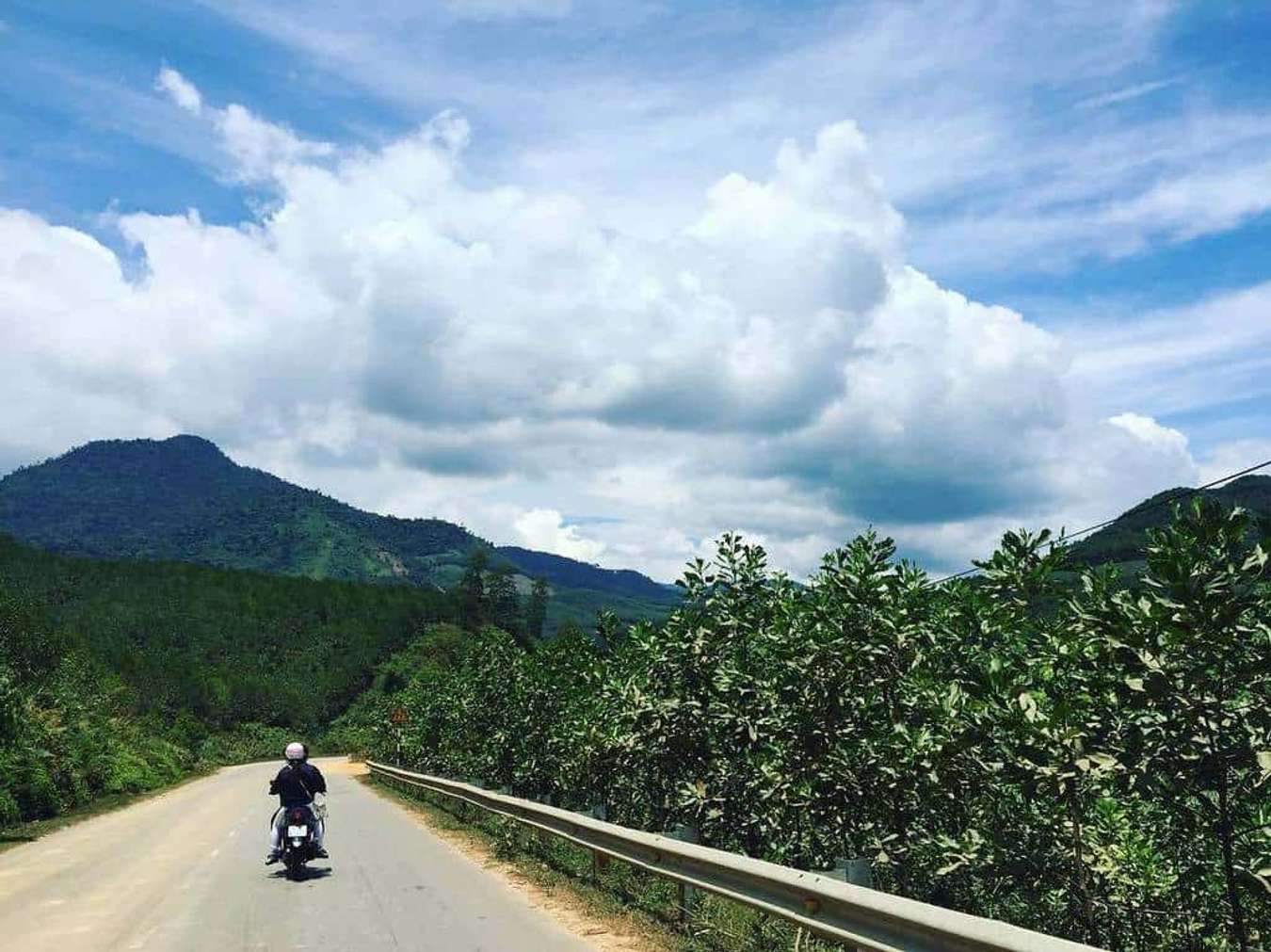 The road to Ngu Binh mountain. @zenda___
Ngu Binh is a mountain that always goes along with the Perfume River. Possessing a quiet position reflecting on the poetic Perfume River, Ngu Binh Mountain has a trapezoidal shape with a flat top, which looks like a screen to shield the ancient citadel. Standing on the top of Ngu mountain, you will also own a panoramic view of the beautiful city.
Area outside Hue city
The mausoleums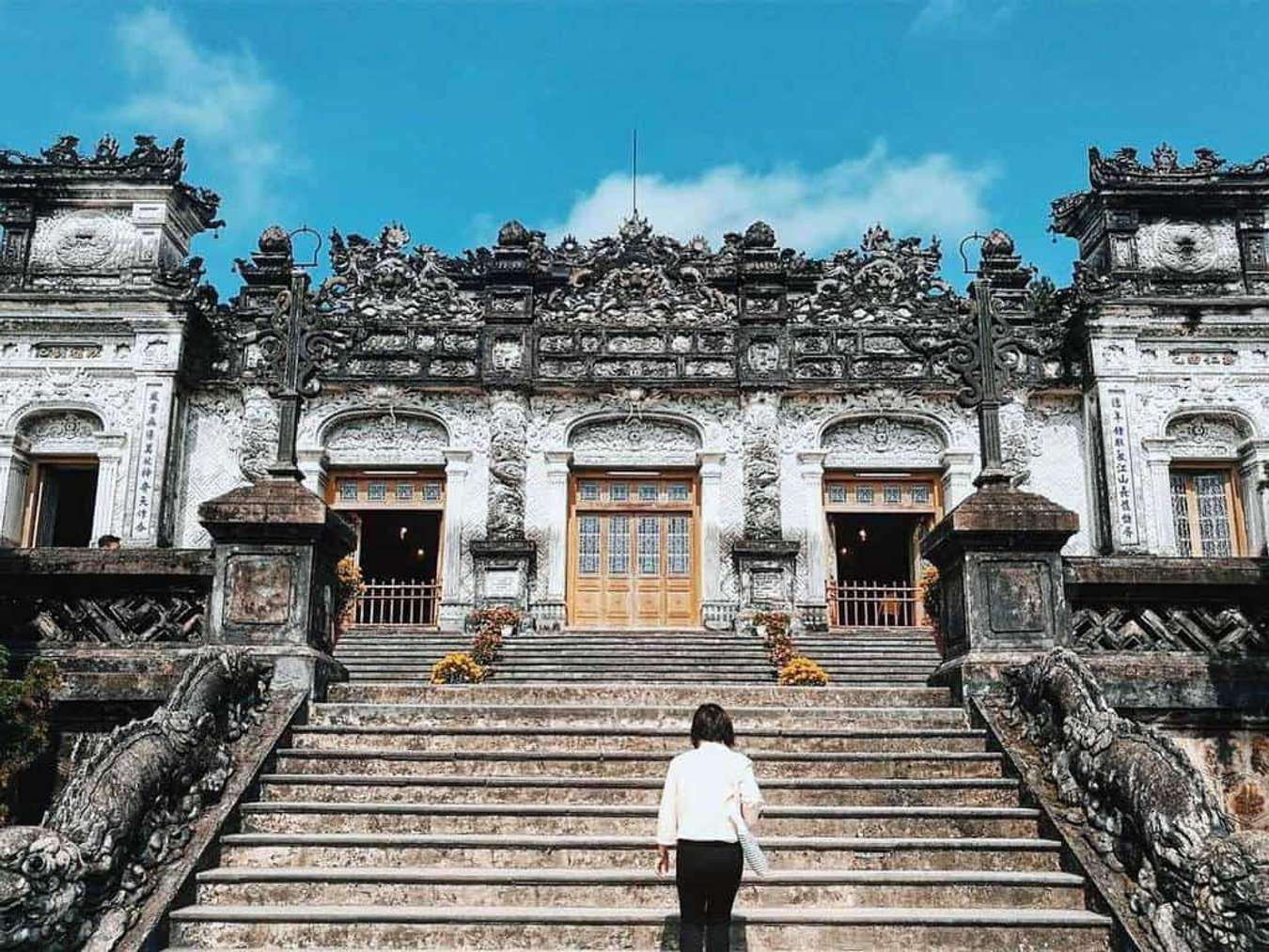 Khai Dinh Tomb has architectural features combining East – West. @caracat
After the Hue Citadel, the mausoleums of the Nguyen Dynasty kings are places that no Hue travel experience can ignore. There are a total of 7 tombs among the 13 kings of this dynasty. Each mausoleum area has a unique architectural feature, with oriental feng shui features, combined with the individual personality of each king, contributing to telling the historical story for posterity.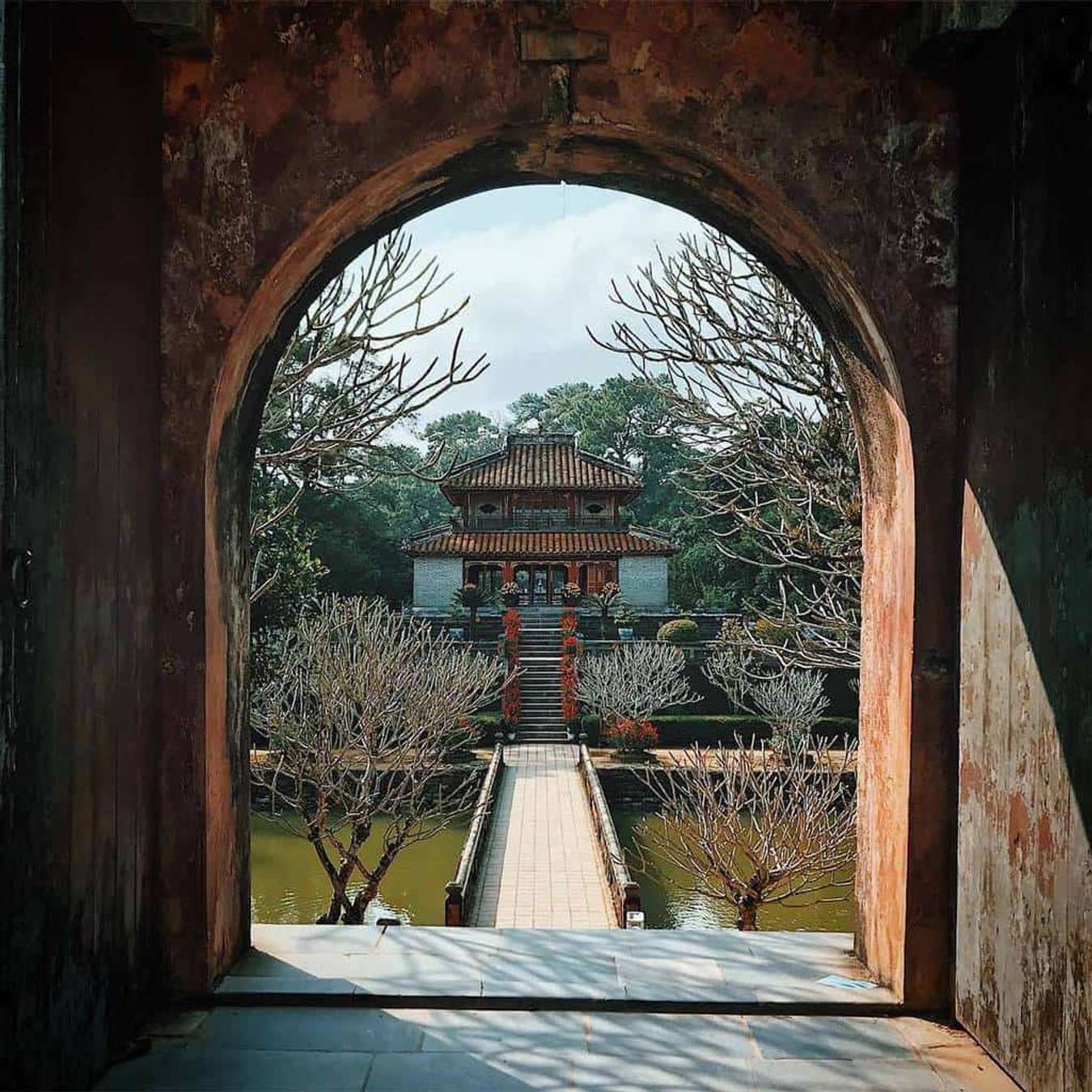 Vietnamese architectural features of Minh Mang Tomb. @caracat
Visiting hours: 7:00 – 17:00 every day.
Entrance ticket price:
Tomb of Minh Mang, Tu Duc, Khai Dinh: 100,000 VND/ticket
Gia Long Tomb, Thieu Tri, Dong Khanh: 40,000 VND/ticket
If you love culture and history, you can also combine traveling to Da Nang and Hoi An in this trip. And definitely don't miss Hoi An Impressionist Park and Hoi An Memories Show – the show is invested in both color and sound, leaving you both satisfied with the professionalism of the dancers and admiring them. with featured music. The story of Hoi An 400 years ago is portrayed very nicely and delicately.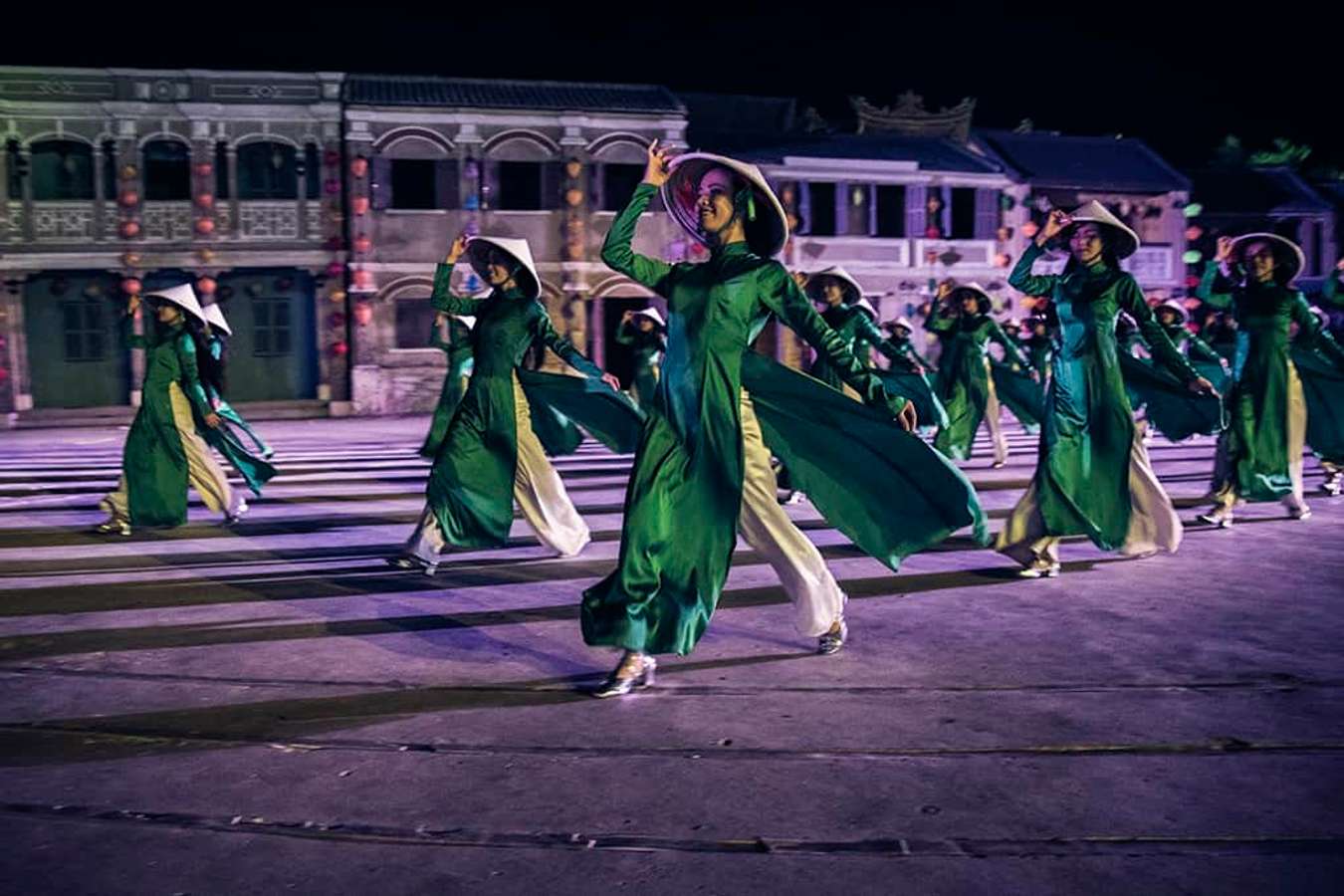 Satisfied with "Visual Party" Hoi An Memories.
DON'T MISS THE OFFER 34% HOI AN MEMORY TICKET
Thanh Toan Tile Bridge
Address: The bridge crosses a ditch in Thanh Thuy Chanh village, Thuy Thanh commune, Huong Thuy town, Thua Thien – Hue.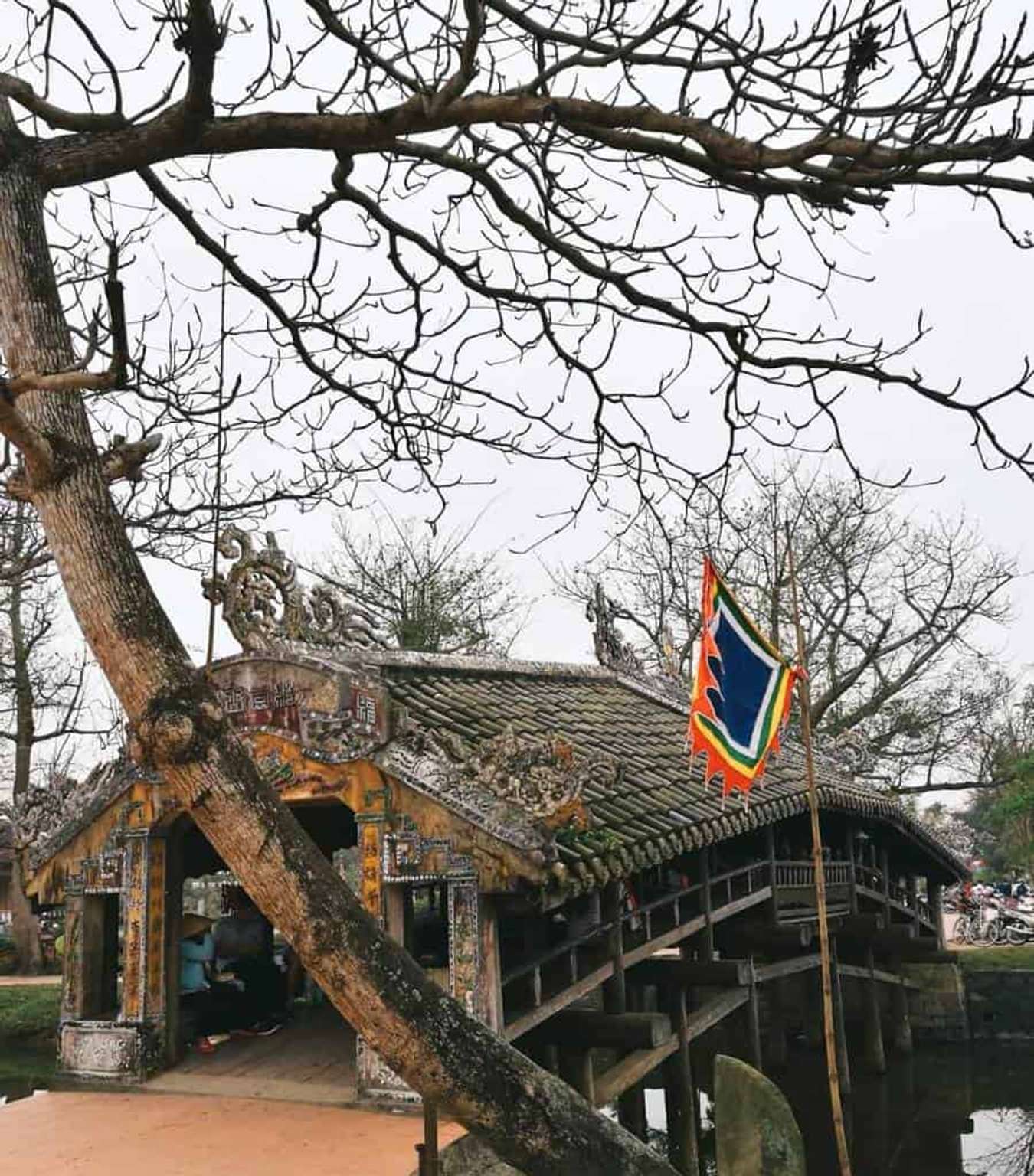 Thanh Toan tiled bridge has the leading artistic value in Vietnam. @dungvu87
Thanh Toan Tile Bridge is a special historical relic of Hue and is recognized for its top artistic value. Bearing the typical architecture of the ancient palace, the bridge was built with the main material of lapis lazuli – the type of tile often used in the works of the court.
Hon Chen Palace
How to get to Hon Chen Temple: Take a boat from Cu Chanh village wharf, Thuy Bang commune; Or take a dragon boat from Toa Kham wharf, upstream of the Perfume River.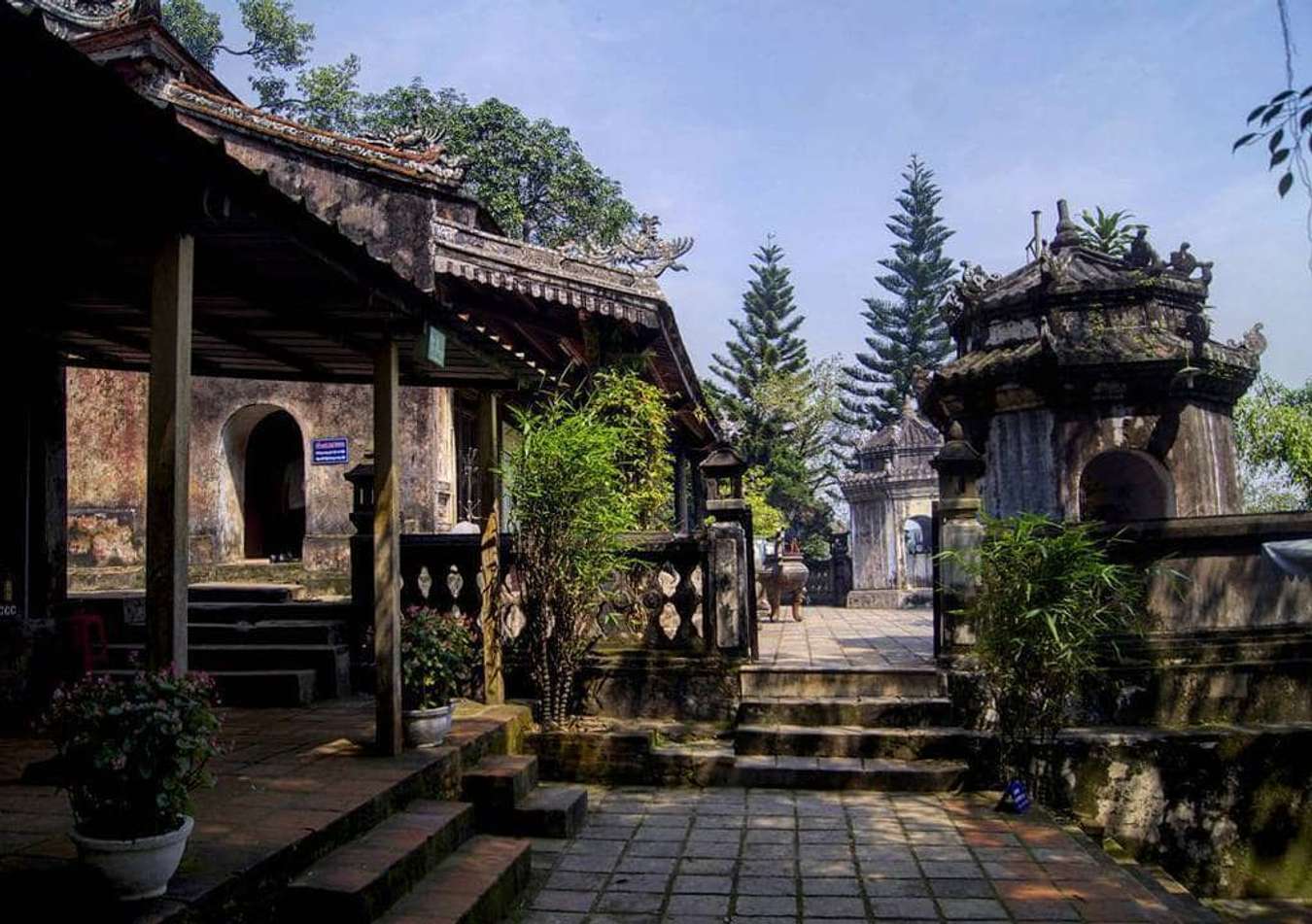 Hon Chen Palace plays a big role in the spiritual life of Hue. @il_cavaliere_errante
As the most sacred shrine in Hue, Hon Chen Temple is also associated with many historical anecdotes. Originally, this was the place to worship the goddess Po Nagar (Thien Y Thanh Mau) according to Cham beliefs and was also a goddess honored by the Nguyen Dynasty as a superior god.
This temple located on Ngoc Tran mountain can be considered as a harmony between folk spiritual beliefs and ancient royal culture. Up to now, the 3rd and 7th lunar month every year is still a big festival at Hon Chen Palace, with large-scale processions filled with flags, flowers, banners, music, and thousands of people flock to attend.
Thien An Hill – Thuy Tien Lake
Address: Thuy Bang Commune, Huong Thuy Town (10km south of Hue city center, on the way to visit Khai Dinh Tomb).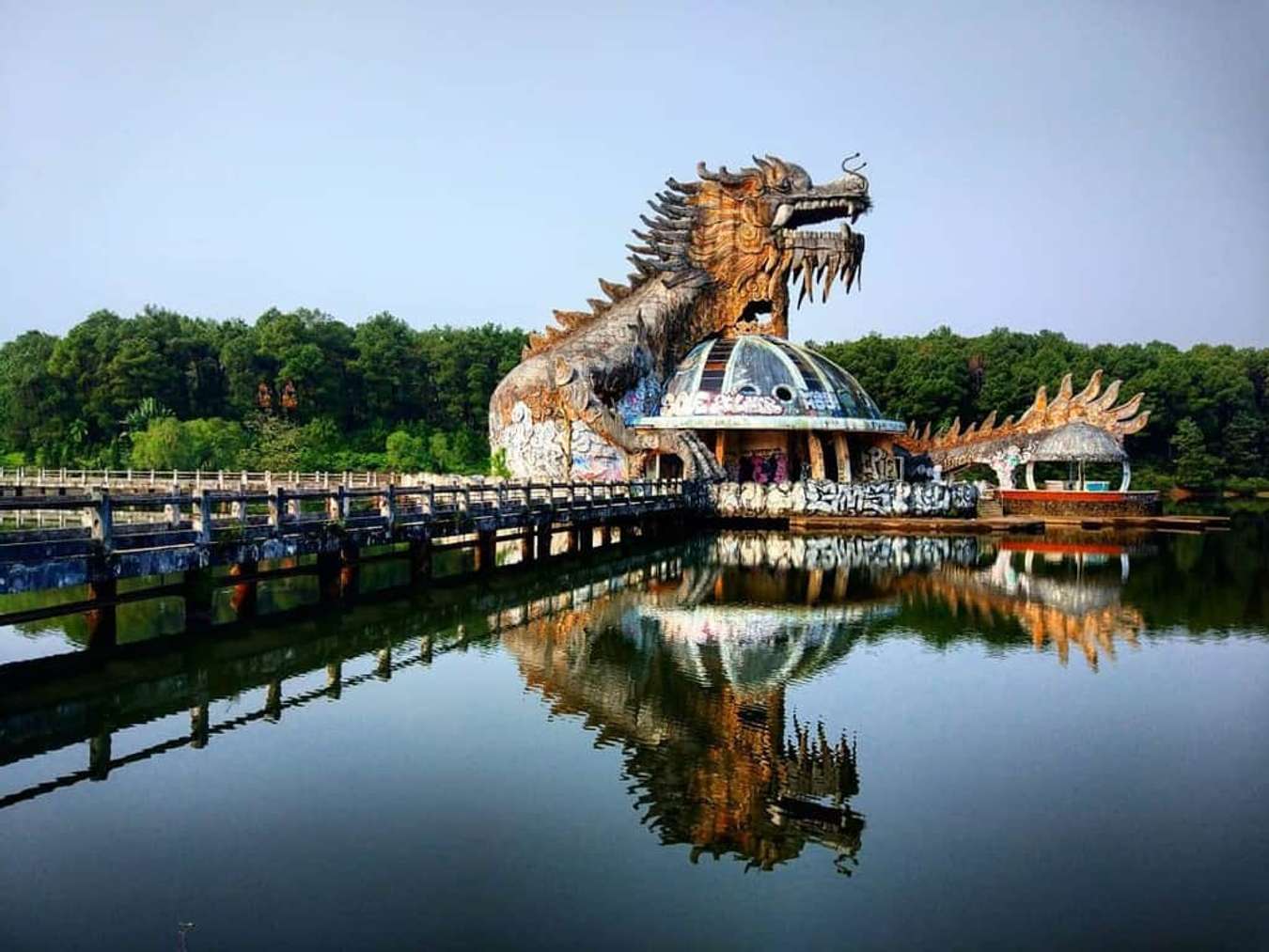 Thuy Tien Lake is famous for its abandoned water park. @alvarituriturituri
Just emerging not long ago in Hue tourism experiences, Thuy Tien Lake has become a new check-in place in Hue, especially attracting young people who love to explore. Located near Thien An hill – a hill covered with pine forests like Da Lat, Thuy Tien Lake has an abandoned amusement park. The entire 50-hectare campus with many entertainment items is now engulfed in a desolate, moss-covered, degraded scene, which is the point of "challenge" for intrepid guests.
Sights around Hue city
Thuan An Beach
Address: Thuan An town, Phu Vang district, Thua Thien – Hue province (15 km east of the city center).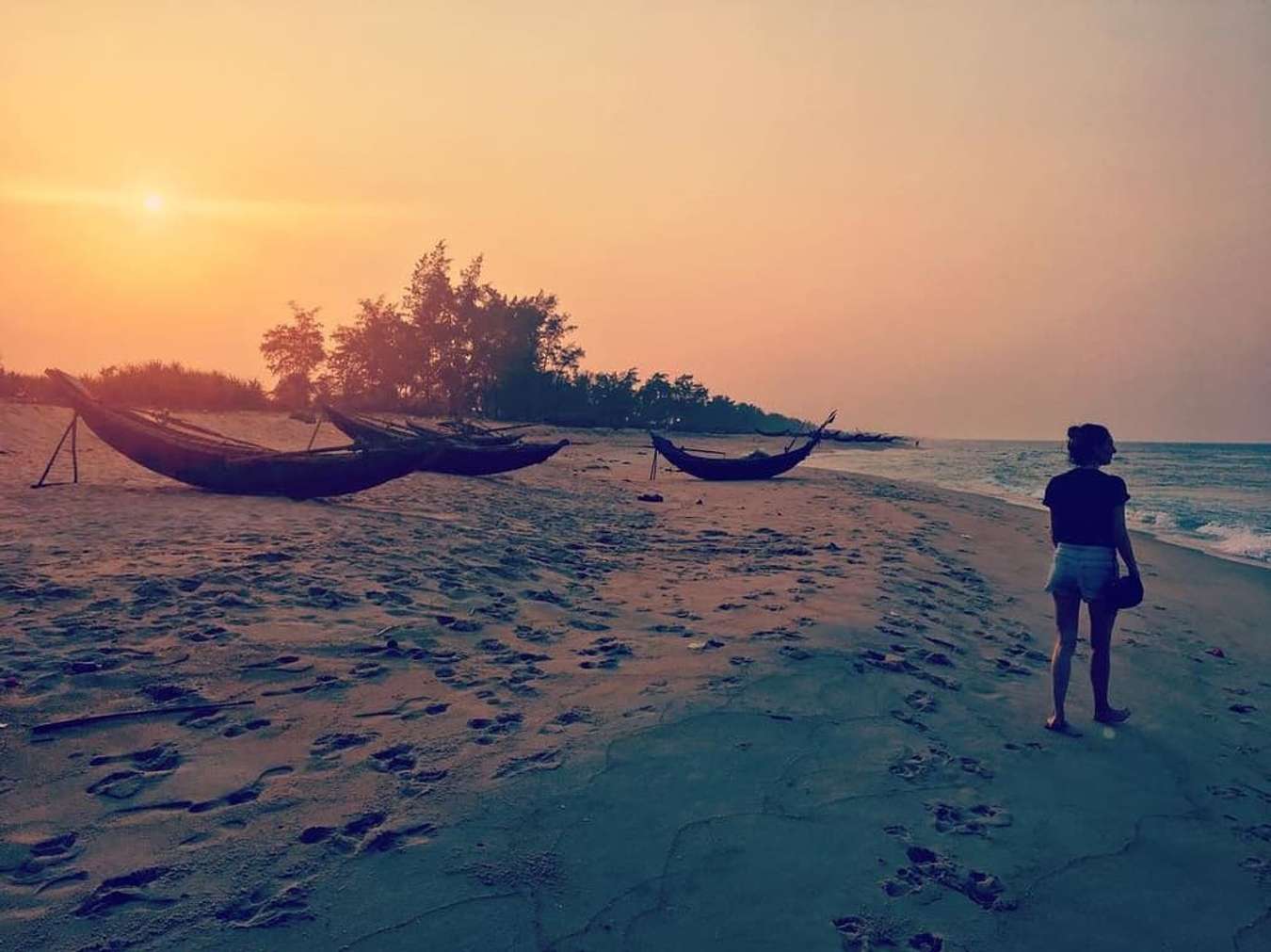 Thuan An beach is brilliant in the sunset. @ou.est.charlie
As a small beach near Hue city, Thuan An is the ideal place for those sudden cravings for the sea but don't want to go far. The beach is more than 1 km long, famous for its splendid sunrise and sunset, just standing on the fine sand and watching is enough to satisfy.
Canh Duong Beach
Located between Hue and Da Nang, Canh Duong is a place that has just entered the list of Hue travel experiences not long ago. Canh Duong beach is very wide, suitable for taking a dose and spending the night camping and listening to the sea breeze.
Address: Canh Duong hamlet, Loc Vinh commune, Phu Loc district, Thua Thien – Hue province (about 50 km from Hue city center).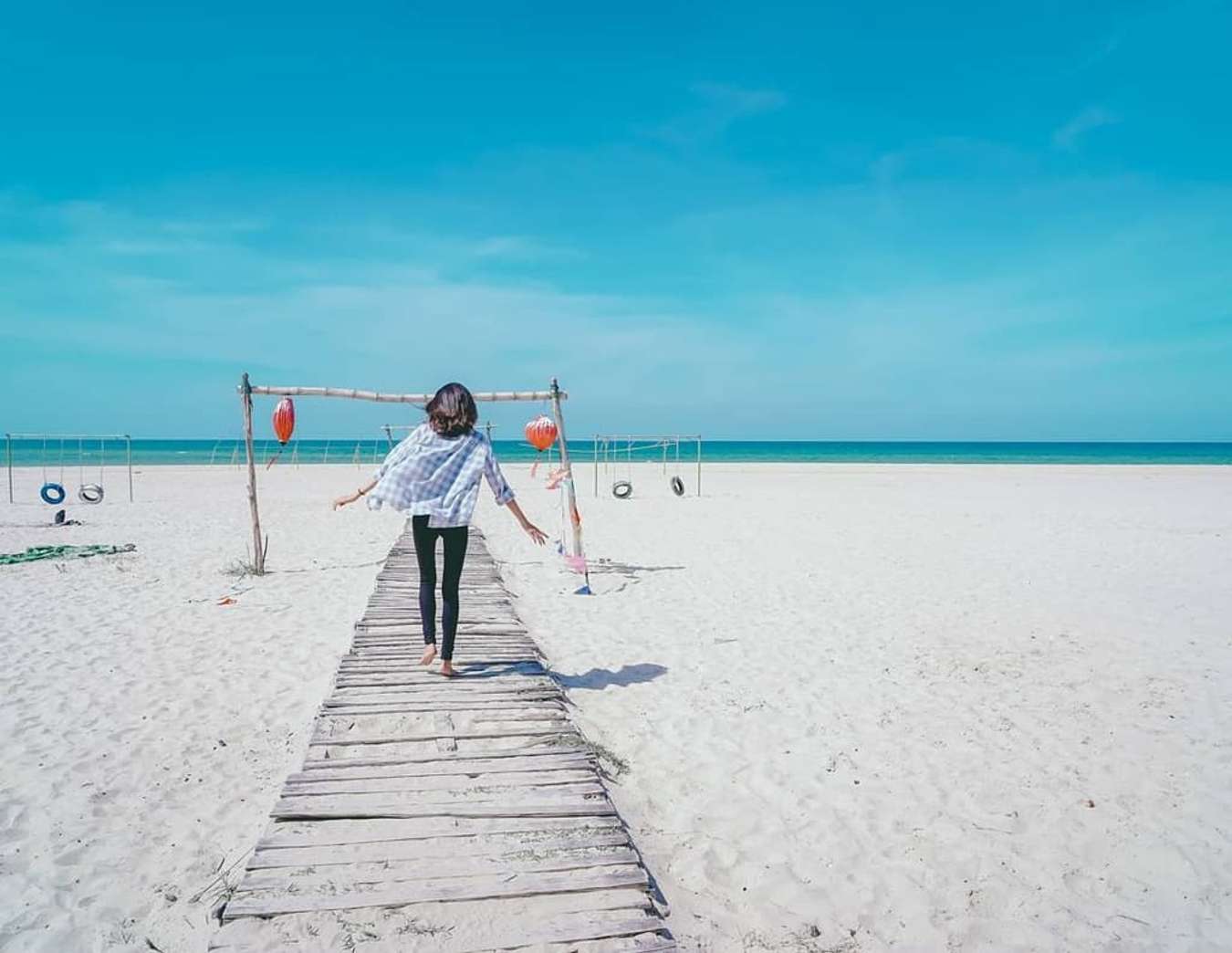 Canh Duong beach with peaceful beauty. @doo.thi
Come to Canh Duong, not only immerse yourself in the clear blue water but also enjoy all the fresh seafood dishes here, as well as explore the nearby Canh Duong village. You can refer to the Canh Duong Beachcamp travel experience .
Lang Co Bay
If you are looking for a peaceful setting between the mountains and the wild sea, Lang Co is the ideal choice. Lang Co beach with clear water, curved beach embraced by Hai Van Pass is known as one of the most beautiful bays in the world.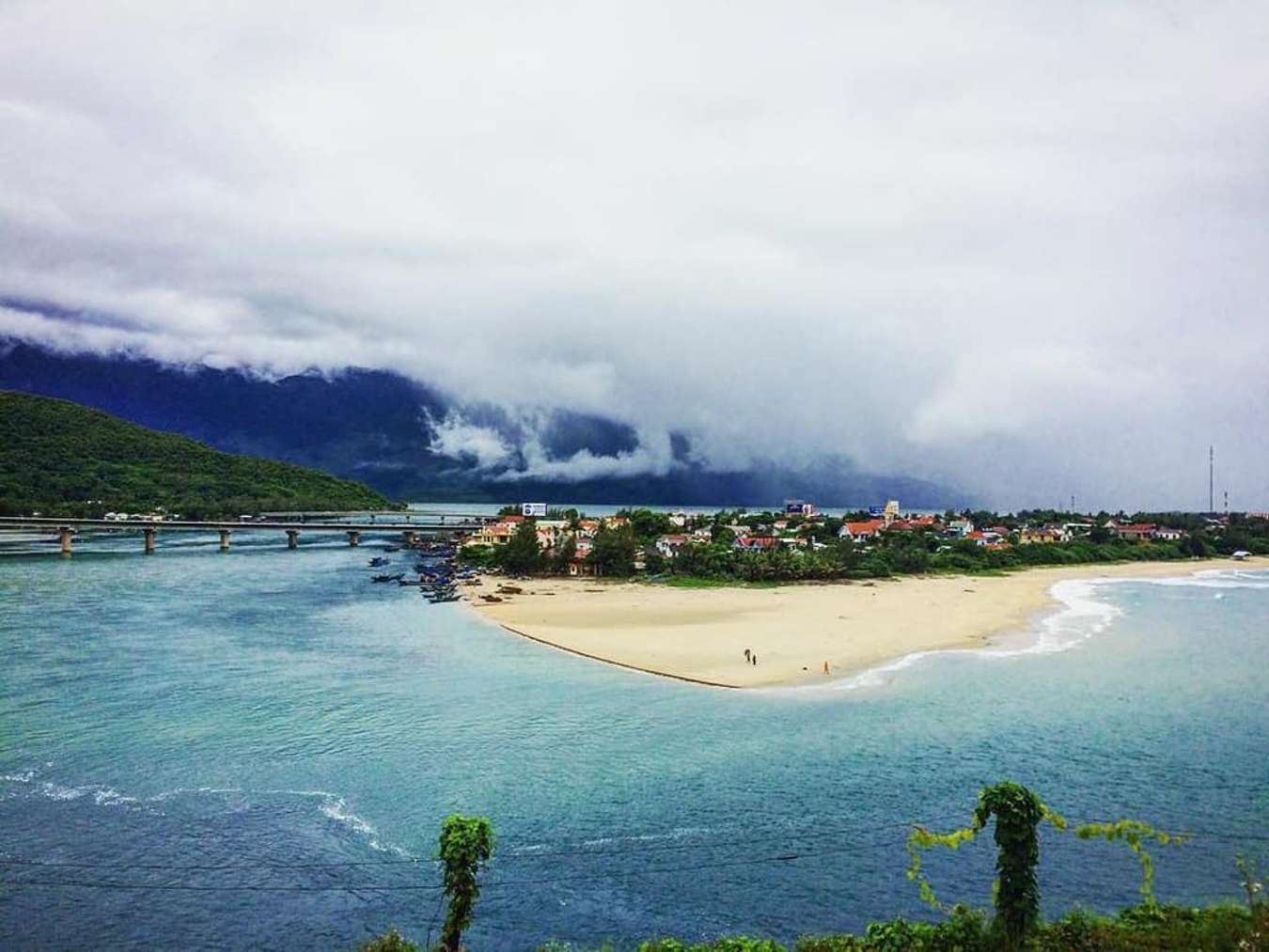 The poetic scenery of Lang Co Bay. @amazingvietnam1825
That is also the reason why Lang Co focuses on many resorts, giving you a dream vacation, completely away from the noisy city to immerse yourself in nature.
Bach Ma National Park
Da Nang and Thua Thien – Hue have a natural boundary, which is the Bach Ma range. Belonging to Bach Ma National Park, this is always a place that urges those who love to conquer nature to go on the road.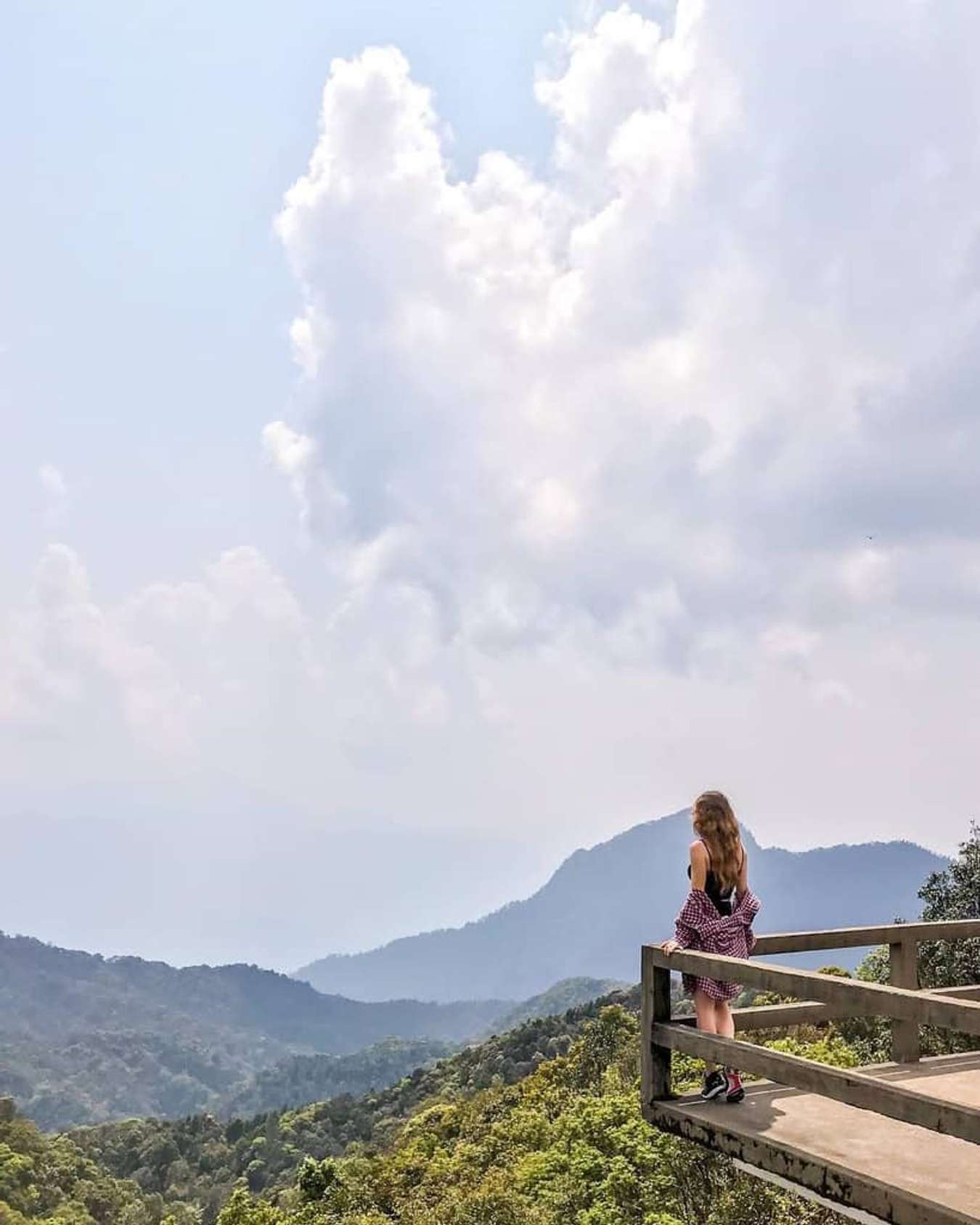 Magnificent view from Bach Ma mountain range. @the_sky_inside
One of the most famous stops on Bach Ma road is Vong Hai Dai – the highest point where you can capture the panoramic view of Lang Co bay, Truoi lake, the whole river, mountains, clouds of Hue.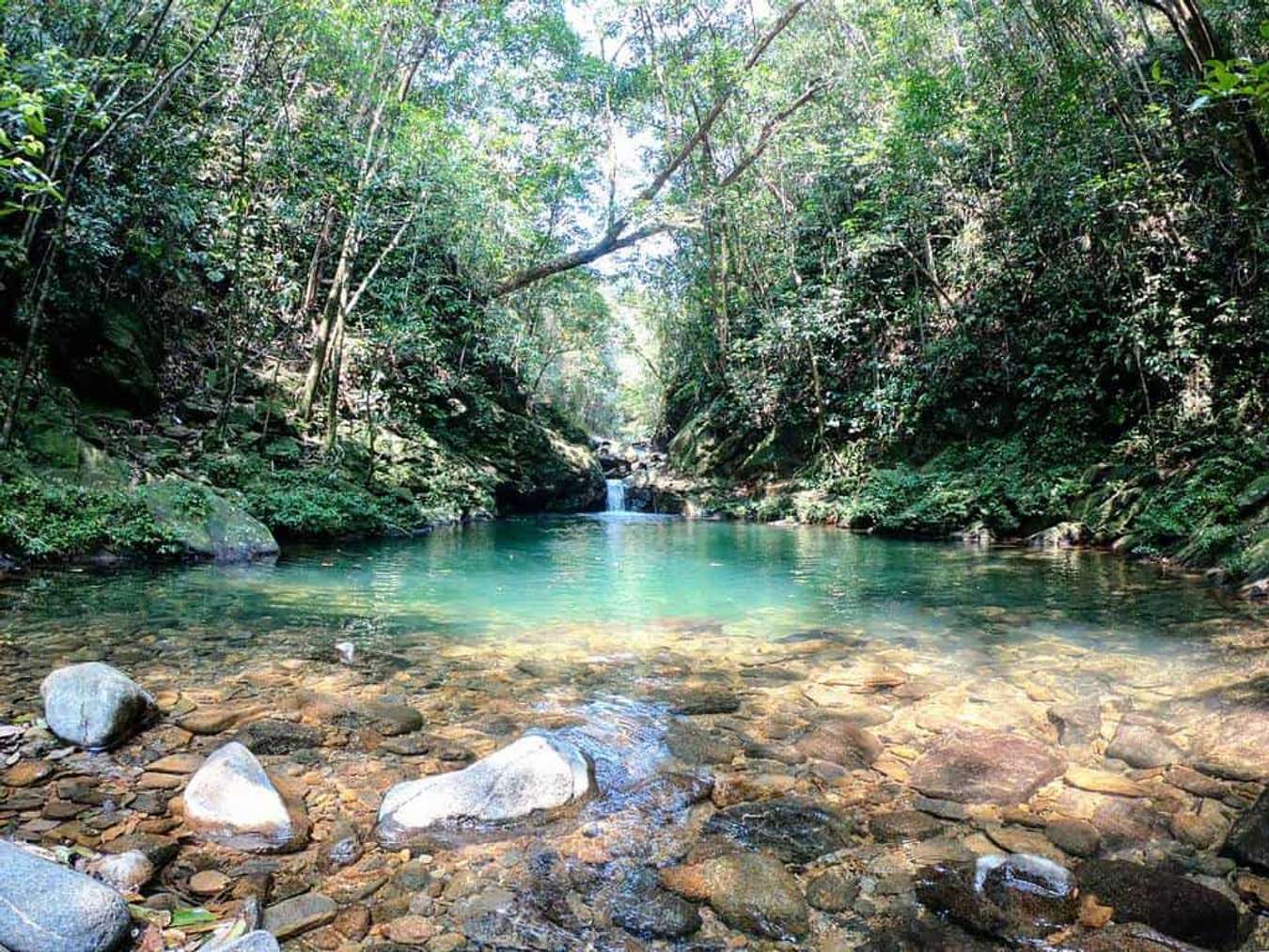 Streams of water as clear as jade. @sam.aylott
In addition, exploring deeper, Bach Ma National Park also has Ngu Ho – a majestic stream pouring from above, creating five large and small lakes on its way; Or Do Quyen waterfall is full of beautiful flowers blooming every March…
How to get to Bach Ma National Park: From Hue, go along National Highway 1A, straight to Phu Loc town, you will see a signboard to go to Bach Ma. At the security gate, there will be a car service to take tourists to the top for 900,000 VND/round trip.
Located at the foot of Bach Ma mountain range, Truoi lake also has a dreamy beauty typical of Hue. This is essentially an irrigation project; But thanks to being surrounded by mountains, Truoi Lake has become a place to "cool off" when traveling to Hue in the summer.
Address: Phu Loc district, Thua Thien – Hue province (30 km south of the city center).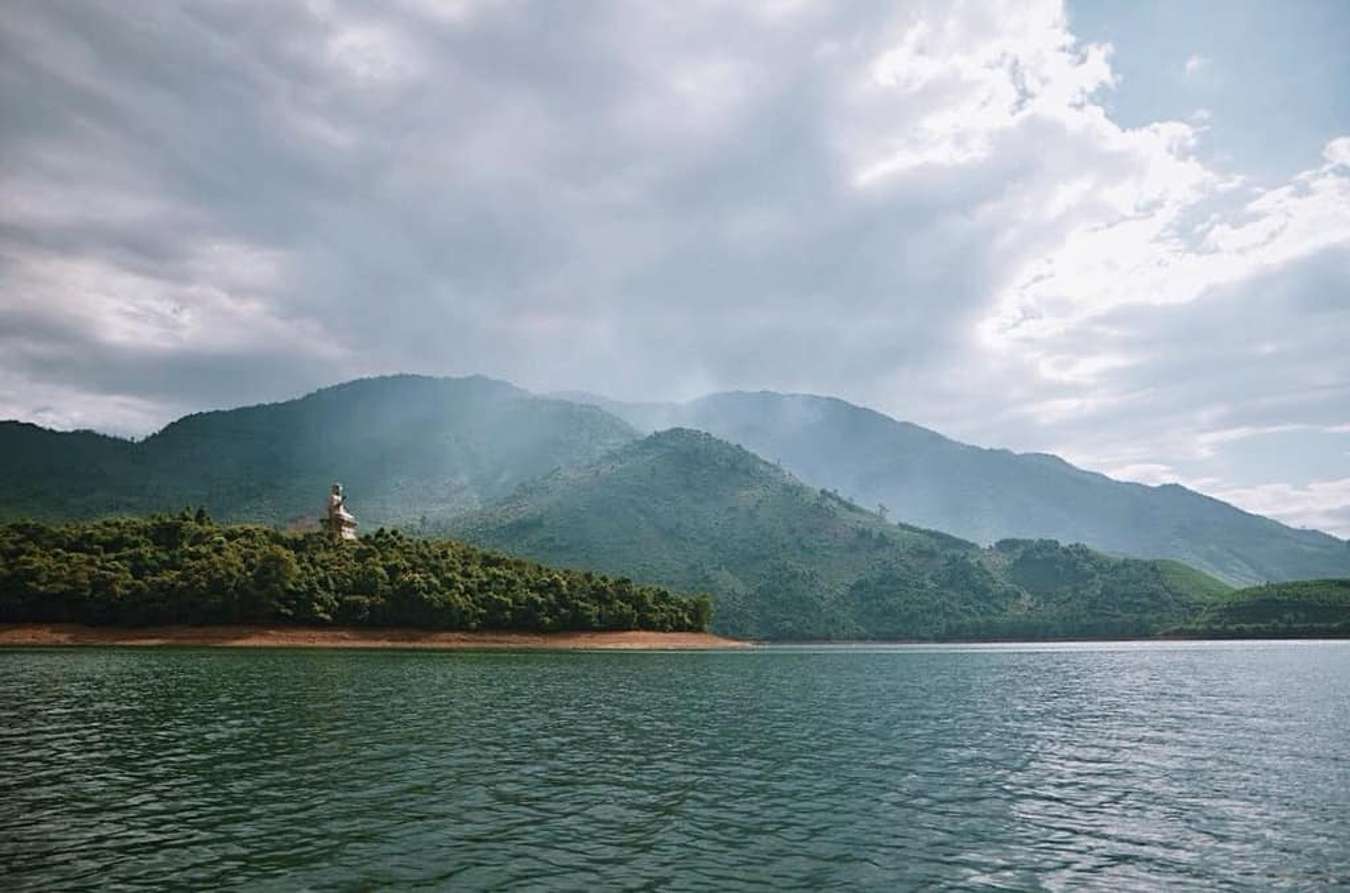 The sky is immense in Truoi Lake. @tmtgon
Near Truoi lake is Truc Lam Bach Ma Zen Monastery, belonging to Truc Lam Yen Tu sect. Visitors who want to visit the monastery have to take a boat to get to the gate and pass 172 steps. It is like a small challenge, but in return, waiting for you will be a peaceful lake setting amidst the enchanting mountains.
Lap An lagoon
Also located at the foot of Hai Van Pass, right next to the beautiful Lang Co Bay, Lap An lagoon also possesses its own rare beauty. Large lagoon, sinking into the tranquility of the mountains. The life of the people around the lagoon is equally peaceful with fishing activities, digging sa worms every time the tide is low…
Address: Lang Co town, Phu Loc district, Thua Thien – Hue.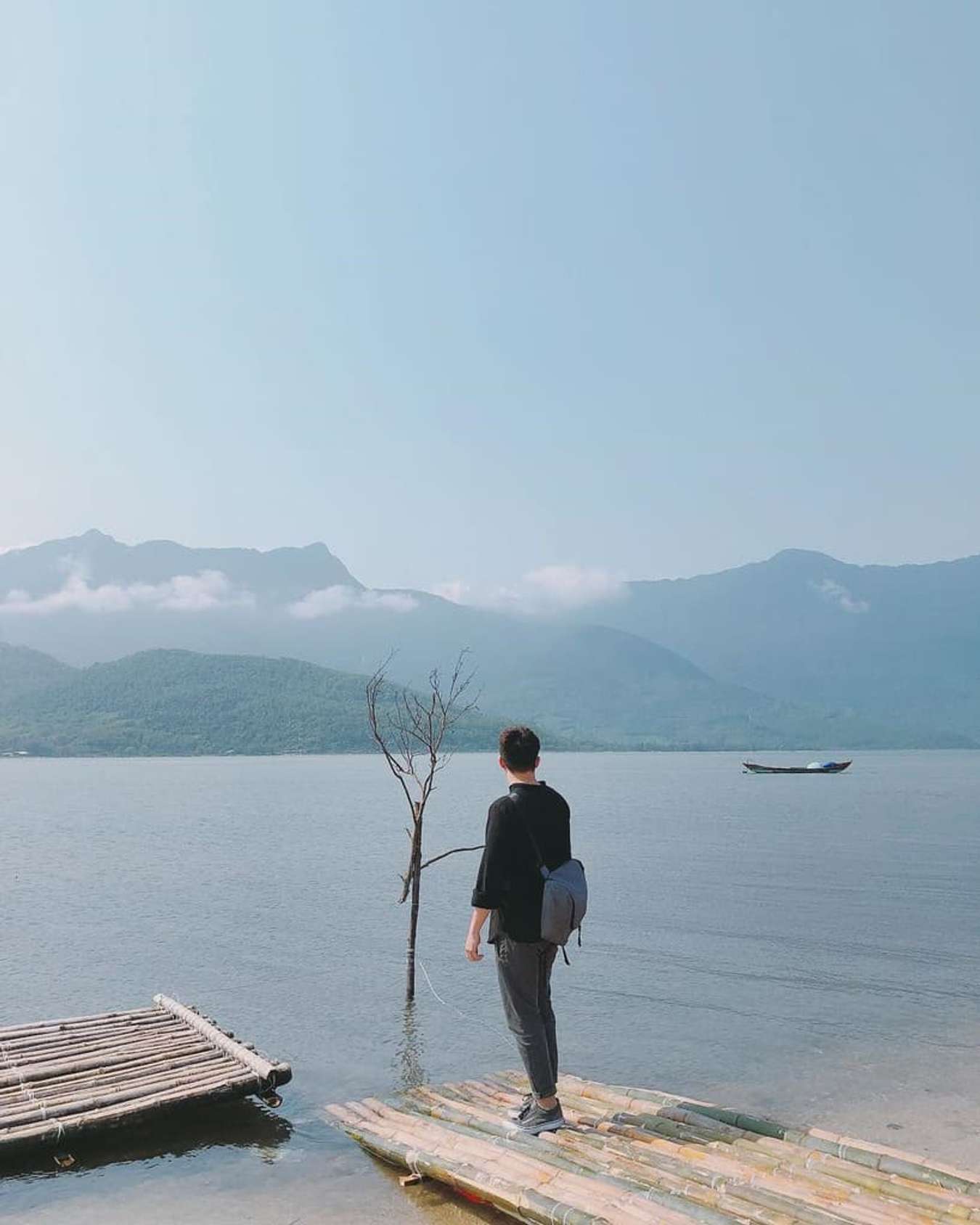 There is nothing more peaceful than the early morning in Lap An lagoon. @dean.k.cc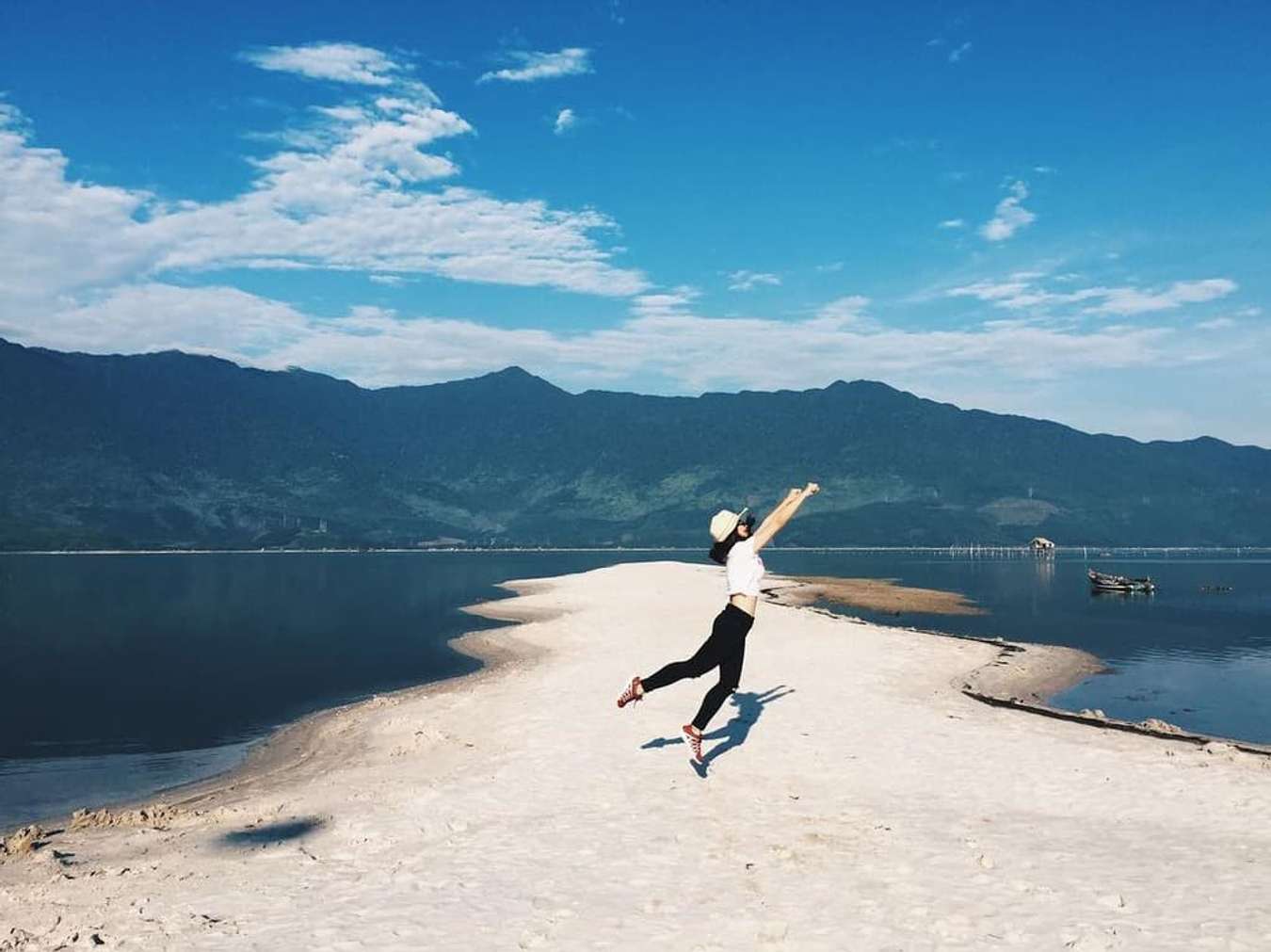 Unique walking path in the middle of the lagoon. @mia.tran90
In particular, the experience you cannot miss in Lap An lagoon is the walking path in the middle of the lagoon that will appear every time the tide is low, "virtual" no less than Diep Son or Hon Noi!
Tam Giang Lagoon
Tam Giang Lagoon belongs to the large system of Tam Giang – Cau Hai lagoons, which is the largest lagoon in Southeast Asia. The vast lagoon area and Thai Duong Ha fishing village are like a solitary oasis in the middle of the water that will attract you at first sight.
Address: Belonging to 4 districts of Phong Dien, Quang Dien, Huong Tra, Phu Vang of Thua Thien – Hue.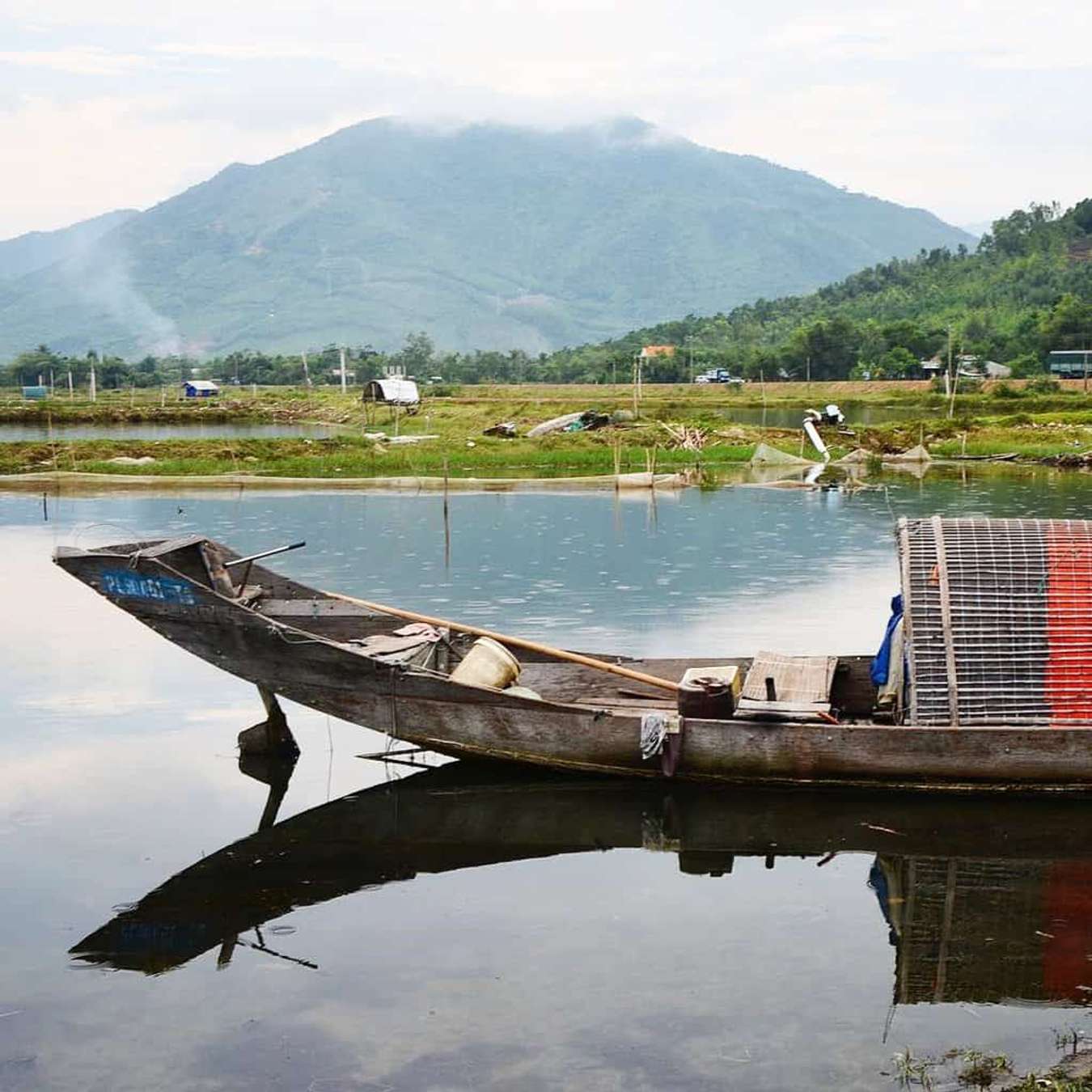 Simple life in Tam Giang lagoon. @vietnamesegod
The life of the people in this ancient fishing village is vibrant but also extremely peaceful. Every morning, boats are busy leaving the shore to catch fish. In the afternoon, there is nothing more wonderful than sitting on a boat watching the orange sunset gradually shadow the water surface.
5. Where in Hue to experience all "Hue Thuong"
As a famous tourist city of our country, the hotel system in Hue is extremely diverse, spreading across all segments to satisfy the entertainment and relaxation needs of visitors.
Hue Hotels
Some hotels in Hue that are having deep discounts on Traveloka include:
Golden Star Villa Hue : room rate per night from 624,800 VND/room/night
Cherish Hotel Hue : room rate per night from 1,120,000 VND/room/night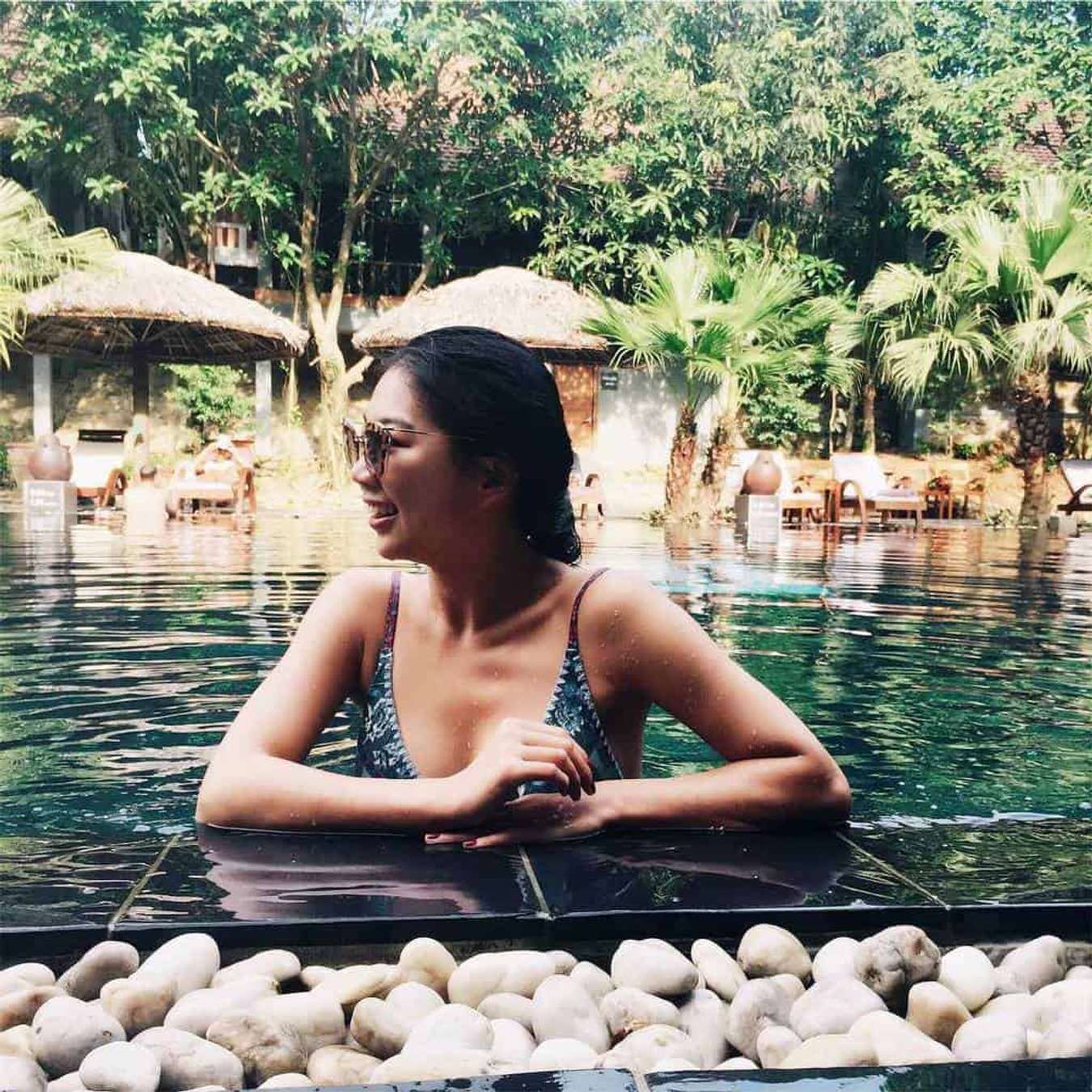 Choose a hotel in Hue to be immersed in a peaceful space. @iitsamy
The choice that many people consider is the 3-star hotel in Hue thanks to its affordable price, only from 500,000 VND/night. In addition to the beautiful location – most of them are located in the central area, or near famous tourist attractions, names such as Thanh Uyen Hue Hotel , Villa Hue , Cherry Hotel Hue , Rosaleen Boutique Hotel … are all very popular. favorite visitors. Find out more about the top 5 beautiful 3-star hotels in Hue with extremely good prices on Traveloka.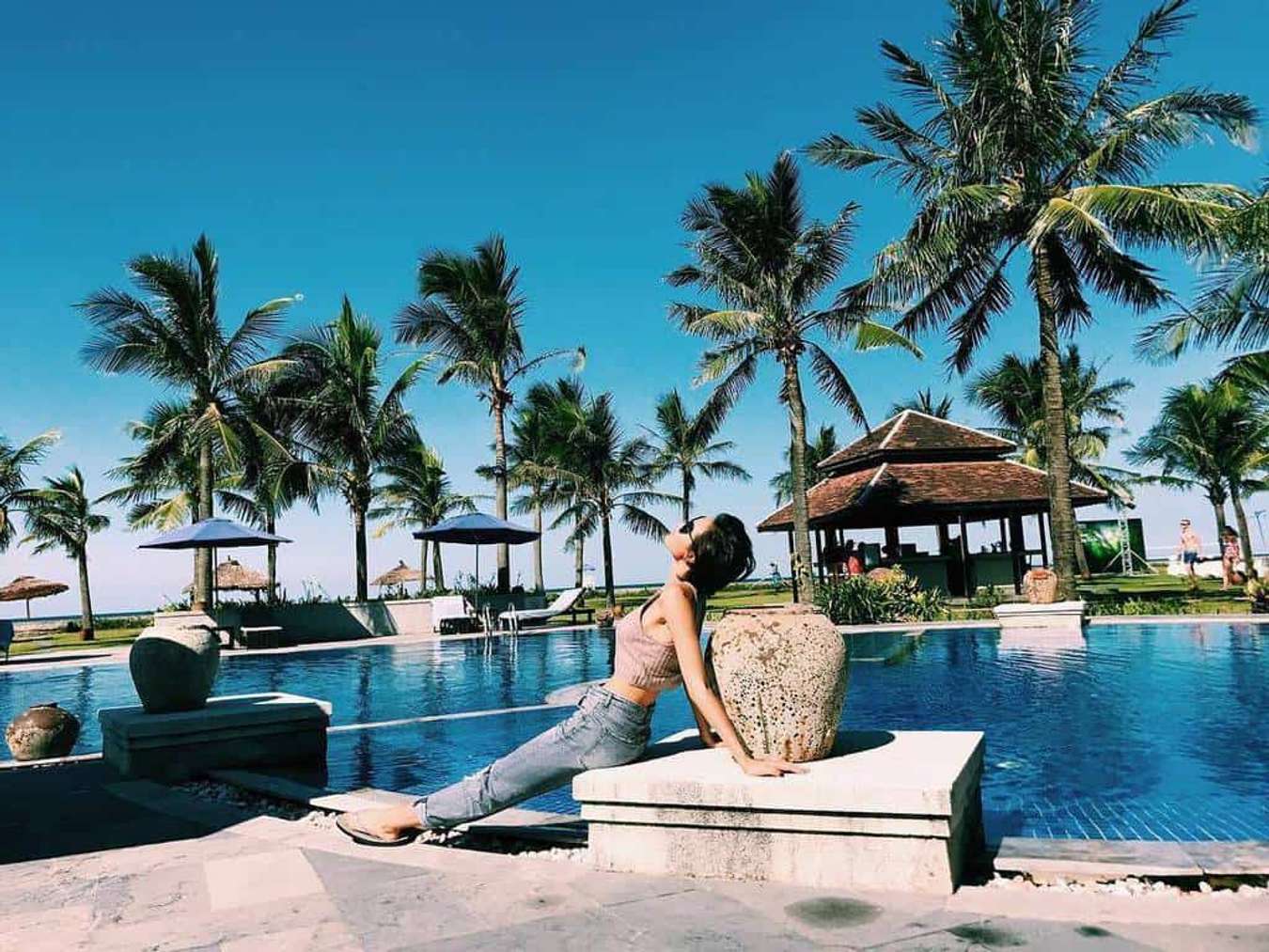 Luxury hotels in Hue will provide a wonderful stay. @phuongmai_ng
In the more advanced segment are 4-5 star hotels in Hue. Stop at Indochine Palace , Imperial Hue Hotel , or Eldora Hotel , ignore all worries and fully enjoy the luxurious space, professional service quality, and top-notch amenities. Let's "quickly surf" through the list of Top 7 luxury hotels in Hue with good prices for you to check-in like a "rich kids" association.
Resort in Hue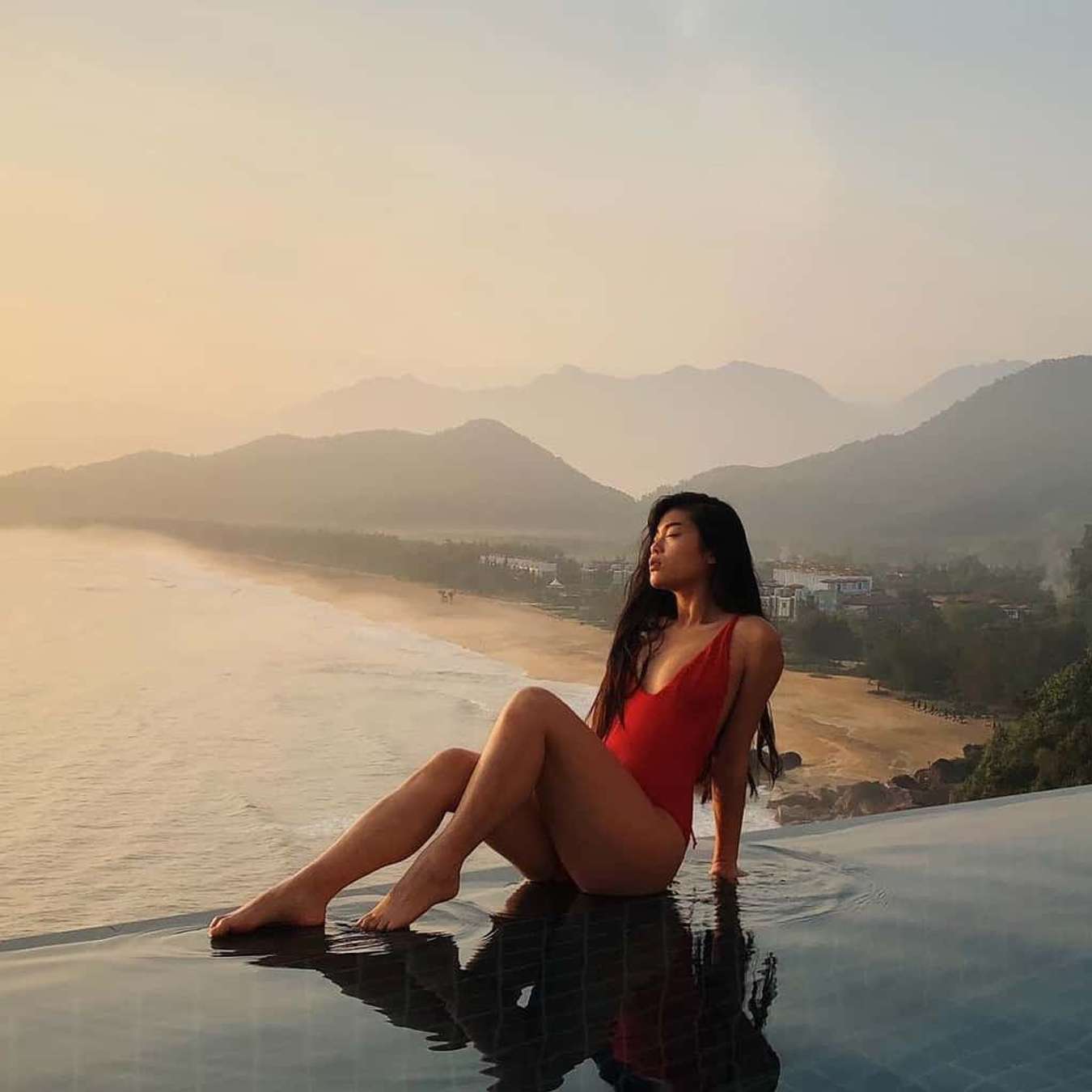 A dreamlike view overlooking the bay. @rebellionairex
If you are looking for a perfect vacation, relaxing in the midst of beautiful nature, enjoying the peaceful atmosphere without any problems, the resorts in Hue will be an undeniable choice. .
Lang Co Beach Resort , Vedana Lagoon Resort & Spa , Ana Mandara Hue Beach Resort , Pilgrimage Villade Boutique Resort & Spa are all names that will satisfy your dream vacation. Choose one of the top 6 resorts in Hue for a perfectvacation in the tropical paradise of the ancient capital.
Homestay in Hue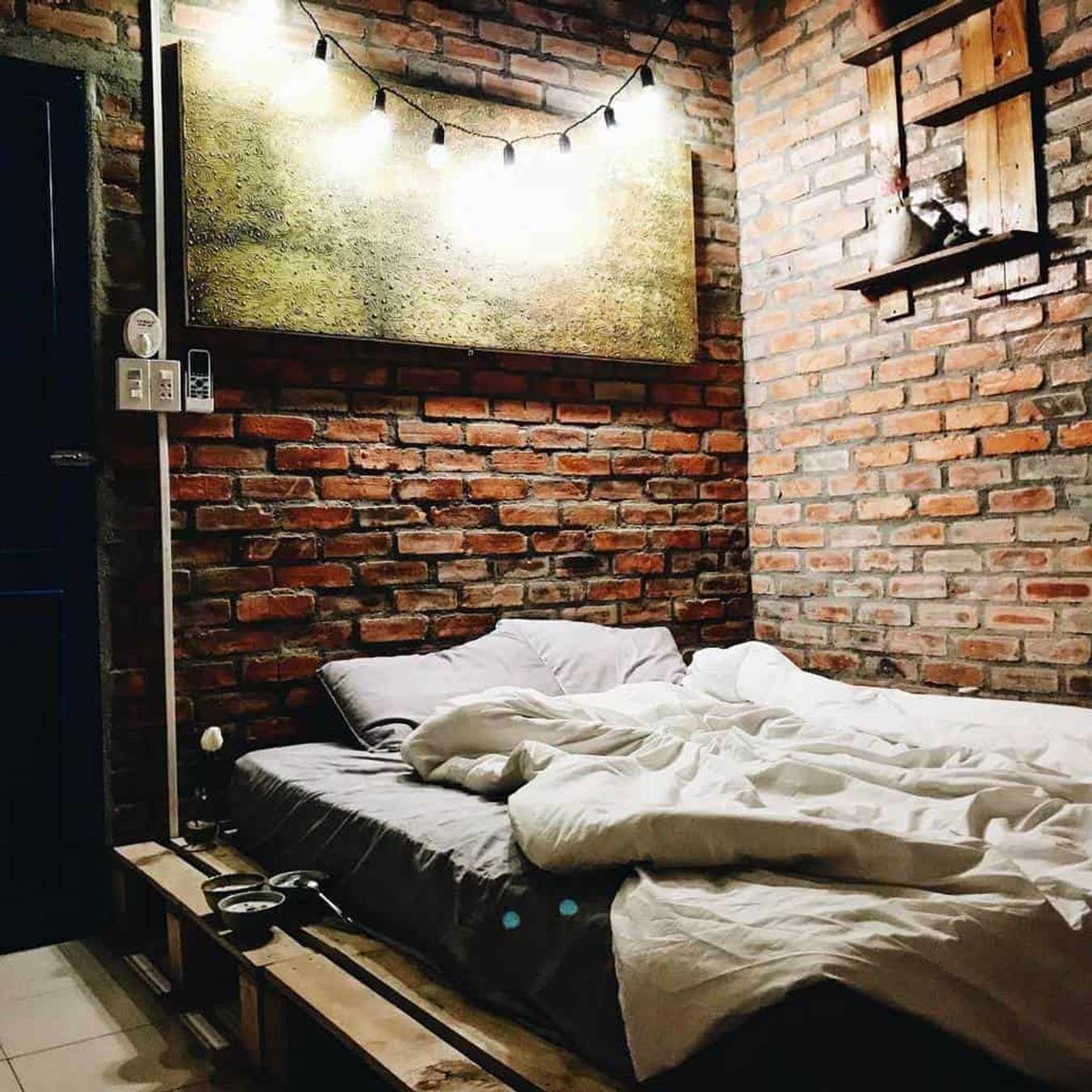 Homestay Hue will be a cozy stopover. @linhgumiho
For young people who travel in the form of backpacking, want to save money but still like a great place to stop, go straight to the hostels and homestays in Hue. What's better when with the price from only 150,000 VND/night, you still have the opportunity to own a lovely, small but cozy place to stay, right in the heart of Hue city. Let's find out with Traveloka to find out which places are the Hue homestay names that are most sought after by travel-loving residents today.
6. Discover the cuisine of the ancient capital
Hue specialties and reference addresses
Hue is a treasure trove of unique cuisine, which is a combination of sophistication and popular taste that will forever be missed by those who have tried it. Let's learn about Hue specialties that are known as if you have not tried yet, you have not set foot in the ancient capital.
Bun Bo Hue
Coming to Hue, of course, the first dish to eat is Hue beef noodle soup. This dish has really become a brand, no less than the two "brothers" of Hanoi Pho and Saigon broken rice.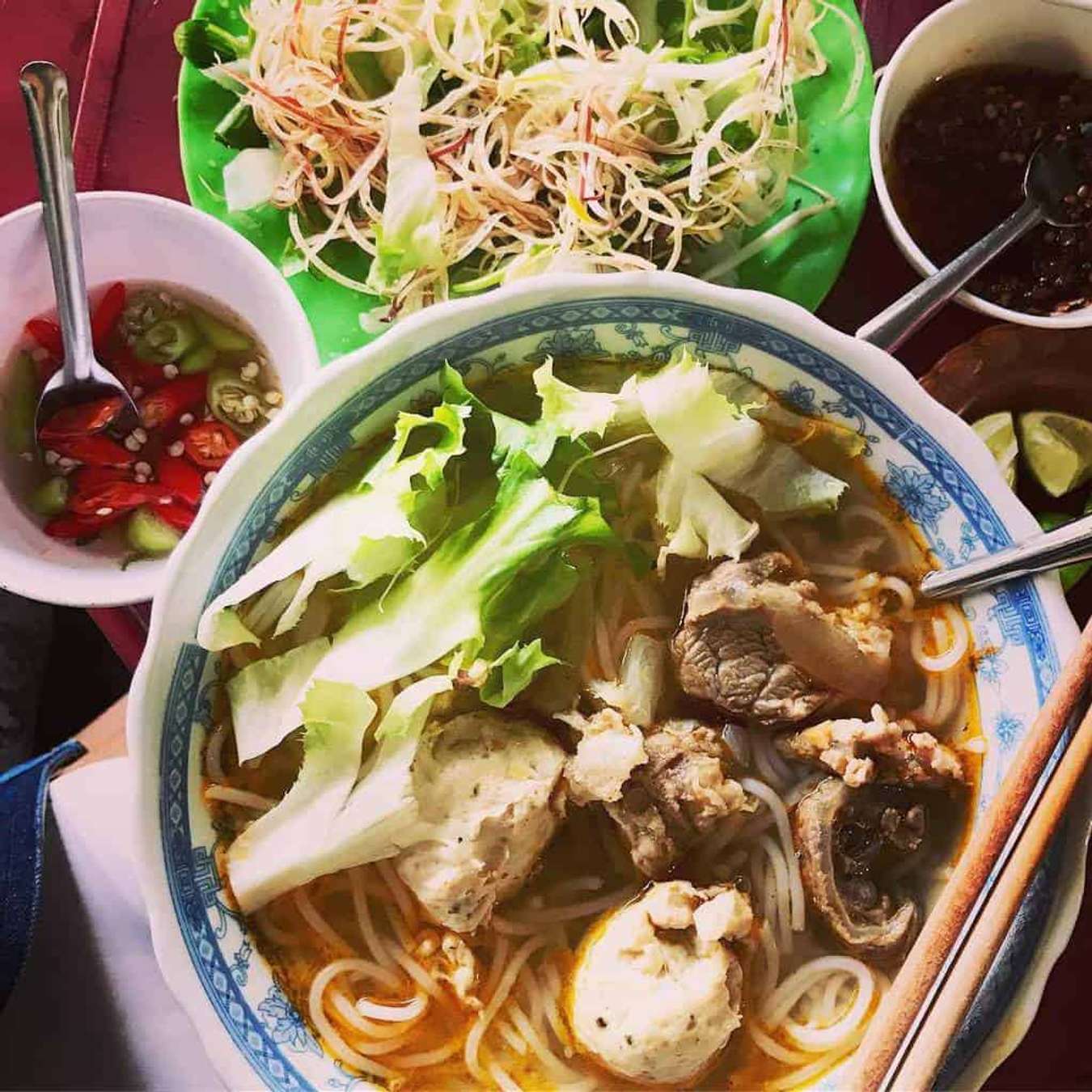 Hue beef noodle soup is famous near and far. @yunatyty
Hue original Hue beef noodle soup may be quite strange to those who are familiar with that variant version. Noodles are used small, the broth is spicy, tearing the tongue right from Hue; If you add spring rolls, then the bowl of Hue beef noodle soup is considered to be full of flavor.
17 Ly Thuong Kiet, City. Hue
Ba Tuyet restaurant: 47 Nguyen Cong Tru, City. Hue
Me Keo shop: 20 Bach Dang, City. Hue
Mussel rice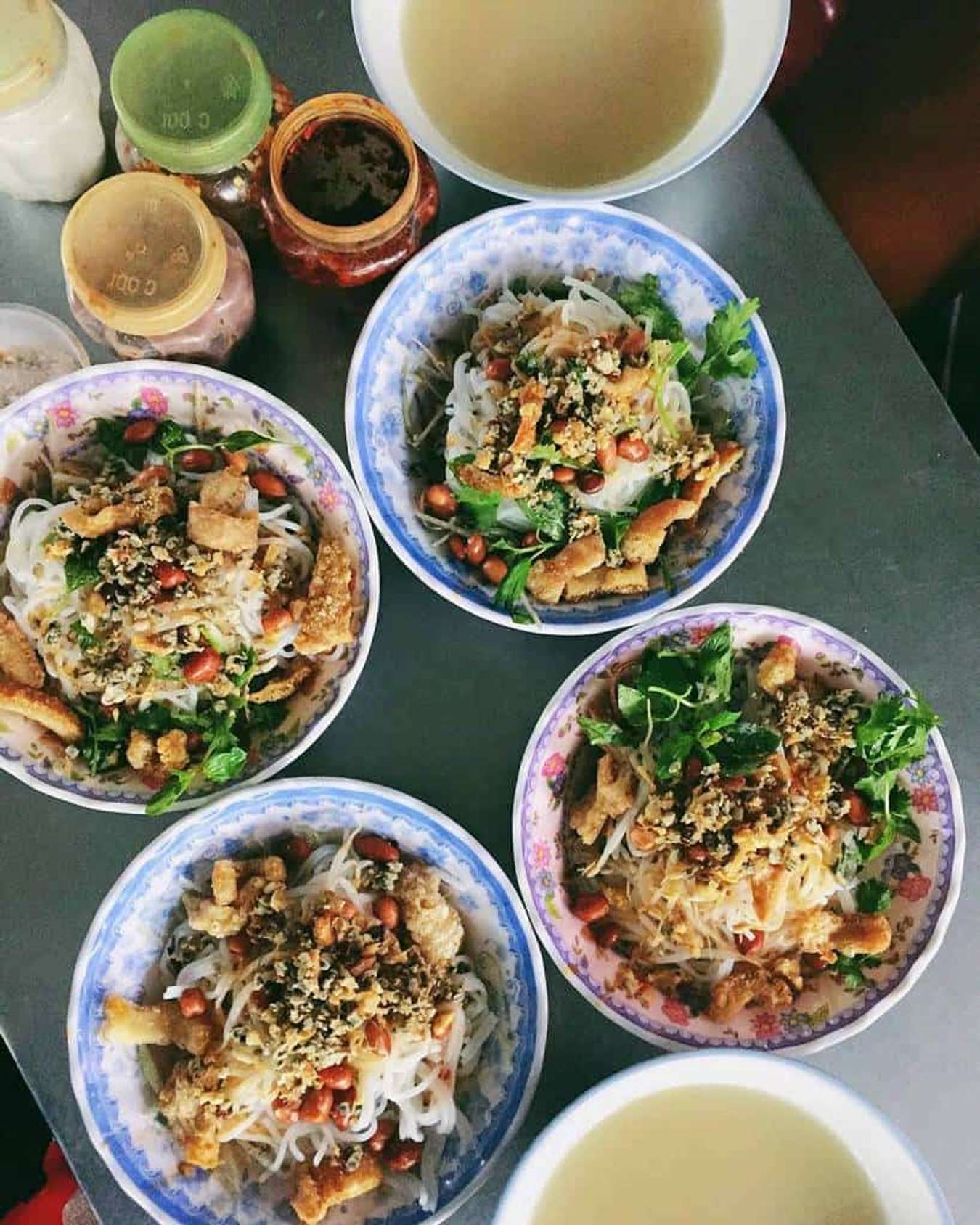 Mussel rice must be eaten at Con Hen to be right. @hoamii
A popular dish that can be found everywhere in the city is mussel rice. The sweet and chewy mussel meat is sautéed with rich spices. When eating, they will serve mussels in a bowl of white rice, adding a layer of fat that Hue fish sauce is "enough capital" for a memorable dish.
Small shop: 28 Pham Hong Thai, City. Hue
Shops in Con Hen, Vi Da Ward, City. Hue
Hue cakes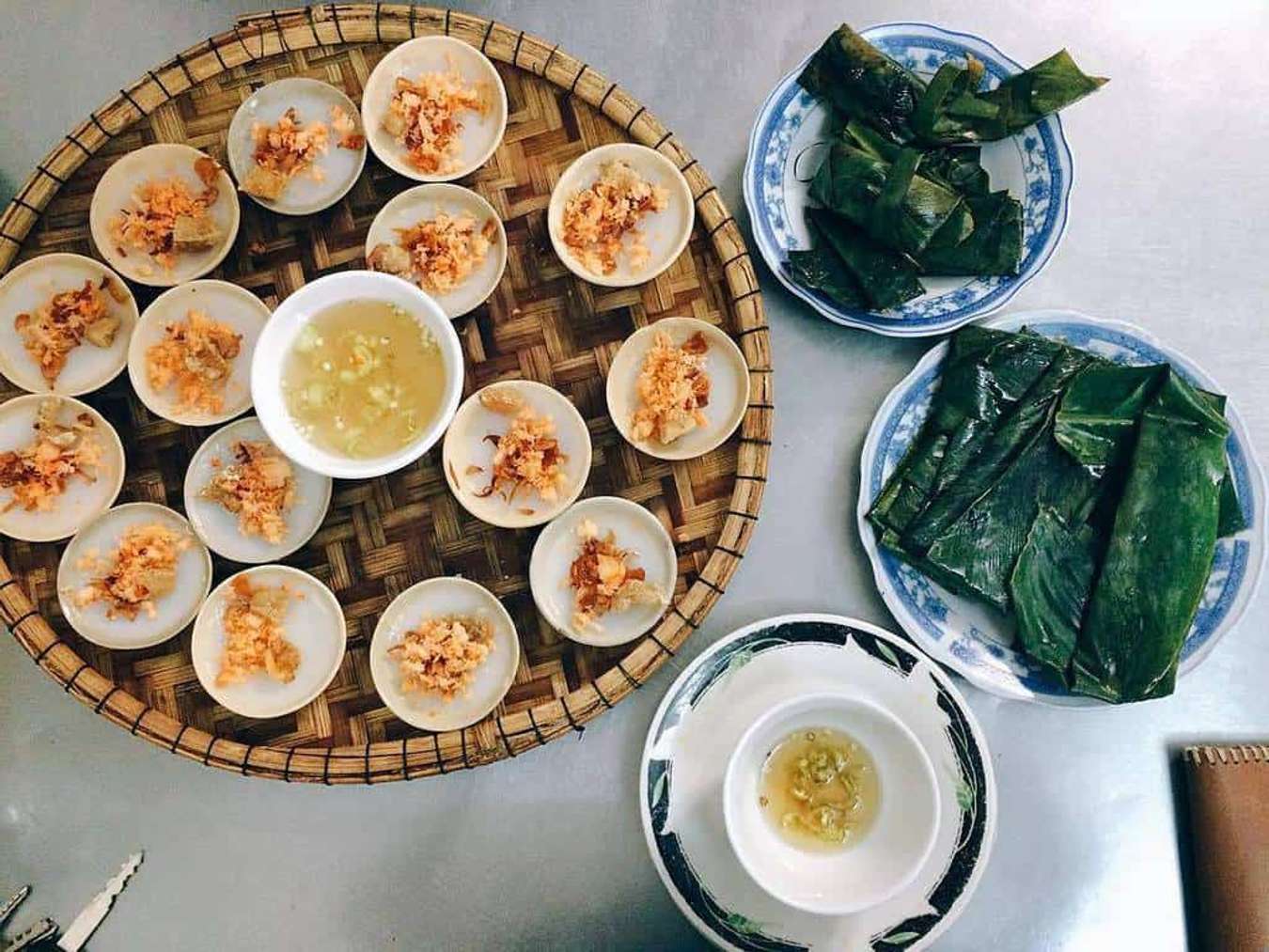 Hue cakes are rustic but attractive. @rubythebabe.94
Who is addicted to banh beo, nam, filter, less bare but doesn't know this dish comes from Hue. These simple cakes have an unexpected attraction when they can be eaten at any time, have fun, eat full, and mix and match as much as you like.
Ba Do restaurant: 08 Nguyen Binh Khiem, City. Hue
Food court of markets such as Tay Loc market, Dong Ba market.
Hue tea
Tea seems to have become an indispensable dish in the cuisine of all regions. Simple tea dishes, which can be easily found on any street, or alley, but still do not cease to seduce the sweet-loving guests with delicate and diverse flavors like the people here.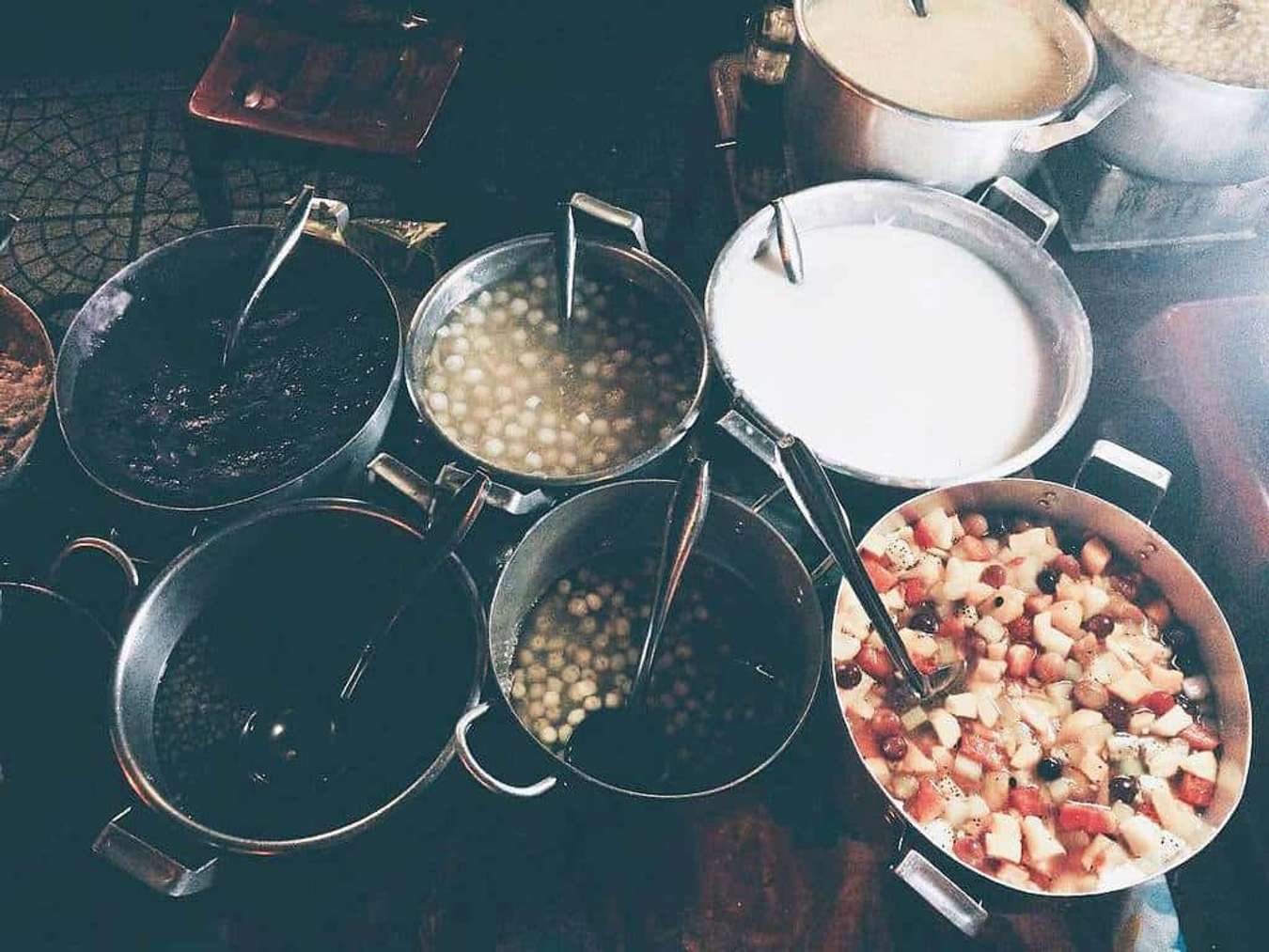 Alley tea is the common name for a variety of tea varieties. @didyyyyy
The most famous Hue tea dishes are corn tea, roasted pork filter cake, longan tea wrapped with lotus seeds, water drifting tea, sweet potato tea, lotus tea…
Ngoc Hien Tea: 65 Tran Hung Dao, City. Hue
Che Thanh: 78 Mai Thuc Loan, Phu Hau Ward, City. Hue
Mo Ton Dich Tea: In front of Thuong Bac Park, City. Hue
Sour shrimp paste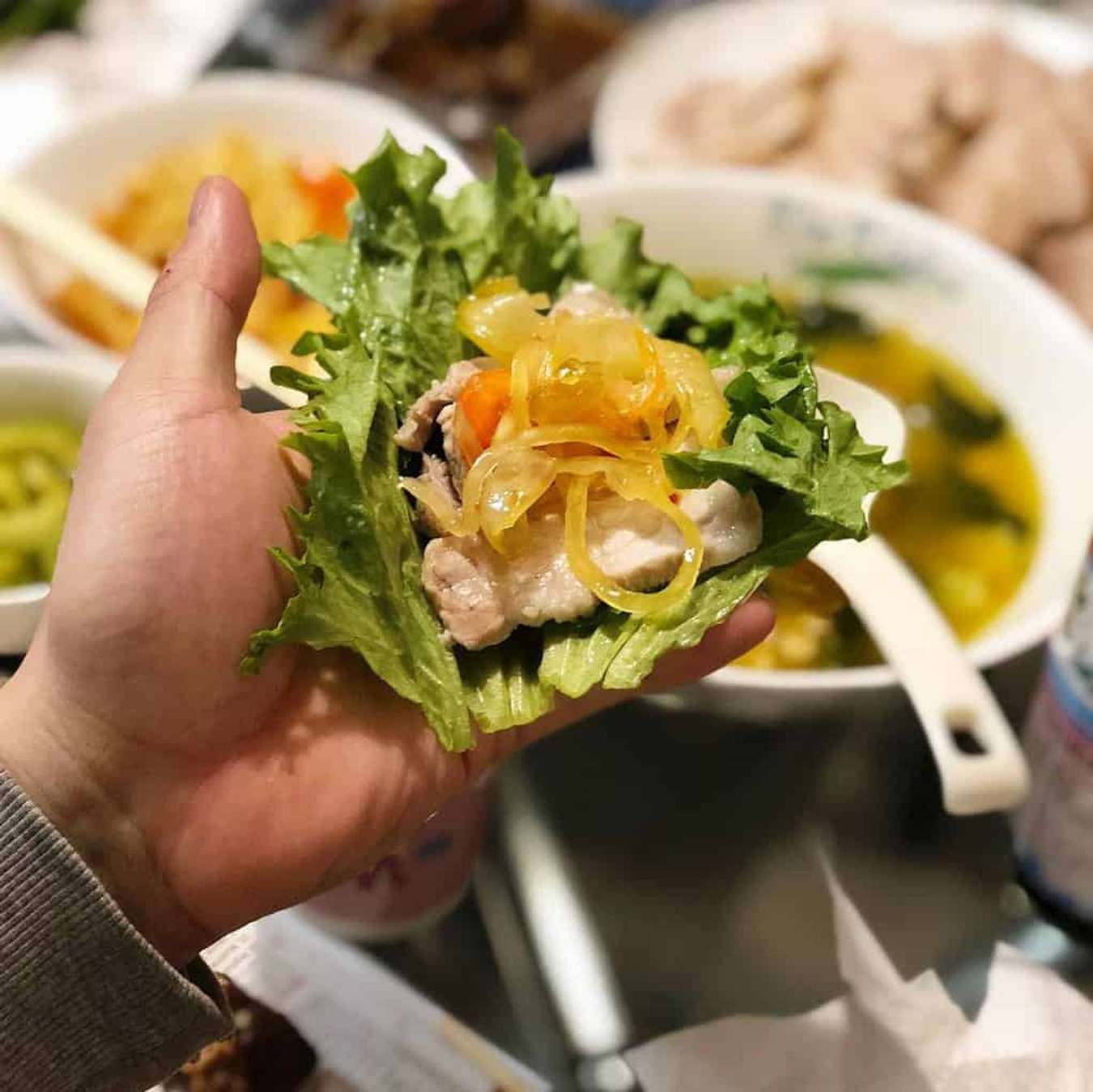 Sour shrimp paste must be eaten with boiled meat and raw vegetables. @tdotwin_nlb
Hue people always have an endless love for fish sauce dishes, in which one of the favorite dishes that many tourists love to buy as a gift is sour shrimp paste. A special feature of this dish is that fresh shrimp are soaked with white wine, so they will ripen slowly and form a dark red color. The best sour shrimp paste is rolled with boiled meat, rice paper and raw vegetables.
Reference address: To Viet sour shrimp, 95 Chi Lang, City. Hue
Nam Pho soup cake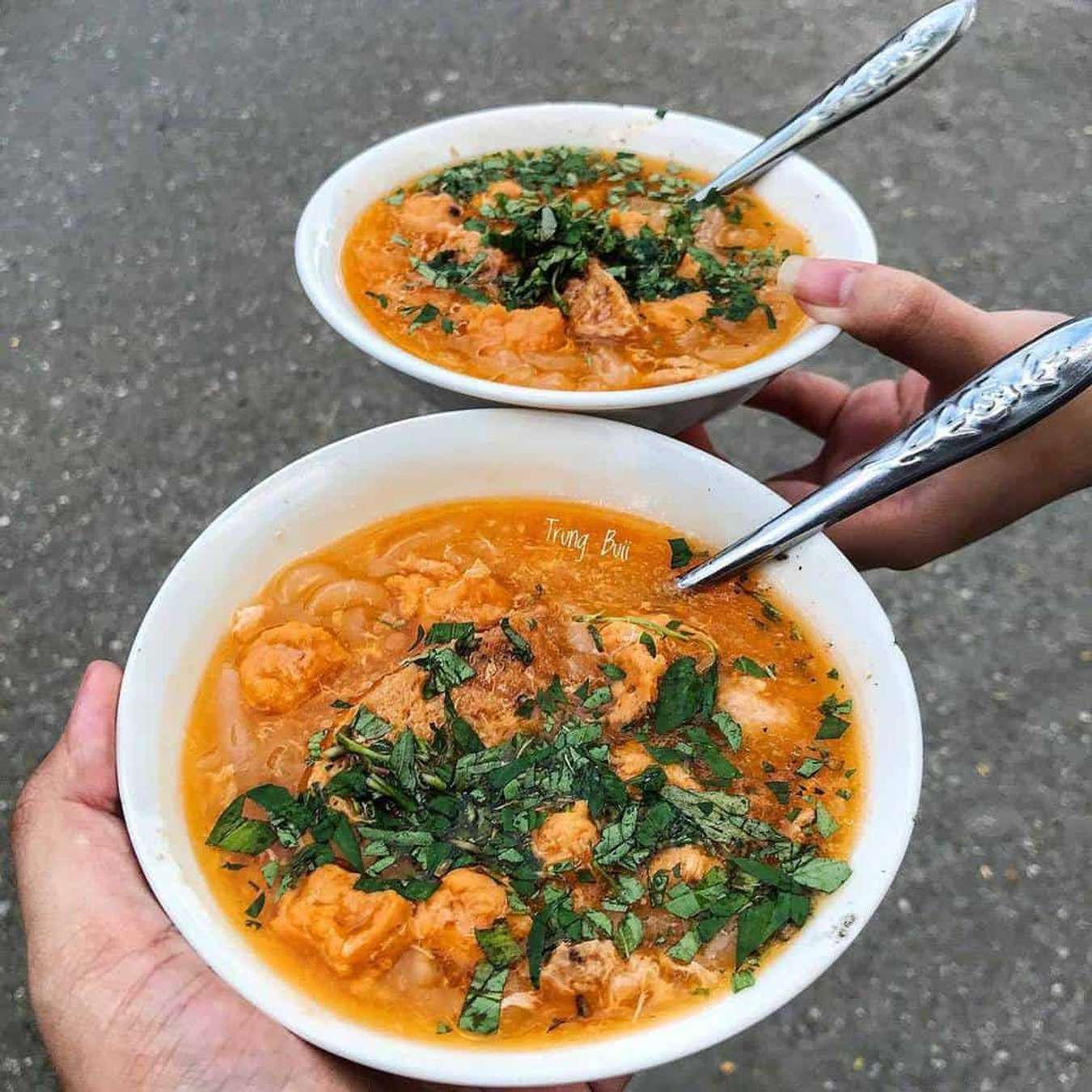 Nam Pho soup bowl attracts all foodies. @trungbuii
Banh Canh is not a strange dish, but the people of Nam Pho village, Phu Vang district have a way to make this familiar dish much more special. The broth is comparable, with the dark red color of cashews, full of attractive crabs and shrimps.
Quan Thuy: 16 Pham Hong Thai
Beautiful cafes in Hue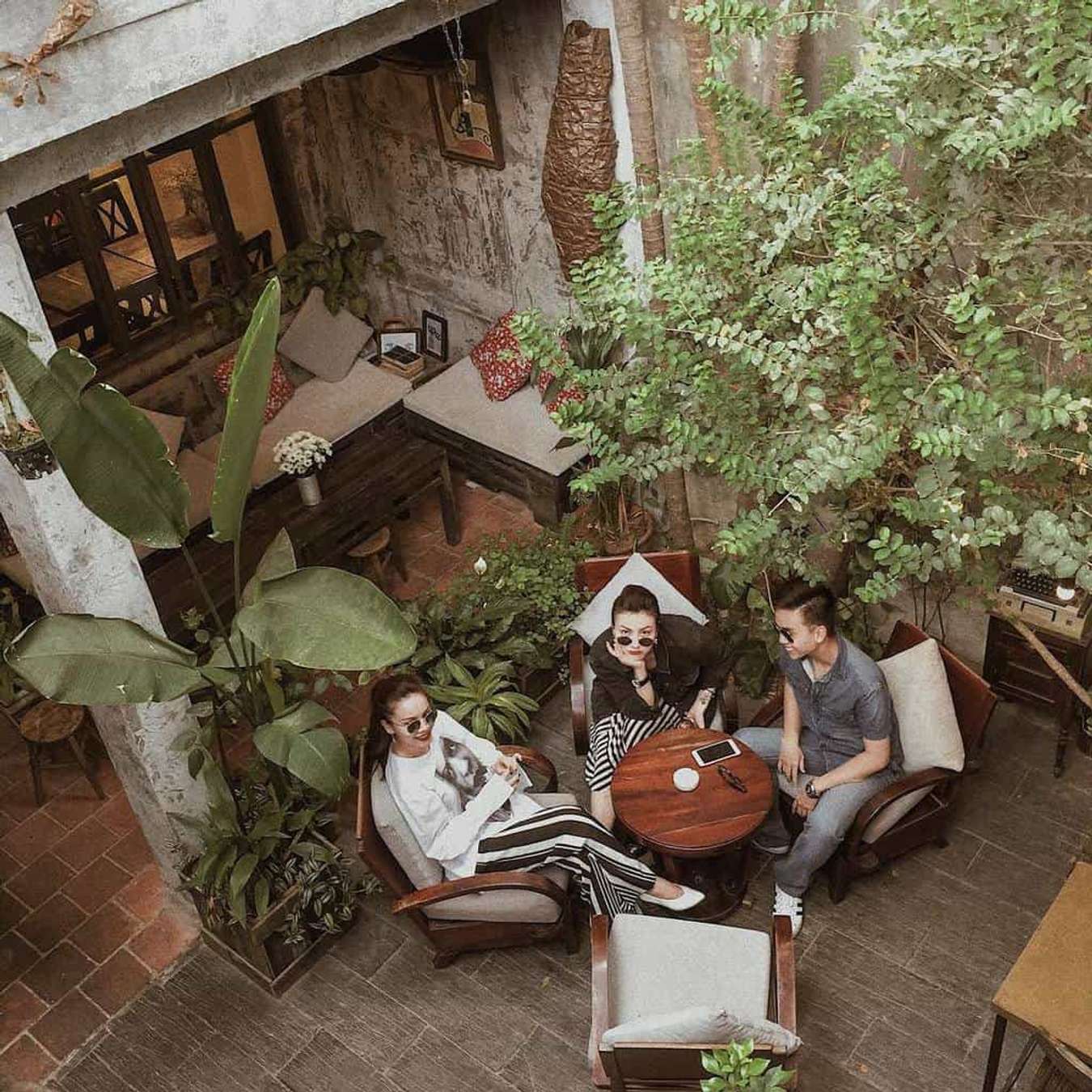 A beautiful cafe is an ideal resting place for your Hue travel itinerary. @milo.minhnhat
In addition to diverse cuisine, Hue is also one of the busiest cities in the country. So of course, there is no shortage of lovely cafes here for the "virtual living team" to check in. Plan to take hundreds of photos at 15 beautiful cafes in Hue below with a group of friends!
Snacking and making "several bottles" of hybrid rai
At night, when I'm sad, I don't know where to go? Then go for a snack. Young people in Hue "snack power" are as healthy as Saigon or Ha Thanh, so you will see everywhere in the ancient capital "sprinkling" extremely attractive snack shops. Let's hunt down the most sought-after snack shops in Hue with a group of friends today!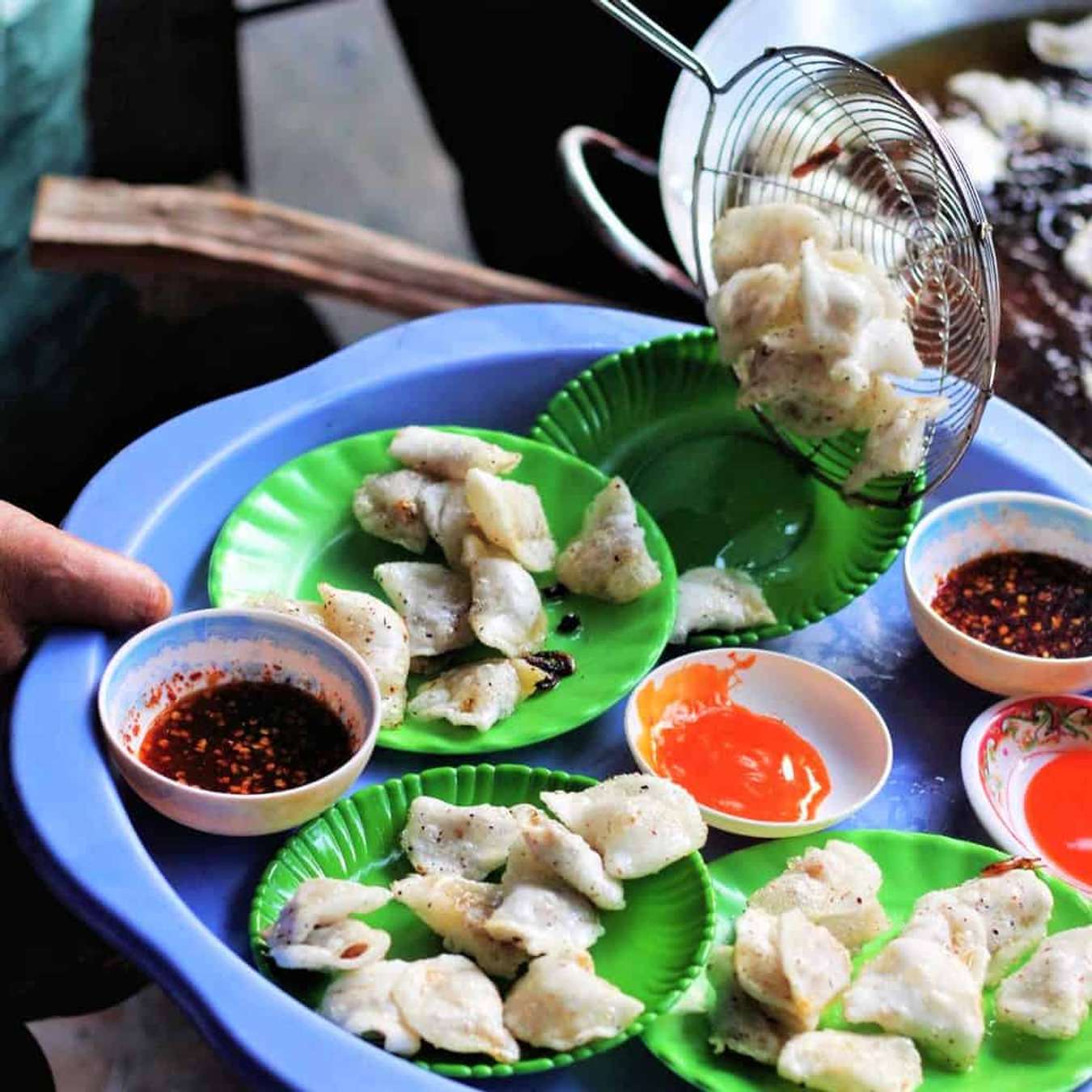 Thach Han fried filter powder is one of the oldest famous snack shops in Hue. @Internet
In addition, Hue walking street is also a great place for you to find beautiful cafes and delicious eateries, especially pubs for a perfect evening in Hue.
7. Other Hue travel experiences
During peak tourist seasons such as Festival, the number of visitors is very large, making hotels in Hue easily overloaded. Do not forget to plan early, book your room in advance to find the best place to rest.
Hue has a number of specialties you can buy as gifts such as spring rolls, sesame, tré, or poem conical hats for souvenirs.
The complex of the ancient capital – Hue citadel has a very large area, you should determine in advance the places you want to visit and arrange a reasonable route.
If you are not used to eating spicy food, remember to tell the seller in advance to reduce the spiciness lest you have to eat and inhale it.
Before using travel, shopping and dining services, you should also ask the price in advance, pay when needed to avoid being challenged.